Reel Palestine is a celebration of the tenacity and culture of the occupied state via its dynamic film scene. The founding principal is the belief that film allows submersion in all the beautiful, difficult, emotional and inspirational moments which happen under the occupation. Cinematically telling stories that might slip under the radar, and which are neglected by the sensationalisation of news, overlooked within the grander narrative of occupation: stories of maqloubeh, giraffes and nostalgia.
From January 17 – 24, Reel Palestine will be hosting a free week long film festival, celebrating alternative Palestinian cinema, in venues across Dubai and Sharjah.
The week begins at thejamjar, Dubai
Friday 16 January, 7.30pm
Trip Along Exodus | Dir. Hind Shoufani | 2014
A personal investigation into her family, and the truth behind her father's decision to abandon his academic life in Ivy League Universities to join the Palestinian Liberation Organisation. Hind Shoufani's film is also a recreation of the last 70 years of Palestinian history; a bricolage of archive, family photos/8mm films, macro footage, glitter, interviews and multi-media formats. This visual poem took five years to compose across seven cities and spins a personal narrative in the pursuit of identity, bound with the history of a nation, on a journey from Palestine in 1948 to present day, war-torn Syria.
Saturday 17 January, 6pm
Eid | Dir. Saaheb Collective | 2011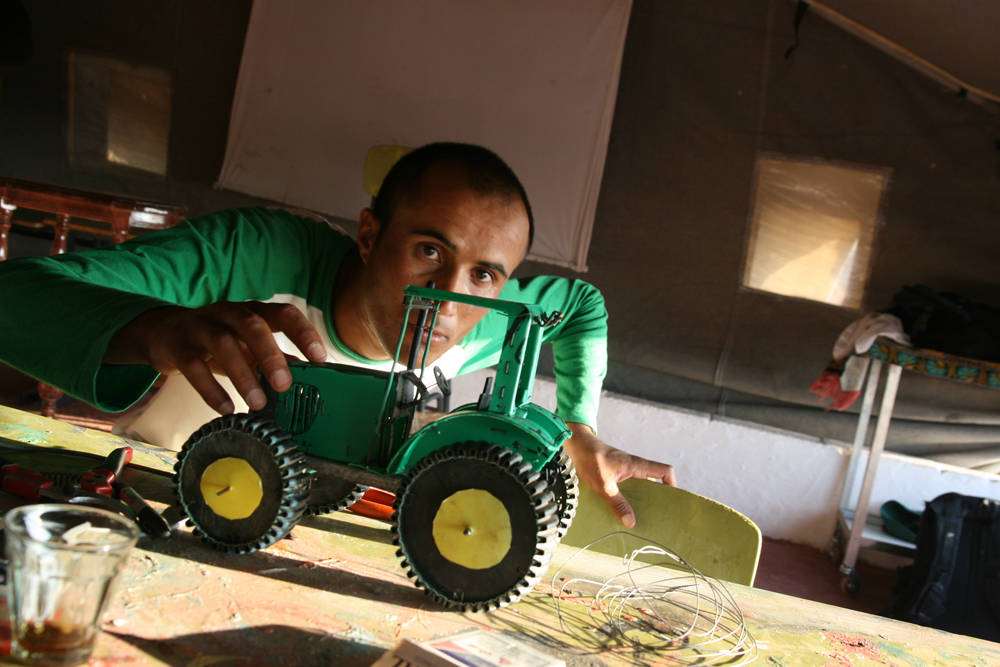 Eid, a Palestinian Bedouin, found materials into miniature models of the machinery of occupation. This short revels in Eid's creative process via playful stopmotion animation and interviews.
Ramallah | Dir. Flavie Pinatel | 2014
This sensory documentary is an immersive portrait of a day-in-the-life of Ramallah, exploring the profound generational, cultural, and economic contrasts which are its essence. A cinematic ode which rejects tragedy to celebrate the city.
No News | Dir. Eyas Salman | 2011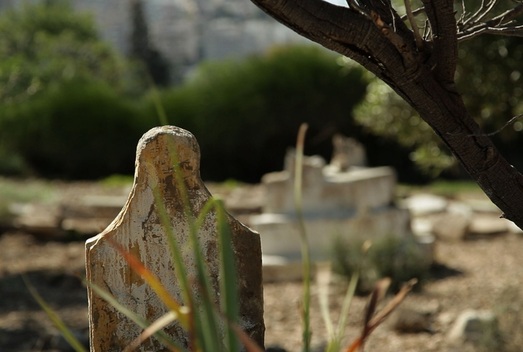 This short ghost story No News explores the enduring consequences of the Nakba. In an abandoned cemetery, a woman rises from her grave to find herself surrounded by strangers and met with awkward silence. Confronted with questions about time, place, and times long past… this spectral presence comes to realise that nothing has changed in some 60 years, and that nothing can go back to the way it was before..
Pink Bullet | Dir. Ramzi Hasboun | 2014
A group of stoned friends in their late twenties find themselves confronting the criminal underbelly of Ramallah, and struggle to separate hallucination from reality.
Maqloubeh | Dir. Nicolas Damuni | 2012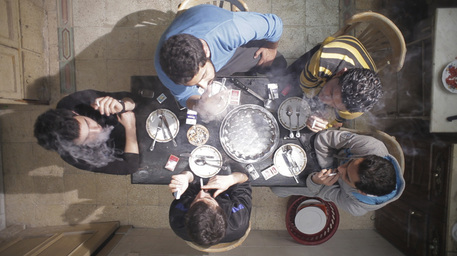 A dark comic homage to the dish, this short follows five friends on curfew as vie to perfect the recipe. Disagreeing over ingredients and methods, they finally establish common ground and complete their meal, but are interrupted by an unexpected guest.
A Sketch of Manners | Dir. Jumana Manna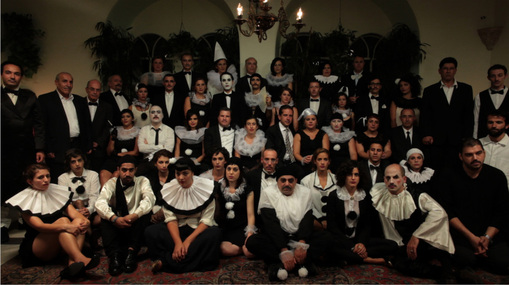 A Sketch of Manners is inspired by an archival photograph depicting a 1942 masquerade ball hosted by Palestinian politician Alfred Roch (Hakim Bishara). Recreating this bon vivant scene from pre-1948 urban life, artist Jumana Manna suggests the melancholic masked figures accidentally hint at their uncertain future.
Izriqaq | Dir. Rama Mari | 2013
In a land dotted with killing machines, a crime can be easily covered up… Izriqaq is a story about the damage that occurs to a society after decades of desensitisation to violence and killings. It is about the never-ending loop of patriarchy that takes hold in a society never in control of its own destiny…
Ismail | Dir. Nora Sharif | 2012
Ismail is a short film set in Palestine in 1949 and inspired by the late Palestinian Painter Ismail Shammout (1930-2006). The film is a social drama that explores the ideas of exodus, survival, escape, and brotherhood. It talks about Ismail's daily life struggle to support his family after their expulsion to a refugee camp in 1948 by the Israeli forces, and his dream to go to Rome one day to learn painting.
Monday 19 January, 7pm
Giraffada | Dir. Rani Massalha | 2013
Yacine is a veterinarian at Qalqilya Zoo, the last remaining zoo in the West Bank. His son Ziad is especially fond of the zoo's pair of giraffes, with whom he finds a rare calm away from the weight of the occupation. When the male giraffe dies due to an airstrike on the city, his mate Rita grows frail and withdrawn. In order to find her a new partner, father and son will have to spirit a giraffe out of an Israeli safari park and safely back into the West Bank
A4 Space at Alserkal Avenue host a mid-week screening
Tuesday 20th January, 7.00pm
My Love Awaits Me by the Sea | Dir. Mais Darwazah | 2013
Winner of the Jury Prize for best feature documentary as the Ismailia Film Festival, this is the chronicle of a journey back to a homeland never before visited, and an unknown lover, never met – the late Palestinian artist Hasan Hourani. A poetic road-trip, travelogue and fairytale, this unique film seeks to answer the question 'How do you return to a place that only exists in your mind?'
The week finishes in Sharjah
Saturday 24th January | Mirage City Cinema at SAF Art Spaces
Encounter with a Lost Land | Dir. Maryse Gargour | 2013
Comprising unseen personal and diplomatic archives, this film charts the lives and memories of French citizens living in Palestine between 1920 until the '48 war. Private and consular correspondences, rare audio-visual records, newspapers, diaries, and first-hand testimonies, spin a rich portrait of the cultural and social life of Mandate Palestine from the perspective of French nationals. The rare perspective of sons and daughters of diplomats, priests, surgeons, and traders which provide a new vantage on cosmopolitan life in the wealthy urban centres of Jaffa, Jerusalem, and Bethlehem during the colonial era.
Sunday 25th January, 7.00pm | Masrah Al Qasba Theatre
Suspended Time | Dir. 9 shorts by Palestinian filmmakers (collective/omnibus film) | 2014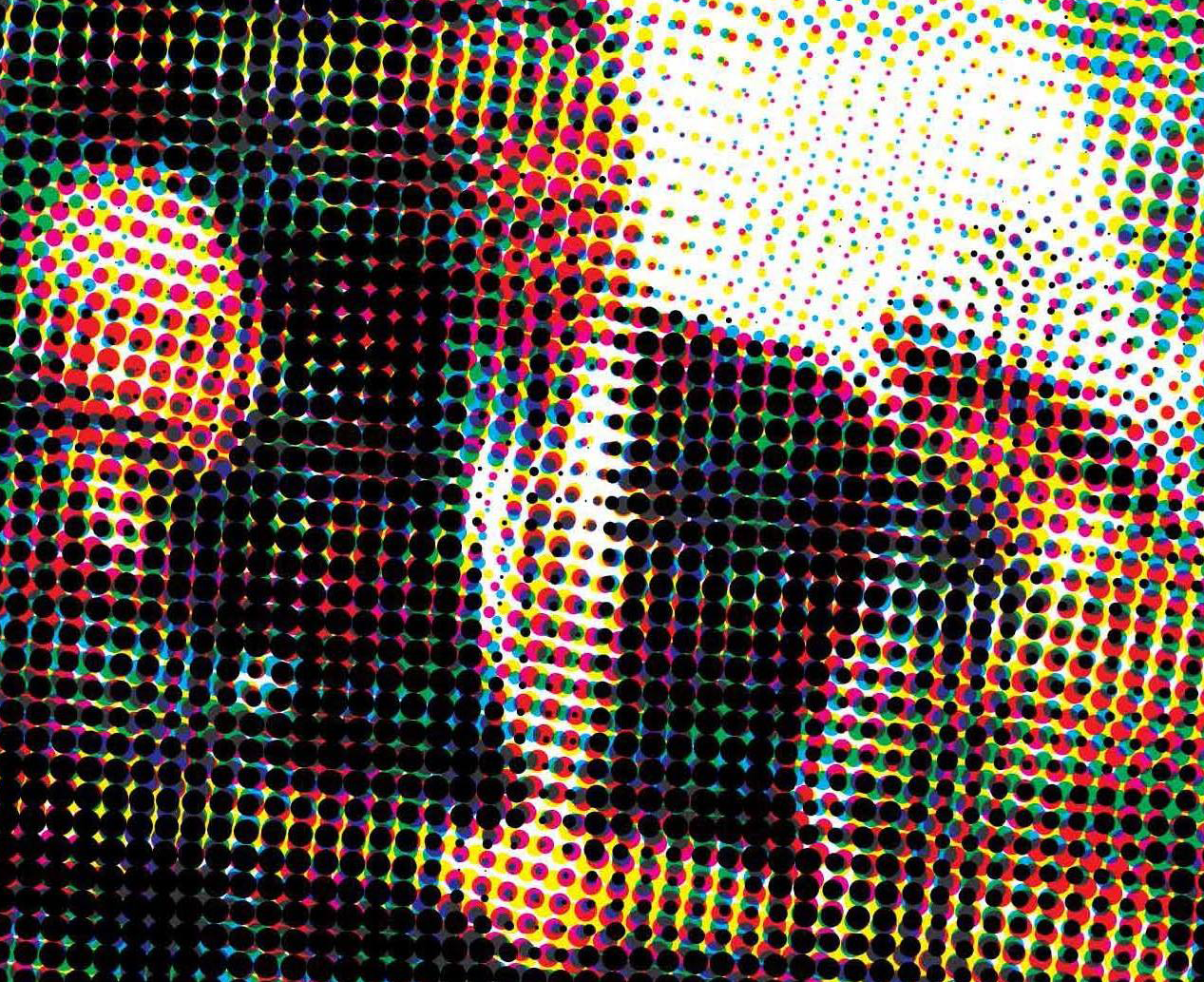 These nine short films are the product of an open call to Palestinian film makers and artists to mark the 20th anniversary of the first Oslo Accord. Offering rich and diverse perspectives, these are a patchwork commentary on how they are sensed, how it has been to live in the wake of these first agreements and the subsequent process.
Directions to the venues here
About Rachel Bennett