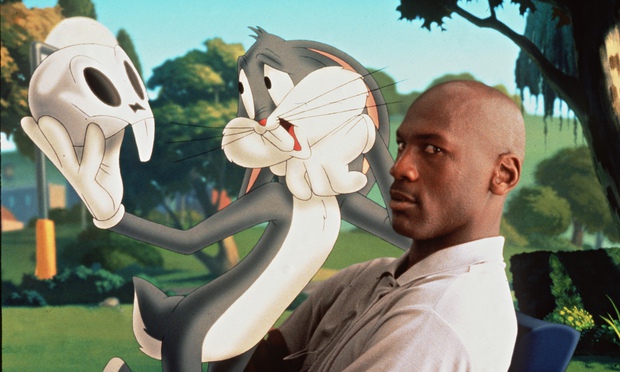 Michael Jordan and Bugs Bunny in Space Jam
---
This article titled "Space Jam, Daddies ketchup – and other bizarre inspirations for high art" was written by Jonathan Jones, for theguardian.com on Wednesday 7th January 2015 15.20 UTC
The 1996 film Space Jam, in which basketball hero Michael Jordan stars alongside Bugs Bunny and other Loony Toons characters, has been immortalised in paintings by the Los Angeles artist Devin Troy Strother. Is this the most unlikely artistic appropriation of popular culture ever? The short answer is no, not at all. Pop art has chosen plenty of icons to celebrate since the 1960s that are just as unexpected.
Typhoo Tea, the hot drinks brand, is the inspiration for the most "pop" painting David Hockney ever made. His 1961 work Tea Painting in an Illusionistic Style transposes a nude on to a box of the tea. Hockney's wry Yorkshire version of pop art is perhaps a sideways joke about Jasper Johns's bronze 1960 sculpture of two cans of Ballantine ale, which Johns made after a friend joked that his art dealer Leo Castelli could sell anything, even a couple of cans of beer.
Pop art, in other words, has always made a point of seeking out bizarre, homely or funny material to exploit. Claes Oldenburg made plaster casts of apple pie, giant soft hamburgers and other replicas of American food. Colin Self was inspired by leopardskin and nuclear war. Allen Jones, as can be seen in his current retrospective at the Royal Academy, has spent a lifetime emulating trashy erotica.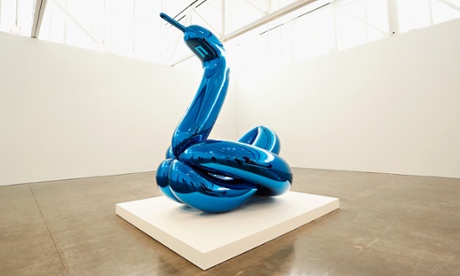 The joy of pop as an art aesthetic is to take the stuff around us, the unspecial stuff of commodities and mass entertainment, and mark it out as Art. The modern artist, said Marcel Duchamp, does not so much create as "select". And it is in the oddity of the selection that so much of contemporary art's fun is to be found.
Ai Weiwei selects river crabs to replicate in porcelain, just as, before him, Marcel Broodthaers chose to turn the classic Belgian dish of mussels into a sculpture. Cory Arcangel is inspired by obsolete video games and Paul McCarthy loves tomato ketchup.
Being a bit crappy, a bit banal, a bit kitsch is the principal requirement for a pop art icon. Space Jam fits perfectly into this pantheon of crummy inspirations, alongside Jeff Koons's balloon animals and Damien Hirst's multicoloured pills. Which just leaves one question: who's going to make the first work of art about Night at the Museum 3?
guardian.co.uk © Guardian News & Media Limited 2010
Published via the Guardian News Feed plugin for WordPress.
About Mark Westall