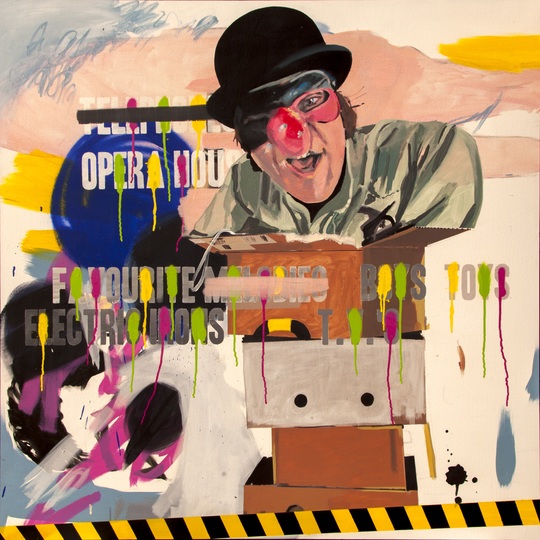 12th November – 7th December 2014 Delahunty 21 Bruton Street London W1J 6QD www.delahuntyfineart.com
"I see all this potential, and I see it squandered. God damn it, an entire generation pumping gas, waiting tables – slaves with white collars. Advertising has us chasing cars and clothes, working jobs we hate so we can buy shit we don't need. We're the middle children of history, man. No purpose or place. We have no Great War. No Great Depression. Our great war is a spiritual war. Our great depression is our lives. We've all been raised on television to believe that one day we'd all be millionaires, and movie gods, and rock stars, but we won't. And we're slowly learning that fact. And we're very, very pissed off."
– Tyler Durden in Fight Club
Stuart Semple brings a new solo exhibition to one of London's hottest new galleries, Mayfair's Delahunty, this November.
For the exhibition Stuart Semple returns to the traditional gallery exhibition format with a renewed focus exclusively on painting.
The theme of the show is one familiar to followers of Stuart Semple's work. At the age of 19 the artist suffered a traumatic near-death experience which left him in a high state of anxiety about the world around him. Painting proved to be his catharsis.
However his work for the Delahunty show is strictly not autobiographical. Instead his hope is to highlight what he believes is an anxiety crisis that his generation is facing. As he explains,
"My generation is the fulcrum for decades of anxiety and we have been made so inert and fearful that we dare not even face it to understand what it is."
For Semple these fears are culturally induced.
"We are fearful of strangers, unknown viruses, intimate relationships, one another, old age, death and ultimately bits of ourselves, because we are human and every day the media convinces us that humans are inherently perverse"
Through the series of large canvases he makes an attempt to describe our unique moment in history – a time where we are interconnected via technologies like never before, yet our physical, social ties appear to be weaker than ever. To the artist our individual atomisation and isolation is at an epidemic level. In short we are largely facing this fear alone.
In 'Anxiety Generation' Semple focuses his well-practiced language of sampled popular culture, intense imagery, song lyrics, direct humour and text towards a very defined agenda of playing the image world at its own game. Promising to be every bit as poignant, potent and outspoken as any of his previous projects, and delivered in his trademark colour-fuelled style, the new collection utilizes adult themes of sex, violence and horror to make his point.
But through his use of bright pop colours, words and slick stencilled graphic statements, Semple portrays a generation being hurtled at break-neck speed through a mass culture that keeps them suspended between two states. A repetitive cycle that sees, on the one hand, over-stimulation – the latest gossip, the news of the minute, celebrity wedding or fall from grace, which vanishes in a blink – and on the other what he describes as an unconscious coma state, induced by this incessant, flickering media-flow, which eventually leads to shut-down.
"We trade our comatose consciousness for entertainment which results in a comatose hangover. Thus the cycle repeats under the guise of distancing and protecting us from the inherent risks of truly living."
These polar opposites play out time and time again in the work, giving the pieces an uneasy tension between foreground and background, text and image, the present day and the past. They are deeply emotional paintings; in their detail they are expressive, yet from a distance they become flat and considered.
The works take on an inter-generational anxiety. Almost a genetic state of predetermined fear. Semple's generation cannot remember bombs being dropped on their homes, they cannot remember being evacuated from their families. They have no direct recollection of an atom bomb and are totally disconnected from the greatest horror of the modern age, The Holocaust. "Buried in our parents memories of their parents memories is an idea that humanity can be extremely evil: That violence lives just underneath the surface." He explains. "Before Hiroshima the media was black & white. Post war the world became Technicolor."
"We have been spoon-fed the concept that we are not enough. We have spent our youth watching a parade of 'what we could have won' and now we are at a total loss as to who we even are. Without the context of that attainment of aspiration for comparison, it is as if we are nothing at all. That is terrifying."
There is also a strong dialogue in these new works with the moving image and cinema. The artist argues that as movies become increasingly spectacular, and CGI more believable, with faster cuts for shorter attention spans, our capacity to read static images is lessened. He does not feel that the still image quenches our insatiable appetite for sensation in the same way it once did.
In one of the new series created for a show – a set of small canvases titled 'Killing Me Softly' – Semple takes selected stills from the period of Italian Erotic Horror of the 70s, and he freezes those moments in paint, removing them from the flow of time and their place in history. By turning them into a painting, he keeps them suspended perpetually in this moment of time. He then contradicts the silence of this still violence with a bright-neon overlay of 90s pop lyrics from the likes of Vanilla Ice and the Spice Girls. In essence he is silencing the violence with the incessant sound of pointless, pop music.
This leads to obvious questions as to what relevance representational painting truly has at such a time. Is it an archaic language that is no longer able to be read? However, Semple is not at all pessimistic and through the very fact that the works exist at all he makes the point that the timelessness of paint gives us the room to look again and reconsider things that perhaps moved past us too quickly.
About the Artist
Stuart Semple is a British artist and curator.
Semple's works can be found in major international collections including the Getty, Langen, David Roberts and Niarchos foundations, and at recent exhibitions including Goss Michael Foundation, Victoria Miro and the ICA. Stuart Semple has held successful solo exhibitions in Italy, Hong Kong, London and New York has been well received during international art fairs including Art Basel Miami, Hong Kong Art Fair, Frieze and Art Chicago. He has also been featured across the media including on the BBC (for whom he has also presented), and in Esquire, The Art Newspaper, Vogue, The Telegraph, Observer, i-D, and Art Review.
After a traumatic near death experience at the age of 19, Semple found catharsis through his work and produced over 3000 pictures by the age of 21 which he sold via eBay. Since selling his early work to Debbie Harry and being persuaded to move to London by legendary art dealer Anthony d'Offay, Semple went on to hold over 15 solo exhibitions internationally, before creating his seminal performance 'HappyCloud' from London's Tate Modern in which he flooded the London skyline with thousands of pink smiley clouds at the height of the recession.
As an ambassador for Mind, Semple initiated a creative therapies fund and curated the exhibition ?Mindful? hosted by Stephen Fry and Lord Melvyn Bragg, and including works from the Chapman Brothers, Mat Collishaw, Tracey Emin and Sarah Lucas. The fund now supports creative therapies throughout England and Wales. He is also an ambassador for the International Child Art Foundation and has spoken for Amnesty, including acting as one of the leading creatives fronting their 'Write for Rights' campaign and working with Women of Zimbabwe Arise, for change in the country. Semple also lobbies for artists' rights as an ambassador for the Design and Artist's Copyright Society.
In 2012 Semple was the first visual artist to release a born digital body of work, 'EXIT', exclusively on iTunes. Semple has also collaborated with The Prodigy and The Futureheads. As part of an ongoing collaboration with luxury Italian fashion house Moncler, his original paintings can be seen worldwide throughout their flagship stores, in LA, Tokyo and New York.
His large scale canvases and installation works which deal with concepts of fear, nostalgia and isolation have been exhibited in solo exhibitions worldwide, most recently the 18-room immersive experience, 'Suspend Disbelief', staged during Frieze Week 2013, "It's Hard To Be a Saint in This City" in Hong Kong and "Everlasting Nothing Less" in Milan. Other recent international work includes 'Jump' a public commission for the City of Melbourne last year, which attracted over 15,000 members of the public who were invited to jump on a large jumping platform, and the re-staging of HappyCloud in Moscow and Dublin.
Stuart Semple was born in Dorset in 1980, where he now lives and works with his partner and son.
www.stuartsemple.com
About Delahunty Fine Art
Officially opening the doors to its auspicious new Mayfair premises this autumn, Delahunty Fine Art (previously Mount Street Galleries) is set to become a leading showcase for Contemporary artists. Previous exhibitions include 'James Hart Dyke – A Year with MI6', which generated huge international attention; 'London-New York-Bristol' a major exhibition of works by artists including Banksy, Andy Warhol, Damien Hirst and Stuart Semple; and 'Everything or Nothing', a collaboration with EON Productions to celebrate 50 years of James Bond on screen. Delahunty Fine Art is a member of SLAD (the Society of London Art Dealers) and owned and run by Damian Delahunty.
www.delahuntyfineart.com
About Mark Westall