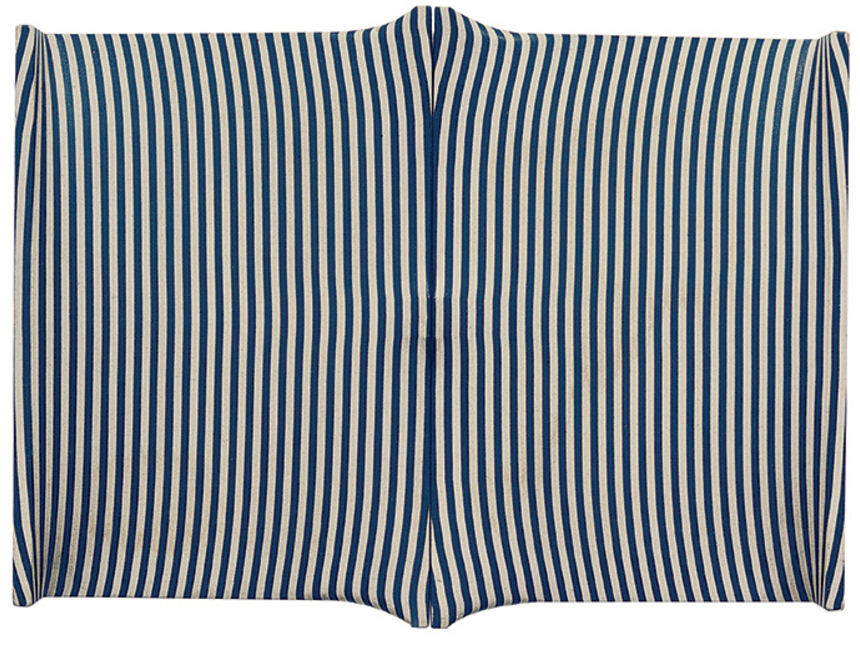 Enrico Castellani, Superficie rigata bianca e blu, 1963, Canvas in relief, 27 13/16 x 39 3/8 x 2 3/4 inches (70.7 x 100 x 7 cm) Collection of the artist. © 2014 Artists Rights Society (ARS), New York /SIAE, Rome. Photo Credit: Photo CreditCourtesy Archivio Castellani, Milan.
14th October 2014 – 24th January 2015 22 Old Bond Street, London, W1S 4AJ
Enrico Castellani, Donald Judd, and Frank Stella: Local History

Donald Judd, Untitled (DSS 41), 1963, Cadmium red light oil on plywood, 19 1/2 x 45 x 30 1/2 inches (49.5 x 114.3 x 77.5 cm). Art © Judd Foundation. Licensed by VAGA, New York, NY. Photo Credit: Photo Jeff Jahn. Courtesy Dominique Lévy Gallery, New York.
Local History will take place concurrently in London and New York, inaugurating the gallery's new space at 22 Old Bond Street on October 13. The exhibition captures a fleeting but profound moment of creative intersection in the careers of three exalted Post-war artists. Local History brings together rarely seen early works of the 1950s through early 1970s by Enrico Castellani, Donald Judd, and Frank Stella, and juxtaposes them with important later examples that reveal each artist's distinct evolution and the varying degrees of reverberation from their brief aesthetic collision in the 1960s. Local History has been organized by noted curator and art historian Linda Norden, with Peter Ballantine, who is regarded a leading expert in the work of Donald Judd and was one of the artist's long-time fabricators. A book featuring essays by Norden and Ballantine will complement the exhibition.
About Mark Westall