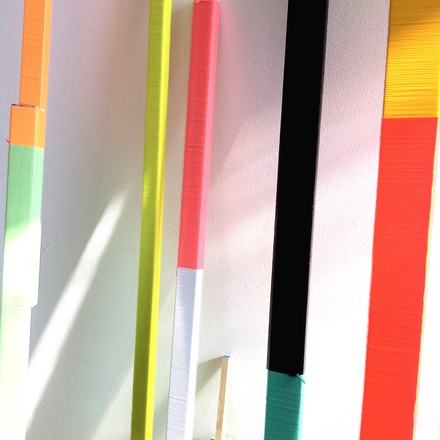 BERLONI 63 Margaret Street London W1W 8SW www.berlonigallery.com
BERLONI is to present Silvina Arismendi's first Solo exhibition in London Measuring in Spears – , which sees the New York based artist respond to, and occupy two floors of the gallery space – covering drawing, installation and sculpture.
The work is Arismendi's universe, product of measurable volumes, motion and wavelengths of light. It prevails as literal conclusions drawn from an unrelenting research of materials, supplies and remodeling. In an almost casual and brief gesture, Arismendi transforms a myriad of objects, gathered from everyday life, and compiles them within a surrealist principle – the output is a rhapsodical configuration of the familiar, all in blissful technicolor.
The artist attempts to give order by measuring her time, her work and her possibilities – obsessive repetition provides coined systems unique to the artist alone. The series entitled The Drawing Seasons comprise of florid works on paper that are bound to Arismendi's juncture of creativity. The pieces are confined to be realized in the lapse of a tv-episode, from start to end – the result is a body of fluid geometrical structures that express a moment when the mind is on auto-run. They verge on the Massonian, arrangments of shapes created within in a brief, contiguous period of time. It is disciplined practice based on a framework of automatism.
Evocative of tessellated-climbing Hedera, the installation Entrancing invades the surface of gallery determining its shape and size. The work is about challenging the possibilities of the material. Both gallery space and taut colour test one anothers tension limits – prismatic colour envelops the fabric of the space – white walls take on a guise of a temporary pentagonal diome.
In and amongst this multicolor lattice of triangles and pentagons sit Colourbars – found poles once forgotten, now adorn tightly wound reams of sparkle and tone. Arismendi reconfigures the mundane into something highly ordered and indubitably appealing -systems in order to codify, classification in order to reinvent. Hers is an organised world that shuns chaos and embraces the power of simplicity.
About the Artist
Silvina Arismendi was born in 1976 in Montevideo, Uruguay. In 2000, she received a scholarship to study in the Czech Republic, graduating from the Academy of Fine Arts in Prague in 2007. Since 2003, she has exhibited in many European cities, as well as in Latin America. In 2007 she founded galería parásito/, which is a platform for for the cultural exchange between Latin America and Central and Eastern Europe. She currently lives and works in Brooklyn, NY.
About Mark Westall