The Creators Project | San Francisco | April 2012 Treachery of Sanctuary 2012.-Chris Milk.-Photo Bryan Derballa
Our entire worlds are now digital, we tweet, listen to synthesised music, read ebooks, play video games, watch CGI enhanced movies and I wouldn't even be an art critic if it weren't for the internet.
This jam-packed exhibition takes us through the digital world at breakneck speed threatening you with sensory overload at each turn. Interactivity is key as before you even enter the main exhibition space a tentacle like machine moves towards you in a cheekily titled work called 'Petting zoo'.
The Barbican's Curve gallery is usually home to a single immersive art work but for this exhibition it has become a technology haven. We start off with a quick romp through the history of gaming with playable versions of Pac-man, Tetris, Tomb Raider, The Sims and Angry Birds – plus many more.
Interspersed among these games are tracks of synth pop that came about as music technology evolved, and the earliest digital imaging programs. We then step into Hollywood as videos show us how hits like Inception and Gravity were made.
Beyond the main exhibition space there is even a caged room full of independent games and an offsite exhibition at Bloomberg space. But the best works are the interactive ones in the Curve gallery.
Birds made from mobile phones can actually be called and will respond to incoming calls, while Daniel Razin and Rafael Lozano-Hemmer use cameras to transform you into an expressionist painting and your eyes into plumes of smoke respectively.
My favourite work is by Chris Milk, as you silhouette is projected on to a screen in front of you, it will turn into birds, be attacked by them and then be reborn with wings that can be used to fly. It's innovative and provides a great narrative.
The exhibition ends with a glimpse of the future as technology will influence fashion and help those with physical disabilities.
This exhibition is a whistle stop tour through the digital world and it's almost guaranteed that visitors will miss something as there is so muck to take in. It may not be intentional but this overload is a nice allegory to where the digital world has taken us, to a point where there's too much information to take in.
This show has a wide appeal and is an enjoyable and interactive experience that most people will love.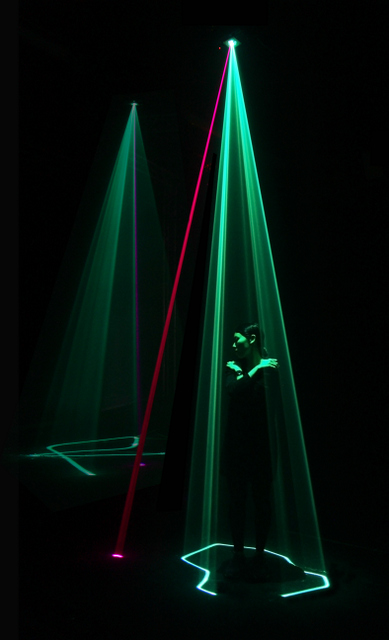 24. Assemblance, 2014. Umbrellium
Digital Revolution is on at Barbican until 14 September. Tickets are £12.50 for adults.
Categories
Tags