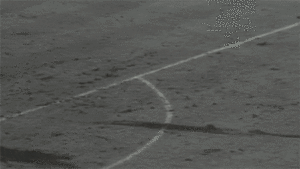 As England's recurrent World Cup trauma plays out in Brazil, Artangel and The Space are launching tomorrow, online only, a new commission by American artist Paul Pfeiffer.
Jerusalem revisits the most iconic match in England's sporting history, the 1966 World Cup Final between England and West Germany. A distant memory to some, a mythological event to others, Pfeiffer has created an elegiac new version of this match.
Echoes of empire and religion haunt Pfeiffer's footage. Players ghost in and out of view as the crowd chants and cheers. As the spectral match unfolds, interactive audio tracks offer alternative narratives – bees buzzing, players talking, John Cage musing on silence and sound, Harold Wilson defending the pound…
As England contemplates 48 years of pain, Jerusalem offers a poignant reflection on time, technology and memory for online viewers.
online only at jerusalem.artangel.org.uk
Categories
Tags