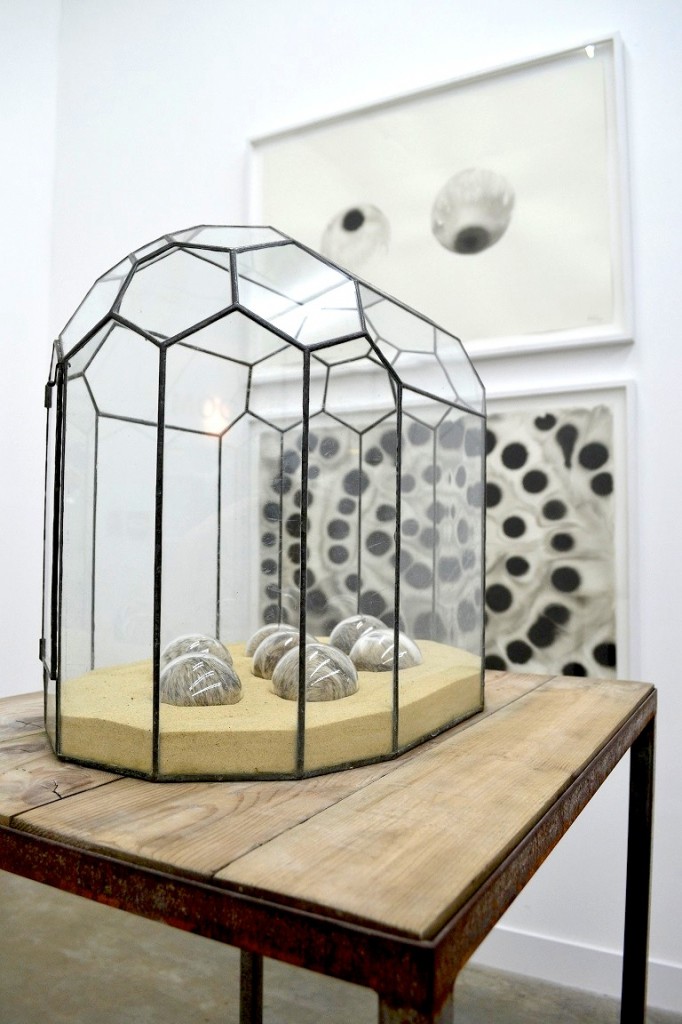 Adeline de Monseignat Incubator II, 2013 (forefront) and Breathsts 2, 2012 (top) and Cells, 2013 (bottom)from Drawing Into Sculpture' Exhibnition at Griffin Gallery
Griffin Gallery and the Association for Cultural Advancement through Visual Art (ACAVA) have just announced the launch of the first summer season of West Wednesdays, a curator-led walking tour around the hidden art-gems of London's Latimer Road area. The evening is open to the public and begins at Griffin Gallery, 21 Evesham Street, London, W11 4AJ on 18th June at 18.30 and features an after-hours tour of the gallery and local artists' studios.
West Wednesdays aims to be an evening of art and conversation that flows between Griffin Gallery and ACAVA's Blechynden Street studio building. The evening will begin with a curatorial talk by Becca Pelly-Fry, director of Griffin Gallery, and a tour of the exhibition 'Drawing Into Sculpture'. Refreshments will be served and Pelly-Fry will take questions from the group about her curatorial concerns and the artists shown. The tour will then proceed to the ACAVA studio building where several of the studios will be open to the public. In addition, artists Barbara Nicholls and Epoh Beech will be giving a special presentation of their work in their studios.
West Wednesdays are delighted to announce a tour of the studios of award winning, internationally acclaimed artist, Bridget Riley CBE, on Blechynden Street. The public will have the opportunity to have a behind-the-scenes insight to new series of stripe paintings in the studio which are being created for a major new exhibition; 'Bridget Riley: The Stripe Paintings 1961 – 2014' at David Zwirner Gallery in collaboration with Karsten Schubert. To provide a unique insight into the artist's distinguished career, Riley's long-time assistant, Maria Timperi, will be speaking at West Wednesdays. Timperi will be discussing her experiences over the past 25 years working with one of the original exponents of Op Art and luminary of the British art world. She will share insights about the history of the studio and the processes involved in producing the new work under the direction of Bridget Riley, who at 83 is as busy as ever. Riley is a celebrated British artist whose work is included in collections at London's Tate Britain and New York's Museum of Modern Art.
The tour will also include visits to the studios belonging to award-winning watercolour artist Barbara Nicholls and animator Epoh Beech. Both artists will discuss their work and the innovative contemporary techniques that they use in their respective mediums.
West Wednesdays start from Griffin Gallery on 18th June at 18:30 and are free to the public.
griffingallery.co.uk/event/west-wednesday/
Categories
Tags