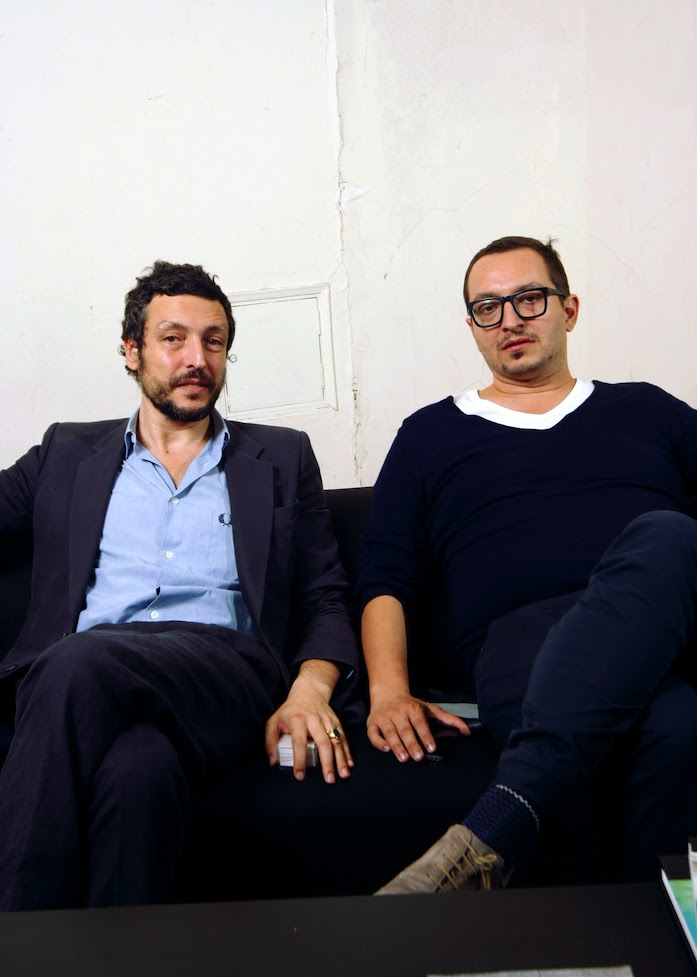 Contemporary Istanbul 9th edition 13th-16th November 2014 Preview 12th November www.contemporaryistanbul.com
New Horizons is a section of Contemporary Istanbul that represents a specific country by offering an annual focus on contemporary art from the selected geographic region. 2014's Contemporary Istanbul edition will put a spotlight on China. In the recent decades China has contributed with expanding and growing success to contemporary art worldwide and will be Contemporary Istanbul's guest country.
Massimo Torrigiani and Davide Quadrio will be managing, organizing and coordinating the curatorial process of this section by selecting the artists and galleries whom will represent Chinese contemporary art during Contemporary Istanbul's 9th edition.
Since 2010, Torrigiani and Quadrio collaborated on a series of international curatorial projects, commissioning and producing exhibitions and publications, for private and public institutions, and companies.
Massimo Torrigiani (Italy, 1966) is a curator and editor based in Milan and Shanghai. He is currently Chairman of the Curatorial Board of PAC, museum of contemporary art, Milan; Co-director of Fantom, a publishing and curatorial platform dedicated to photography and phonography, launched in 2009 with the publication of an international quarterly and a series of photobooks; he is also the Creative director of Art in the City Shanghai, a digital, educational and exhibition project dedicated to the promotion of art and design in China, debuting in Shanghai in September 2014.
From 2010-12 he was the director of SH Contemporary, Shanghai Contemporary Art Fair.
Previously he created and directed art biannual Boiler (2001-05) and contemporary culture monthly Rodeo (2005-2009); organized art exhibitions and music events; wrote about art and music for periodicals including Purple and L'Uomo Vogue.
From 1992 to 2002 he worked with universities and institutions (including the Council of Europe) on research projects about the relationship between cultural policies and urban regeneration; art, innovation and cities.
Davide Quadrio (Italy, 1970) founded and directed from 1999-2010 BizArt, Shanghai's first non-profit artistic laboratory, and in 2007 he created – with artist Qiu Zhijie and curator Defne Ayas – Arthub Asia, a platform for the production and promotion of contemporary art from and in Asia. With these independent organizations he curated exhibitions, educational activities, and cultural exchange programs, fostering institutional relations worldwide.
From 2005-08 Quadrio was creative consultant of art space Bund 18 in Shanghai; curated the Chinese edition of the retrospective Victoria & Albert Museum dedicated to Vivienne Westwood; organized the itinerant exhibition of Droog Design in China (Shanghai, Shenzhen, Beijing); and curated the solo show of Olivo Barbieri for the Shanghai Biennale 2006. For the same institutions he coordinated the City Pavillions Project in 2012.
From 2010-12 he was the curator of the special projects of SH Contemporary, Shanghai Contemporary Art Fair.
Among his recent initiatives, the exhibition of artist Qiu Zhijie at Fondazione Querini Stampalia on the occasion of the Venice Biennale 2013; the solo exhibition of artist and film-maker Yang Fudong for the Toronto Film Festival 2013; Indonesian artist Jompet's solo project at Fondazione Gervasuti Venice during the Biennale 2011.
His articles are published internationally in magazines, books, and catalogues.Since 2011 Quadrio is a lecturer at the Institute of Visual Arts at Fudan University Shanghai, where he has lived since 1994.
Contemporary Istanbul entered China by introducing itself via an event on March 29th 2014 at the Museum of Contemporary Art Shanghai (MoCA Shanghai), the most outstanding and important museum not only for China but for the Asian Pacific region. The press conference announcing China as the guest country was followed by a reception that gathered art collectors, galleries, press members from China and the region at MoCA Shanghai. The presentation pointed out the 9th edition of the fair, Istanbul's vibrant art scene and defined Turkish contemporary art.
Contemporary Istanbul 9th Edition
The leading art fair that brings international focus to the dynamic art scene in the unique metropolis, will take place from November 13th to November 16th 2014 at the Istanbul Congress Centre and the Istanbul Convention and Exhibition Centre (ICEC). The cross-over of Contemporary Istanbul, Istanbul Design Biennial and Art Istanbul Week will make Istanbul the core or/and heart of a broad international art audience.
For the second year running an addition to the fair is Plug-In New Media Section, dedicated to showcasing video art and new media in adjacent 1000 square meters area, and will present video art, sound and light installations, interactive and generative design installations by established and emerging artists along with leading galleries.
A comprehensive CI Dialogues talk program will complement the second year of Plug-In Istanbul alongside New Horizons program themed around "The Other Art. Alternatives. Choices. Options".
About Mark Westall