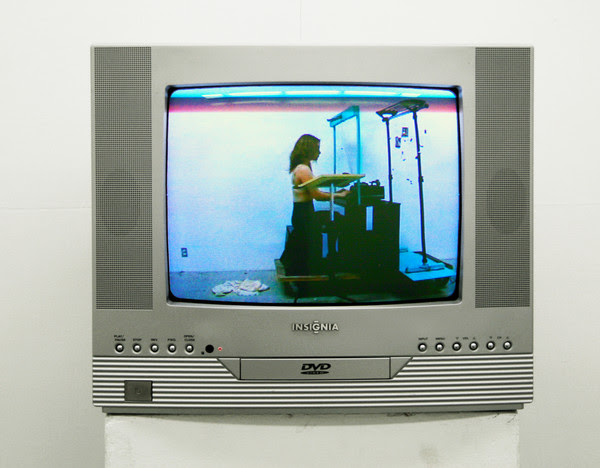 Sarah Fortais, Anglomophone Performance, Penthouse International Magazine for Men (October, 1973), Letters to the Editor.
Monday 14th April 2014 2pm – 4.30pm Chelsea College of Art, 16 John Islip St, London, SW1P 4JU Main Lecture Theatre
Made in Arts London is hosting a panel discussion on the topic:
Promoting & Selling New Media, Moving Image, Performance and Installation Art
If you are a non-UAL student or member of the public you can book your place on Eventbrite
£4 for non-UAL Students £8 for non-Students
Chair:
Gil Leung, LUX, Head of Programme
Panel:
David Blandy, Artist, Alumnus of UAL/Chelsea College of Arts
Anna Gritz, South London Gallery
David Gryn, Artprojx, consulting agency
Tyler Woolcott, Rowing, contemporary art gallery
The Discussion:
The promotion and sale of art is often presented as a contentious issue with no straightforward method, process or system. Rules and 'understandings' for purchasing art have seemingly developed and continue to develop according to a nebulous set of arrangements.
However, there are guidelines and they can be deciphered and they can be adapted to the increasingly normative media of installation, performance and moving image in emerging artists' practice. Through a growing community of galleries, commissioning public organisations and an increasingly educated audience, the possibilities of how to sustain creative practices centred on new and ephemeral media are evolving.
Made in Arts London has invited a number of key professionals – specialising in the creation, commissioning, promotion and sale of new media, moving image, performance and installation – to discuss the topic from a number of perspectives; the artist, the curator, the gallerist and the consultant. The panel will answer questions from members of the audience.
The panel discussion will be followed by a drinks reception.
Panel Bios:
David Blandy / Artist
David Blandy is an artist who uses performance, video and installation to analyse our relationship with the popular culture that surrounds us, investigating what makes us who we are. Blandy has exhibited in galleries and museums internationally. He is represented by Seventeen Gallery and his films are distributed through LUX. David is an alumnus of UAL/Chelsea College of Arts.
Anna Gritz / South London Gallery
Anna Gritz is Associate Curator for Film, Performance and Talks at the South London Gallery, where she is currently working on forthcoming projects with Sidsel Meinchede Hansen, Jill Magid and Bonnie Camplin. She was previously Associate Curator at the Institute of Contemporary Arts (ICA) London where she works on projects with Lis Rhodes, Cally Spooner, Stefan and Franciszka Themerson and Michele Di Menna. Prior to this, she worked at the Hayward Gallery, London and at apexart, New York. Next to her institutional work she has organized independent exhibitions at ISCP, New York; Raum Drei, Cologne; MU, Eindhoven; the Wattis Institute for Contemporary Art and New Langton Arts, San Francisco. With Fatos Ustek she is currently devising an alternative educational format that is loosely based on misdirected research, the sit in, Rorschach tests, and Joan Baez' Institute for the Study of Nonviolence. Her writing has been included in Art Monthly, Art Agenda, frieze, frieze d/e and flashart, exhibition catalogues and books.
David Gryn / Artprojx
Artprojx, founded and directed by David Gryn, screens, curates and promotes artists' moving image, working with leading contemporary art galleries, museums, art fairs and artists worldwide. David consults and lectures on arts marketing and arts event strategy and delivery, as well as audience development and fundraising strategies. David Gryn and Artprojx has worked with Tate, ICA, Camden, MoMA, Whitney, Frieze, Art Basel, Armory Show. Projects in Birmingham, Liverpool, Morocco, Venice, New York, Barcelona, Hamburg. Artists projects worked with include: Mark Wallinger, Dara Birnbaum, William Kentridge, Susan Hiller, William Eggleston, Martha Rosler, Christian Marclay, Mickalene Thomas, Jeremy Deller & Nick Abrahams, Susanna Wallin, Sam Levack & Jennifer Lewndowski, David Blandy.
David is an alumnus of UAL/Central Saint Martins.
Gil Leung / LUX
Gil Leung lives and works in London. She is Head of Programme at LUX,
London. Recent exhibitions and projects include Exchange at Flat Time
House, London, works at Oberhausen Film Festival, Curated by,
Vienna, Image Games at Tate Modern and a solo show Bedroom Tour in
collaboration with Am Nuden Da. She writes for Afterall, Art Agenda,
Spike and other independent publications.
Tyler Woolcott / Rowing Projects
Tyler Woolcott is the Founder & Director of Rowing, a contemporary art gallery in London. Tyler has curated various independent art projects and participated in collaborative lectures with artist Andy Holden at Kettle's Yard, Cambridge, Stanley Picker Gallery, Kingston University, London, and Spike Island, Bristol. Together with Holden, Tyler developed a theory based on the Laws of Motion in a Cartoon Landscape about art works and what it means to 'arrive after the party of art history.' Tyler has worked in arts organisations with a site-specific remit including Artangel, London and Creative Time, New York. Prior to this, he worked at the Hollywood talent agency William Morris Endeavour.
About Mark Westall