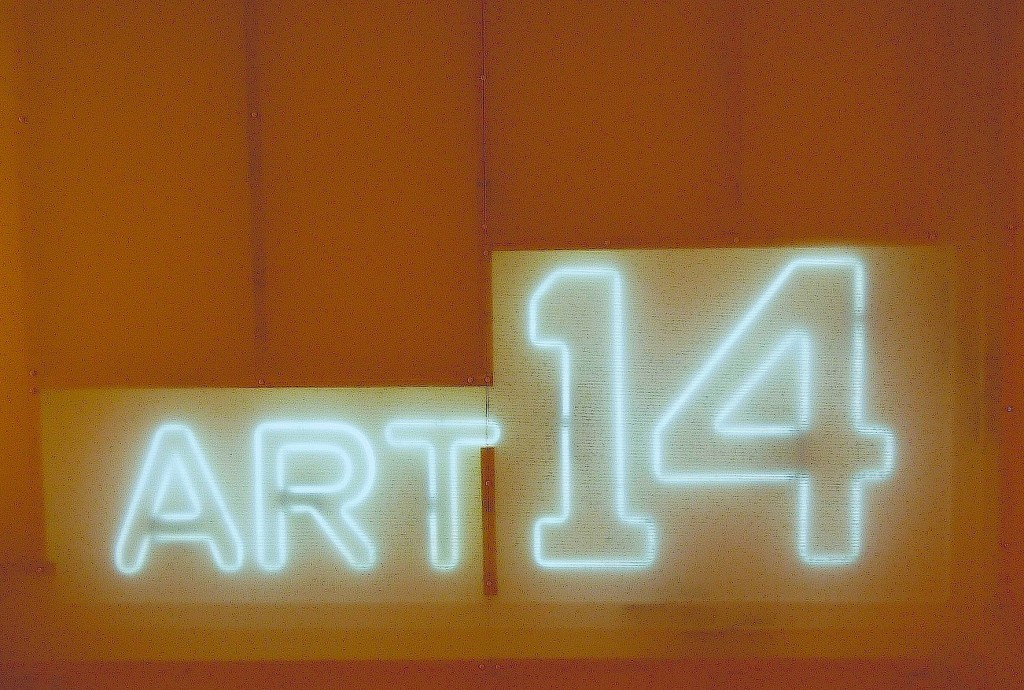 People who are frustrated at the quality of work shown at an art fair fail to forget that this is an environment to sell, a trade fair, a business platform, and a large financial investment for many of the galleries that have come to represent the artists that they support. While working at Art13 and Art14, I have been intrigued by the juxtaposition of the independent UK galleries alongside their international cousins- each having distinct artistic parameters, clientele and, most importantly, their own aesthetic. There were over fifty more galleries than there were last year. If much of the work seems to have been geared, in general, to selling, within the tiers the exhibiting galleries operate, then that is because it is how it is structured; a layer cake. Did all the work on display have artistic merit? No. Was there an outcry from the paying visitors to the fair? No certainly not!
I was inspired by the energy of the opening, the positive atmosphere and attitude of the people involved, and went away with some good ideas to take back to the studio, and a good overview of what people are investing in and interested in.
A problem art fairs such as Art14 do have is that, through their inability/unwillingness to innovate and evolve their own business models, eventually 'easy' commercial galleries will become so much of a majority. In turn, the 'easy' viewer photographing every work on their ipad, not investing mental energy into the work and only seen as a potential buyer by eager salespeople, will continue to disengage from art further, seeing it as an add- on, a decorative accessory to their lives, and not necessarily a particularly important one.
This is how the layer cake works. I understand this is where the art market is, accept the fact that this is a huge, international business with many dimensions to it. I just also would like everyone to be inspired by the artists of the past, to read into them, remember them. Understand their thinking and what they were trying to master, because they taught themselves to see the world in a way that many cannot. It would be a shame if art were limited to being seen in such a way as is afforded to us through the current art fair model.
Fred Sorrell
Categories
Tags