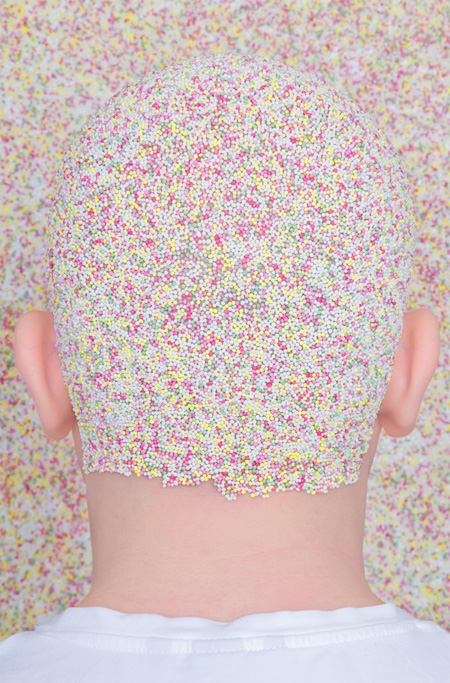 London born artist Philip Levine started using his head as a canvas for creativity back in 2006 when he began to go bald. Using it as a form of artistic expression, Philip's art aims to give out a social message and has inspired many men, women and children who are affected by something negative in their life to embrace their problem and use it in a positive way through art and creativity. Philip's debut exhibition 'Headism', sponsored by Gillette, showcased head designs that have now become iconic around the world. This creative art form has won him a place in both Time Out's Culture 100 2013 and The Observer Future 500. One of his images is part of Phaidon's publication 'Wild Art' and a work was recently displayed at Somerset House for 18 months alongside artists including Damien Hirst, Gabriel Dawe, Hugo Dalton and Georgia Russell.

Philip's exhibitions aren't limited to gallery installations; he has been living art in the Victoria & Albert Museum, Somerset House, The Roundhouse and internationally including The Art Museum of Estonia, Kumu, and Helsinki City Art Museum, Finland. Meanwhile, his 'Inspiring Head' workshops and presentations – which consider how Live and Performance Art has evolved to adapt to a generation desensitised to the standard gallery show – have been much in demand at The Tate Modern and The University of Arts London.
1. Can you tell us more about your work and what are the main ideas you would like to express?
I use my head as a canvas for creativity to produce my art. Essentially I aim to inspire and encourage people to turn what could be perceived as a negative – in my case going bald at an early age – into a positive through creativity and self expression.
2. How do you start the process of making work?
Beyond the research into what design to produce I actually have a shave and a shower to make my bonce nice and smooth to work on.
3. Do you consider the viewer, when making your work?
Yes for my exhibitions. You have to consider how they will view and react to your work. When it comes to my live performances I also consider the environment I will be placed and how best to display myself.
4. Name 3 artists that have inspired your work.
When I look at how people have evolved as individuals it would be David Bowie, Leigh Bowery and more recently Marina Abramovi?.
5. What defines something as a work of art?
I think it has a lot to do with the intention of the creator. It is almost that, if they say it is a work of art, then it is. One of my images was recently published in the book Wild Art with 300 artworks that are too offbeat, outrageous, kitsch, quirky or funky to 'make it' in the formal art world of galleries and museums. The authors have compiled the ultimate collection of creative works to challenge and engage every reader's perception of what is and isn't art. I think that is being challenged more and more in this era of art and creativity.
6. Anytime, anyplace – which artist's body would you most like to inhabit?
David Bowie. I know he was/is a musician essentially but he studied theatre/performance which I did at University and that foundation gave him the platform to move to music with his talent. I moved into art more but feel his experiences, as extreme as they would have been must be something great to inhabit.
7. What was the most intelligent thing that someone said or wrote about your work?
In 2011 I went to a Victoria & Albert Museum launch night. I met Geoffrey Marsh, English museum director who runs the Theatre and Performing Arts department at the V&A. He talked to me (while I had my 1000 Swarovski Crystal head on) and said I was living art. It was quite a defined moment because it was true but I wasn't really thinking of what I did as that. The next thing I knew he had booked me to be displayed on a plinth to interact with audiences in the V&A's Dorothy & Michael Hintze Sculpture Galleries among these 300 year old sculptures.
8. What's next for you?
My work is very collaborative because I can't really produce a head piece without someone doing it for me. I am planning various projects. One exciting one is to work with Olga Norohna, a Jewellery designer who exams the relationship between bodies, attitudes and surroundings, both in the wearer's and the audience's points of view.
Categories
Tags