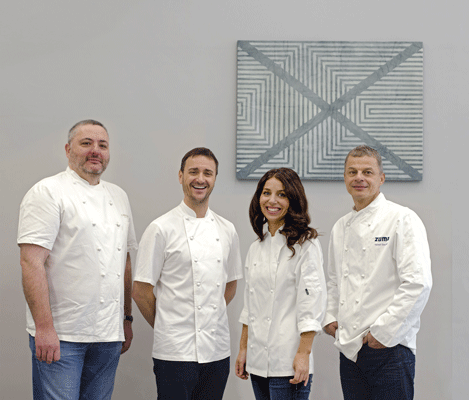 Art14 London. Food 4 Art.Richard Corrigan, Jason Atherton, Florence Knight and Rainer Becker at Ronchini Gallery
Photo: Victoria Birkinshaw
Florence Knight (Polpetto), Rainer Becker (Zuma), Jason Atherton (Pollen Street Social) and Richard Corrigan (Bentley's) celebrate different facets of London's eating out at the Fair
Art14 London – the second year of the capital's global art fair – this year hosts four chefs who represent some of the ways in which London now reigns in the world of restaurants. Each chef will oversee the food for one of the four days of the Fair.
Curated by Fay Maschler, the cooking styles crystallised are Venetian cicheti, Asian synthesis, evolved Classicism and proud British. Here is a unique opportunity for visitors to Art14 London to get a bite – or indeed three courses – of the sort of cooking that gets London chattering. The chefs taking part all attach importance to art and have invested in significant collections for their restaurants.
Thursday, 27 February – Florence Knight
Florence Knight, Head Chef at Polpetto, the small Venetian-inspired restaurant owned by Russell Norman, which reopens at new premises in Soho in February 2014, will take the helm on the opening night of the Fair. Florence studied textiles at London College of Fashion before deciding to follow her passion for food.
She has recently started her own contemporary art collection, purchasing works from artists such as Kate Jenkins, whose knitted and crocheted artworks often have a food theme.
?Friday, 28 February – Rainer Becker
?The German chef behind the high-end international restaurant brands Zuma, Roka and most recently Oblix at The Strand , will take up residency at Art14 London on Friday, the first full day of the Fair. Rainer is inspired by modern art and architecture as well as traditional Japanese art. He has amassed a personal collection and his favourite artists include Peter Blake, George Condo and Wu Sanchuan.
?Saturday, 1 March 2013 – Jason Atherton
?Following the opening of Berners Tavern in 2013, Jason Atherton will take up residency on the
?Saturday of the Fair. Jason's flagship restaurant is the Michelin starred Pollen Street Social in London which serves Modern european fare. Atherton's recognition that art plays a very important part of the experience in any of his Michelin Star restaurants has led him to build an impressive art collection, featuring work by Andy Warhol, Chris Ofili, Mark Titchner and Neal Tait as well as British contemporary artists including Matthew La Croix, Simon Foxall, Bruce Ingram and Juno Calypso. Atherton specially commissioned the artist Ben Ashton to create a piece for Pollen Street Social that reflected the importance of sourcing British produce, as used in his flagship restaurant.
?Sunday 2 March – Richard Corrigan
?On the final day of the Fair, the kitchen will be run by Richard Corrigan, Chef and Patron of Corrigan's Mayfair and the Bentley restaurants. Corrigan's restaurants are decorated with his personal art collection, including work by Tracey Emin, Sam Taylor-Wood, Angus Fairhurst, John Wonnacott and Alan Parker.
Food 4 Art at Art14 London is presented in partnership with leading catering and event design company Absolute Taste, headed up by Lyndy Redding. Absolute Taste were the recipients of a Catey Award for Event Caterer of the Year in 2013. Lyndy Redding commented "We are really excited to be working with Art14 London along with four such high profile chefs on what will be a unique, fun and creative project. Whether you require something small and speedy, a three-course lunch or just a glass or two of Ruinart Champagne, with Food 4 Art visitors can really extend their horizons in the art of food."
Make Sure You Book art14restaurant@absolutetaste.com
About Mark Westall