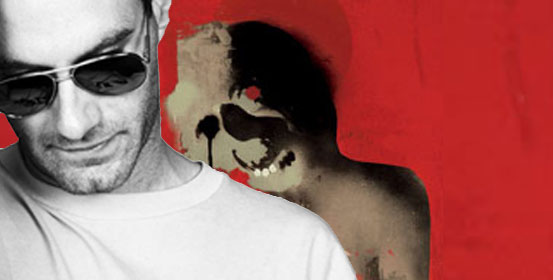 For many years James Lavelle has been swapping art hats for musical ones; Meltdown is a perfect moment for him to call in all this experience to redefine the way music and art can work together.
Gavin Turk
Southbank Centre has announced James Lavelle as curator of Meltdown 2014 (13th-22nd June). Since starting iconic music label Mo'Wax aged 18, James Lavelle has proved to be a unique and restless musical and artistic innovator, shaping, re-thinking and changing today's cultural landscape. Over the past decades to the present day Lavelle's artistic energy and enthusiasm has made him one of the most sought after collaborators, defying genres and working across music, art, fashion, design and film. In curating the festival in its 21st anniversary year the iconic musician and artist follows in the footsteps of some of music's biggest names, including David Bowie, Yoko Ono, Patti Smith, Jarvis Cocker and Massive Attack.
James kept me up during the 90s… and by that I mean no sleep!
He is a brilliant dictator..I mean curator, his label Mo'Wax and the UNKLE project are a great testament to that. Meltdown next year will be a blast!
3D, Massive Attack
James Lavelle's lifelong passion to combine creative entrepreneurship with radical artistic approaches put him at the heart of a thriving 90s music and club scene, and he has seen through the shift of paradigms from the analogue to the digital age in the music industry. Witness to and at the forefront of a worldwide DJing scene, from local hotspots to global touring projects, James' artistic adventures have always focused on finding identity and reaching your personal potential and beyond. At the heart of his Meltdown will be the desire to work with young people and mobilise the next generation to become makers, not consumers, of culture.
James Lavelle said:
"I am deeply honoured to have been asked to curate Meltdown 2014. I intend to create a vibrant and exciting collage of counter-culture and collaboration from the worlds of music, film, art and everything in between. I want to bring together my influences from the past, the present and my work as an artist in contemporary society as well as transforming the space in a way that's never been done before, both artistically and musically. In curating Meltdown I have a responsibility to inspire the next generation of young artists in the same way that I was inspired as a teenager.
Together we will push boundaries, shoot for the moon and create something that people will never forget."
Meltdown and James Lavelle's iconic label both launched 21 years ago, and an interactive exhibition devised with Southbank Centre as part of the festival, Mo'Wax21: Urban Archaeology, will celebrate the creative output of the label James launched as a teenager. For 21 years Meltdown has invited internationally renowned musicians to create once-in-a-lifetime experiences at Southbank Centre. Tasking artists to take over the 21-acre artistic site, Meltdown is renowned for unique events and artist-led programming, from Jeff Buckley's final UK show to the New York Dolls reuniting, and a rare live performance from Cocteau Twins' Elizabeth Fraser. James Lavelle's 2014 festival promises to have 10 days of not-to-be missed performances and creative collaborations across the site.
Jude Kelly, Artistic director at Southbank Centre, said:
"As an artist, James Lavelle has built a phenomenal reputation for innovation, experimentation and collaboration. The defining voice of Club Culture, his Meltdown will be an amazing celebration of everything he has done and still dreams of doing."
About Meltdown Festival
Southbank Centre's annual Meltdown festival has been running since 1993 and each year invites a different cultural figure to act as director of the event and pick the performers of their choosing. Previous directors include: Elvis Costello, David Bowie, Patti Smith, Lee Scratch-Perry, Morrissey, Massive Attack, Jarvis Cocker, Nick Cave, Scott Walker, John Peel, Ornette Coleman, Richard Thomson, Laurie Anderson, Ray Davies and Antony. Performers have included musicians, artists, filmmakers and comedians and have included Jeff Buckley, Nina Simone, Ivor Cutler, Radiohead, Grace Jones, Sir Michael Palin, Damon Albarn Sir Les Paterson, Nancy Sinatra and The Master Musicians of Jajouka. Meltdown has a reputation for staging one-off performances and collaborations by legendary artists. The New York Dolls reunited for Morrissey; Jeff Buckley played his final UK show at Elvis Costello's Meltdown; Nick Cave, Grace Jones and Pete Doherty sang Disney songs with Jarvis Cocker; Patti Smith performed Horses in full for her Meltdown; Ray Davies re-staged the TV pop show Ready Steady Go!, and a rare live performance from Cocteau Twins' Elizabeth Fraser as part of Antony's Meltdown.
About James Lavelle
2014 promises to be a landmark year for UNKLE's James Lavelle. Coinciding with his 40th birthday he will celebrate the creation of his Mo' Wax record label by launching a fan-funded Mo' Wax 21: Urban Archaeology exhibition accompanied by a lavish Rizzoli published book. It will also see him to curate the next Meltdown, an endeavour that is, he says, "One of the proudest moments of my life in music so far."
The teenage James Lavelle was geeky, obsessive and fearless. Inspired by NYC hip hop, subway art, Star Wars and Massive Attack he launched his own, prolific, "pre-boutique" indie label Mo' Wax in the early 90s. The 'Headz' compilation took "Trip Hop" worldwide while DJ Shadow's 'Endtroducing' notched up sales in excess of a million. A major label deal paved the way for UNKLE's 'Psyence Fiction'- Futura2000 provided the artwork, Radiohead's Thom Yorke and ex-Verve frontman Richard Ashcroft guested, and DJ Shadow produced. The LP emerged as the late night soundtrack for a generation
Mo' Wax took him into the heart of corporate record company darkness and then, at the dawn of a new millennium, he returned to the light through a host of prestigious global DJ residencies. A collision of music, fashion and art ensued. He forged links with A Bathing Ape and launched Mo' Wax Arts. Daydreaming with…. James Lavelle was premiered at London's Museum Of Mankind and has produced collaborations with celebrated visual artists Jonathan Glazer, 3D, Jonas Burget, Doug Foster and Turner Prize nominee Nathan Coley.
His dedicated and hugely influential crew of collaborators have since produced three UNKLE albums and 150+ tracks that traverse classic hip hop aesthetics, breakbeats-meet-house, electronica and "desert rock ". The mission was always global and one collaboration leads to another, from the Music Producers Guild winning Band Of Skulls remix to co-producing and co-writing the title track on the number 1 Queens Of The Stone Age record'…Like Clockwork'. But as 2014 approaches, with all the connotations of a retrospective, James Lavelle's focus remains on the future and for the first time in a long time, he feels he's got a blank canvas.
Categories
Tags