Video of Syrian artist Khaled Takreti and Hisham Samawi, co-founder and Director of Ayyam Gallery, discussing the artist's new visual language in relation to his roots in Syria and Egypt.
Complete Freedom Ayyam Gallery London through to Saturday 5th October 2013
In his work, Khaled Takreti explores issues surrounding immigration and displacement. Les Enfants de la Syrie (The Children of Syria) depicts a group of children in hanging chairs on a fairground ride. Seemingly spinning high in the air with no sky or ground visible above or beneath them, they function as a metaphor for the disrupted lives and dispersed children in war-torn Syria; "lost between sky and earth", as Takreti refers to them, they endlessly spin, trapped in a state of limbo.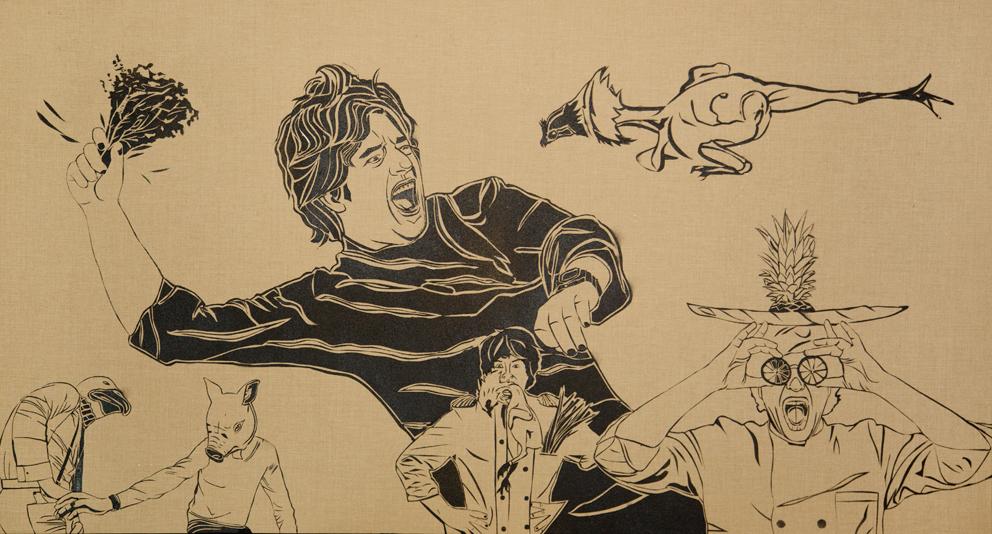 Khaled Takreti, Chaos, 2013, Acrylic on Canvas, 106 x 196 cm.

Meanwhile Immigration probes the issue of multiculturalism in the UK capital, examining the melting-pot of ethnicities and sexual identities that define the city. Populated by symbols and stereotypes of London life past and present, such as phone boxes, the London Eye, surveillances cameras and club dancers, the work challenges our understanding of freedom, in particular the freedom to choose one's national identity and home.
The hybrid creatures that populate Takreti's work reference his hybrid approach to artistic practice, as well as the culture and mythology of his former home country of Egypt.
About Mark Westall