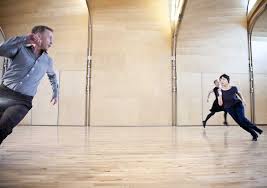 A Series of Appointments by Siobhan Davies Songbook by Matteo Fargion Live Feed by E. V. Crowe
Chalk Farm Road, London, NW1 8EH Sat 17 Aug, 12noon, 4pm, 7pm Fri 23 Aug, 5pm, 7pm Sat 24 Aug, 12noon, 4pm, 7pm www.siobhandavies.com/rotor www.roundhouse.org.uk
"When I was asked to think of works that would resonate with Timepiece, ROTOR was one of the first things I thought of. Its relationship to the complexities of the circle and to time seemed to make it the perfect piece to show both in the Roundhouse and under the pulsing rotation of this new installation."
Conrad Shawcross
Siobhan Davies Dance counterpoints Conrad Shawcross's Timepiece, a vast 8-metre faceless clock, a spectacular light sculpture that floods the Roundhouse's Main Space with intricate layers of light and shadow. Three live works from ROTOR will be performed in this extraordinary space, with their own take on movement and the manipulation of time.
ROTOR was first presented in London in 2010 before it went to the Whitworth Art Gallery in Manchester, Dovecot in Edinburgh and Turner Contemporary in Margate gathering great public and critical acclaim.
ROTOR performance times
Sat 17 Aug, 12noon, 4pm, 7pm
Fri 23 Aug, 5pm, 7pm
Sat 24 Aug, 12noon, 4pm, 7pm
www.siobhandavies.com/rotor www.roundhouse.org.uk
About Siobhan Davies Dance
Siobhan Davies Dance offers artists space, resources and time to explore how their work can be tempered by the activities of our building. We commission work from artists across a variety of fields and offer them a platform to share their work through a programme of exhibitions and talks.
Founded and led since 1988 by pioneering choreographer Siobhan Davies, Siobhan Davies Dance has evolved over the years from a touring dance company in to an investigative contemporary arts organisation. The completion of our Studios in 2006 kick-started an explosion of activity allowing us to support the making of far more work. Exploring choreography and movement is at the heart of everything we do. So whilst we now apply choreography across a wide range of creative disciplines including visual arts, film and craft, we continue to hold our dance roots close.
About Mark Westall