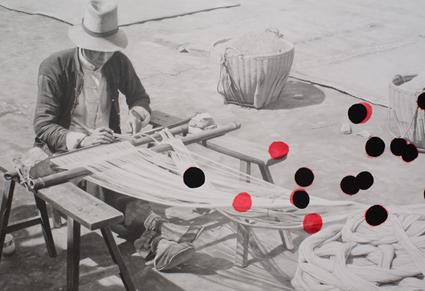 Dog Days I
Simon Mathers, Ulrich Strothjohann, Aishan Yu
Saturday 8th June – Saturday 6th July 2013 PV Friday 7th June 2013 6-8pm
First Floor, 72 New Bond Street, London, W1S 1RR motinternational.com
The Romans associated the long hot summer days with the 'Dog Star' Sirius, because it is the brightest star in the constellation Canis Major (Large Dog) and the brightest star in the night sky. With a tension between temporality—both fleeting and endless, like the dog days of summer—these artists are brought together in a temporary constellation.
Time is ever-present in the practice of Aishan Yu. Her photo-realistic drawings embody and reference acts of laborious patience including actions such as: weaving, painting, looking, arranging, and building. These moments underline her drawing as a durational process implicit to the depiction of a psychological experience—an interior world of dreams and shadows. Her source images are historically linked, this one selected from the archives of the German documentary photographer Hedda Morrison who resided in Beijing for a thirteen-year period from 1933 to 1946. The sense of nostalgia is disrupted by Yu with her marks of the present, spots of paint or lines of ink juxtapose the quick hand with the slow.
Aishan Yu's focus on the centre of her paper draws one's attention to looking in or out, whereas Simon Mathers rests the gaze on the surface of his canvas. Mathers paintings of familiar objects (sunglasses, cheese, cigarettes) and anonymous subjects materialize as studies of surface and process. His practice often draws from his daily activities; a captured moment on the bus will resurface in the studio. Often working on many pieces simultaneously, Mathers gathers and layers, reveals and conceals, drips and draws out gestural abstractions that place emphasis on the quality of the line.
Mathers' reference to the ephemeral form is translated into one of cemented presence in the sculptures of Ulrich Strothjohann. The allegorical structures of Strothjohann's work take up space and position the viewer in direct relationship to the object or the activity. With a focus on transformation, his work often alludes to instructions, operational manuals, and guides for activity. For Strothjohann the world is in constant motion—chains of narratives intercepting and found materials repurposed. The work begins in the everyday and moves into the realm of philosophy; forming a system of spatial planetary mechanics of relative positions.
About Mark Westall