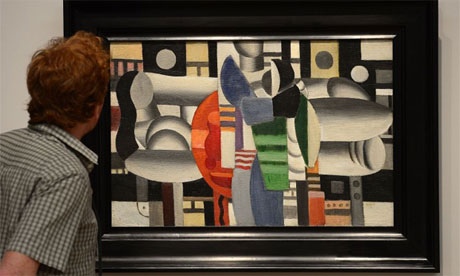 On display … Three Women at the Red Table by Fernand Léger. Photograph: Emmanuel Dunand/AFP/Getty Images
This article titled "Madonna sells Fernand Léger's modern material girls" was written by Jonathan Jones, for theguardian.com on Thursday 9th May 2013 12.02 UTC
Fernand Léger invented a new kind of modern beauty. No wonder Madonna bought one of his works, and no wonder she has just made .2m from selling it with Sotheby's in New York.
The painting Madonna sent to auction is Three Women at the Red Table, which dates from 1921 and is part of a constellation of modernist hymns to womanhood that Léger painted after the first world war. It is closely related to his masterpiece Three Women in the Museum of Modern Art, New York. Moma's picture also dates from 1921-2, also features three women and a red table, and is even more manifestly a vision of beauty for the young 20th century.
Léger is very French. His images of women fit into a long tradition, in French art, of portraying women at leisure – often for the male eye. One of his 19th-century sources is Women of Algiers by Delacroix; another is The Turkish Bath by Ingres. But such scenes of women at leisure go further back in France, to Watteau and even to the artists of 16th century Fontainebleau.
What Léger does is to empower the dream women of French art by transforming their relationship with the onlooker. He complicates the picture hugely. In the painting Madonna has sold, the three women are spectacularly abstracted: they can be recognised, but the effect is a million miles from the easy-on-the-eye male pleasures of Ingres.
As it happens, Léger taught Louise Bourgeois – and if his art is not exactly feminist, it is profoundly pro-women. His women are self-sufficient and strong in their modernist world. They are icons of a new age.
It was cubism that freed Léger to paint his cool visions. The inside views of reality pioneered by Braque and Picasso before 1914 inspired him to create his new reality, in which the sexiness of modernity meets the grace of classical beauty. His feminised utopia is a liberating place.
guardian.co.uk © Guardian News & Media Limited 2010
Published via the Guardian News Feed plugin for WordPress.
Categories
Tags