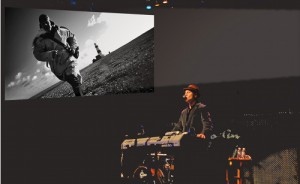 At 7pm Tomorrow , Wednesday 8th May 2013 ditto are showing a private screening of pioneering musician Thomas Dolby's short film 'The Invisible Lighthouse', with Thomas performing the film's musical score & narration, live. The event, at ditto's studio The Lighthouse in Islington, is free and offers an unparalleled opportunity to experience Thomas' unique vision in an intimate setting.
The film, directed and produced by Thomas, has already attained critical success, garnering 'Best Director' and 'Best Documentary Short' at the 2013 Los Angeles DIY Film Festival.
As a child Thomas would fall asleep to the rhythmic flashes from the lighthouse perched on the shingle spit of Orford Ness on the Suffolk coast, a place where the MOD used to conduct secret military tests. The announcement that the lighthouse was to be decommissioned and left to the mercy of costal erosion stirred memories and galvanised Thomas over the winter of 2012. Access to the lighthouse was officially denied due to the many unexploded bombs buried in the grounds around it, so Thomas mounted his camera on a radio-controlled quadrocopter to achieve the stunning viewpoints he was after. The result is an exploration of not just the lighthouse, but of his childhood memories.
Thomas Dolby is best known to most through his innovative new wave synthpop success of the '80s, particularly 'She Blinded Me With Science' and 'Hyperactive!' His writing, keyboard and production skills have seen him work with musical greats such as Stevie Wonder, David Bowie and George Clinton, to name but a few.
Intrigued by the internet, Thomas founded Beatnik Inc. which developed the downloadable Rich Music Format (RMF), wrote the audio layer of Java, and worked with Nokia to co-develop technology now used globally in over 3 billion handsets. He even created the famous Nokia signature theme, taken from Francisco Tárrega's 'Gran Vals'.
In 1998 Thomas was recognised with a Lifetime Achievement Award in Internet Music from Yahoo! Internet Life.
Thomas has also spent 12 years as Musical Director of TED, is a successful keynote speaker and researcher, and in 2011 released his fifth album 'A Map of the Floating City' alongside a multiplayer online game of the same name.
7pm, Wednesday 8th May at: The Lighthouse, Canonbury Yard, 190 New North Road, N1 7BJ.
www.ditto.tv
Categories
Tags