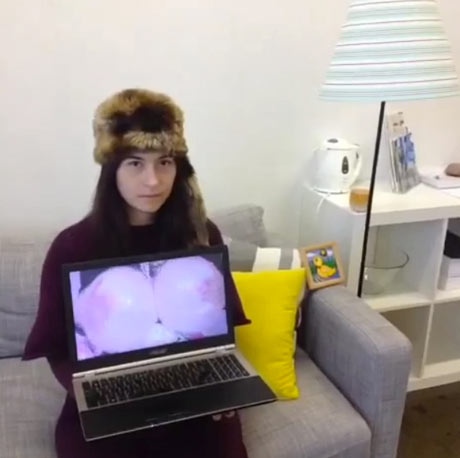 Artist Angela Washko used Vine, a Twitter app used to make 6.5-second videos, to create Tits on Tits on Ikea, sold for $200

While the 100th annual New York Armory show was doing its dependable, blue chip thing, down the street the three-year-old Moving Image fair was selling Vines.
The nascent offspring of Twitter might be the most cutting-edge way to communicate a visual story in in 6.5 seconds, but at two months old, it's hardly an established art form.
Although the Moving Image fair wasn't originally conceived to market such novelties, Magdalena Sawon, owner and director of Chelsea's Postmasters Gallery, decided Vine was nevertheless ready for prime time.
"The speed of how this show came about is appropriate to Vine itself, which implies spontaneity," explains Sawon. "This is the beauty of contemporary art; you're not sure what's going to happen. We just did it very quickly." She recruited two young writers, Marina Galperina, art editor at news site Animal, and Kyle Chayka, senior editor at art blog Hyperallergic to develop a contemporary antidote.
In the weeks following Vine's release, Galperina launched #VeryShortFilmFest, which invited Vine users to submit Vines using that hashtag, which led to #SVAES, The Shortest Video Art Ever Sold.
The result was 22 fast works looping on a plasma TV, interspersed with the curators' own promotional vines. Beneath the screen hung a collection of USB drives, each ready to transfer the unique video(s) wherever the buyer would like. A single Vine could be all yours for $200, or you could collect them all for $4,500. More info over at The Guardian

www.fadwebsite.com/the-shortest-video-art-ever-sold/
Categories
Tags