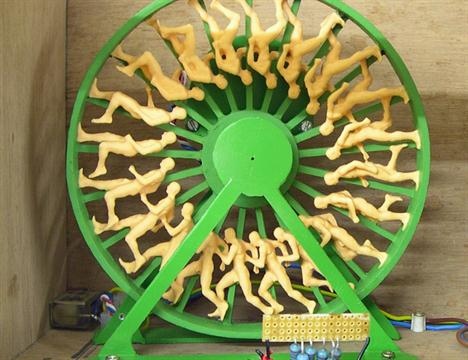 Tim Lewis Transformer Box 2013 Mixed Media 20 x 22 x 16.5 cm A tongue and cheek play on the animalisation of humans. In this piece, Transformer Box, a human is seen moving around a wheel on an infinite journey. For more information about the artist visit here Estimate: £6,000 – £7,500
Today Saturday 2nd March at 4pm, Kinetica Art Fair will for the first time hold an auction of selected artworks from the Fair.
The auction will be led by an auctioneer from Sothebys and will feature artworks from exhibitors at Kinetica Art Fair as well as artists from the feature exhibition.
A total of 31 lots are available, bids can be placed online through the-saleroom.com, as well as live at Kinetica Art Fair on Saturday 2nd March.
Kinetica Art Fair Ambika P3 35 Marylebone Road NW1 5LS
About Mark Westall