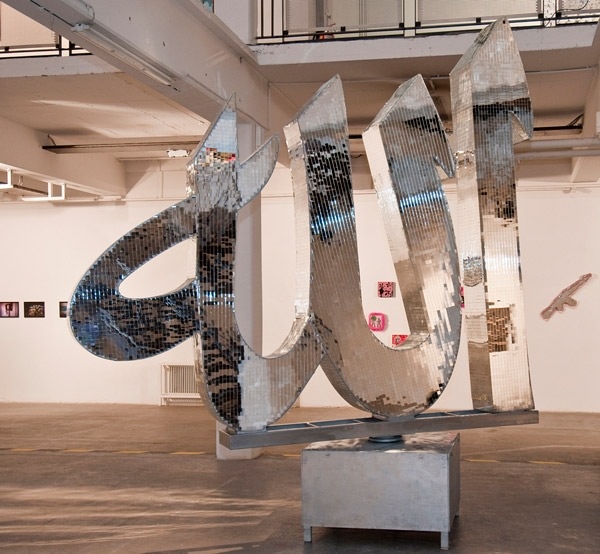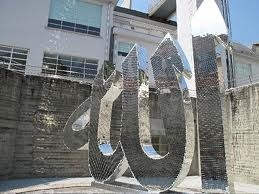 Lebanese artist, Zena el Khalil is to take part in the inaugural Art13London art fair ,which opens this week , exhibiting her sculpture 'A'Salaam Alaykum: Peace Be Upon You' as part of the fair's ART 13 PROJECTS strand.
The installation – a rotating 4 metre high 'Allah' made of glass mirror tiles – is inspired by a piece of public art in Tripoli, one of the religious, political and, therefore, troubled cities of the artist's home-country. El Khalil's version is intended to reflect and effect the environment around it – including its viewers – and to inspire interaction and communication through dance.
The artist is fascinated by, and part of, a generation living with war as a constant presence, even in apparent peacetime. This generation is always aware that trouble might break out again any time, but longing for a peace truly secured, they attempt to create some sense of normality. Of the work el Khalil says, 'Dancing, it seems, helps us to forget why we turned against each other. As our bodies move together we begin to realize that flesh is flesh and we are all the same. As euphoria takes over, we try to forget why we used religion to kill. Why we found each other so different.'
'A'Salaam Alaykum: Peace Be Upon You' will be 'activated' during the Art 13 LONDON preview (28 Feb 20130), with an Arabic-Turko soundtrack provided by music Instanbul- based Photographer and DJ, Ayla Hibri. Dancing will be encouraged.
More of el Khalil's work will be on display at the Galerie Tanit, booth G11 at ART 13 LONDON.
About The Artist
Zena el Khalil, born in the year of the Dragon, has lived in Lagos, London, New York City and Beirut. A visual artist, writer and cultural activist; she holds a Masters of Fine Arts from the School of Visual Arts in NYC and a Bachelor of Graphic Design from the American University of Beirut. El Khalil has exhibited internationally, including New York, San Francisco, Miami, London, Paris, Tokyo, and Dubai. She has also held solo exhibitions in Lagos, London, Munich, Turin and Beirut.
'A'salaam Alaykum: Peace Be Upon You' was commissioned in collaboration with Galerie Tanit Munich & Beyrouth and the Fondazione Merz, Turin.
It was previously exhibited at the Waldensian Church, Turin, as part of Paratissima, the parallel fair to Artissima,El Khalil is regularly invited to lecture about her artwork, book and activism. Some events include, The Guardian Hay Festival: Segovia, Spain; the Edinburgh International Book Festival, UK; the Hay-On- Wye Festival of Literature, Wales, UK; the Salone Del Libro, in conversation with Francesca Paci and Marco Philopat, Italy; Moderator for panel discussion with Beirut 39 "Rock The Casbah: Responsibility, Commitment and Art"; the University of Westminster, London UK; the School of Oriental and African Studies (SOAS), UK; The Leighton House, UK; and several times at the American University of Beirut and the Lebanese American University. In 2012 she was made a TED Fellow.
El Khalil works in a variety of formats ranging from painting, installation, performance, mixed media, collage and writing. She often uses materials found throughout Beirut such as photocopied images of militiamen and women, civilians and family members are embellished with everything from plastic flowers, glitter, strings of lights, colored keffiyehs, plastic toy soldiers, toy AK-47s, arabesques, beads, fabrics, and other objects that best convey the diversity and chaos of the city she takes her inspiration from.
Themes that are central to her work include issues of violence and gender, The work is a creative offering made to help maintain balance and order in the world around her. El Khalil believes that every form of creative invention is evidence that a person is spiritually alive. That it is a valid human experience; a true moment, a word, a sound, an act, a sculpture- all the process of being alive; all the affirmation of existence. In her words, "All spiritual. All holy. Every act we do or word we utter, we are absolutely responsible for. We are absolutely responsible for being alive. I am and I am grateful for, only being, a fragment in the cosmos of things… the great unbendable universe. The deeper I look into myself, the more I find that I am connected to something much greater. And this comforts me… knowing that everything I feel or make is a catalyst in someone else's mind. And the more I let go to experience these beliefs, the closer I become to you. We are one, without being numerical. By painting and sculpting these images, I am fighting for life. I am fighting for your life. I am fighting for my life."
Zena el Khalil also actively promotes emerging and under-represented Arab artists through several projects like xanadu* (xanaduart.com), based in Beirut, with a small extension in NYC, of which she is a founder and co-director of. xanadu*, a non-profit art collective, began in New York City as a direct response to the 9-11 attacks; el Khalil set up this platform to help give a voice to artists during a time of extreme xenophobia in NYC. In 2006 in Beirut, she organized the first art exhibition to only exhibit young women artists, in partnership with the International Museum of Women's program Imagining Ourselves, of which she was part of their Global Advisory Committee. She was later instrumental in producing the first magazine dedicated solely to comics and illustration in the Middle East, Samandal. She also created a publishing line to support and publish young poets in Lebanon. El Khalil has also curated exhibitions outside Lebanon including "Beirut Live" in London, and "Ricordando Cesare Roccati" at the Fabbrica delle E di Libera in Turin, Italy. Most notably, she co-curated "Nafas Beirut", an exhibit that opened one month after the Israeli invasion of Lebanon ended in 2006, featuring works made during the attacks.
Zena also conducts a yearly performance entitled, "The Pink Bride of Peace," where she participates in the Beirut International Marathon wearing a big pink wedding dress. She uses this opportunity to pair up with local NGOs to raise awareness on issues in Lebanon pertaining to animal rights, civil marriage, and to spread love, peace and positivity in a region that is volatile and unstable. The performance started in 2003 and continues to this day.
In 2006, el Khalil began a blog at the start of the Israeli invasion from her apartment in Beirut, beirutupdate.blogspot.com. It was a humanist personal account of the siege on Lebanon that lasted for 33 days and its impact on her and the people around her. It quickly received international attention and was highly publicized on news portals such as CNN, the BBC, The Guardian, Spiegel Online, The Nation, Counterpunch and Electronic Intifada. Her writing was also included in the anthology, Lebanon, Lebanon, published by Saqi Books. In May 2008, el Khalil was invited by the Nobel Peace Center to participate in a panel discussion on freedom of expression over the internet. The seminar was organized by the Norwegian Board of Technology and The Nobel Peace Center and the panel discussion included Jimmy Wales, founder of Wikipedia.
Soon after, Zena completed her memoir entitled "Beirut, I Love You", now translated into several languages including Italian, Spanish, Swedish, and Portuguese. With film director Gigi Roccati, she is currently working on turning her book into a feature film. In 2010, they were awarded participation in the Torino Film Lab program "Interchange" Training Program, and in 2011 the "Framework" competitive program in which they won all three prizes given towards the production of their film.
Her daily mantra is Gandhi's "be the change you wish to see in the world."
About Mark Westall