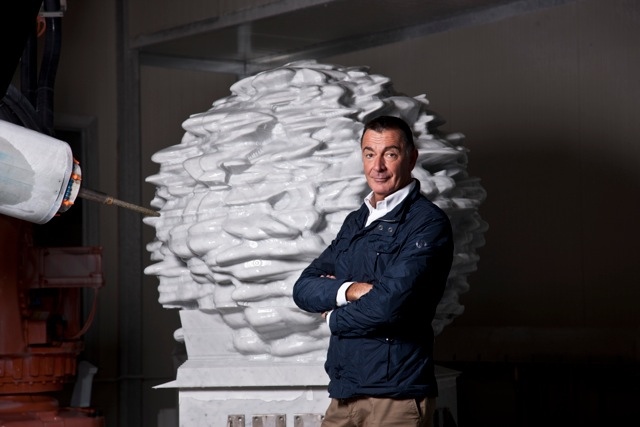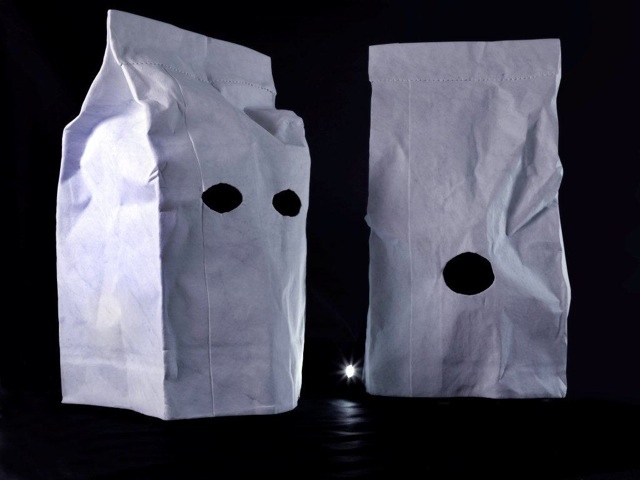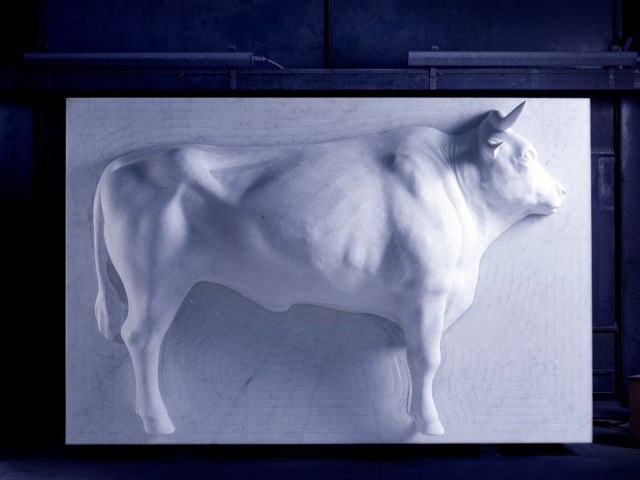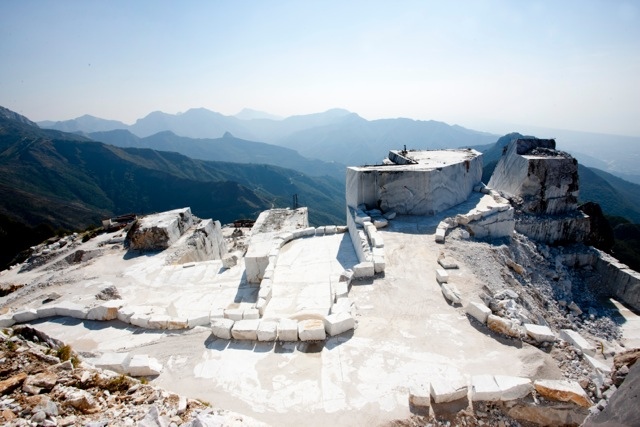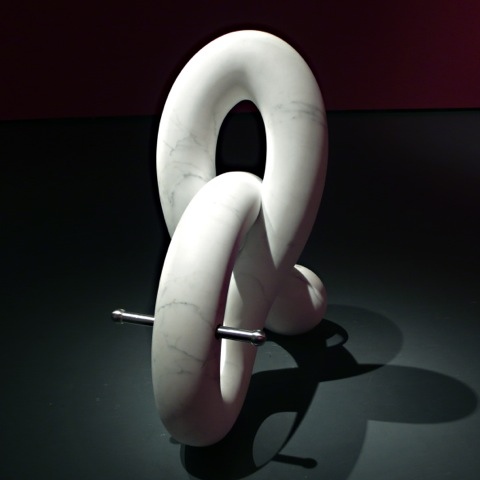 All images Veronica Gaido with the acception of Betony's Origin Chair By Ale Mosso
Paolo Carli and The Henraux Foundation are supporters of the arts and help promote the use of marble within the creative industries
1.If you CEO of Henraux what else would you be?
I never stopped to question the issue of what I would be other than what I am: I am an entrepreneur in love with my work, and the President of my company to which I devote all my energy, and at the same time I am a man who believes in the universal values of art, its language that just like music it has no frontiers, instead it unites and does not divide men, and overall contributes to the moral and civil growth of humanity.
I love art, and my energy, work and devotion is dedicated to supporting designers and sculptors, whilst creating an international hub for contemporary sculpture. I'm not interested in sterile forms of philanthropy, or advertising sponsorships: in fact I am ever more convinced that a company, especially a company like Henraux that represents examples of excellence of cultural pieces that are "Made in Italy", needs to become involved in actual process of cultural growth in the territory in which it is rooted, and further more to be present in an artistic and cultural panorama both of a national and international scale.
2. Can you tell us more about your work ?
My world has always been right from a boy, when I started working with my father concentrated around the world of marble. It's the world of quarries and workshops, where for centuries they have produced items of beauty that enrich and ennoble every corner of the Earth. It 's the extraordinary world that of the miners of the Apuan Alps, together with the laboratories and sculpture studios in the region Apuan-Versilian, where you can find some of the best technicians and the best workers that can be envied on a global scale.
Through my support of the arts, with a long-term project spearheaded by the Henraux Foundation based in the actual area of Apuan-Versilian, I want to enhance this world, to be able to get to know it and appreciate it more and more, and to be able to express my pride of being part of something, that will develop even further over the coming years. This project will not only support young artists working in marble but it will also benefit companies in this area that are behind the technological innovation. It will also represent and interpret the bi-millenary culture of marble that was started by the Romans in the Luna mountains and to some of the most remarkable and brilliant artists from Michelangelo to Canova through to the masters of contemporary sculpture, that recognize the efforts made by Henraux and the other marble companies of the area and give the an unparalleled leadership.
3. Has Henraux always been involved with 'The Arts'?
Henraux was founded in 1821 and has always had a special relationship with the important world of art and sculpture and the marble quarries of Mount Altissimo, discovered by Michelangelo in 1516 (quarries that the company still has today). In the course of nearly two centuries it has held significant relationships with the greatest sculptors of the nineteenth century. Henraux has moved with the times, and embraced new technology that we know the cross range of artists with whom we collaborate require these days to create their design pieces and sculptures. We approach the process of making work on behalf of the artists and designers we work with by reaching out to them as an extension of the creative hand and helping them to realise their creative inspirations that many years ago were maybe unthinkable.
The Henraux foundation was set up in memory of Erminio Cidonio, who launched the company's art studios back in the '50s and '60s and stimulated a fruitful collaboration with the company with artists such as Henry Moore who was soon followed by other leading names from that era from Adam to Miro, Arp, Noguchi, Vantongerloo, Penalba , Gilioli to Poncet. Its aim is to support international artists and designers working with marble as a material and it staged its first biannual award last year. Candidates had to present an unpublished project, by sending in the moquettes, drawings and 3D renderings of works.
4. Name 3 artists that have inspired you?
Henry Moore for his insights, Italian sculptor Renzo Maggi who combines an artist's creativity and dedication to the craft itself together with that of an ancient craftsman, and Park Eun Sun, for his purity and perfection of his laminations, and for being able to unite various colors of marble so precisely, that they seem to be one single material and Giovanni Maria Manganelli for his sculptures that gathered a great consensus during the exhibition in Pisa (2011-2013) and Giovanni Balderi for the lines of purity of his work. I am afraid, it is more than 3 artists, but I can't forget Tony Cragg for his strength and his modernity.
5. What defines something as a work of art?
Something that is a genuine expression of ones creative spirit that comes from an inner search, and which is the result of a once beautiful will to make the world better, which is linked to the past like a 'summa' of experiences and languages that look to the future, because art is about knowledge and a path of innovation that never ends. It is the result of an intense passion and exploration the becoming of man in search of a truth that may be unattainable, but towards a direction that we must strive for. That excitement that moves us, that makes us better.
?6. Anytime, any place – which artist's body would you most like to inhabit
Without a doubt, it would have to be that of Michelangelo, not only for his sublime art, but above all for his humanity.
7. What is your favourite 'ism'?
I do not like the "isms" in principle, and regarding education and training, and because of the bitter and often terrible experiences of the past, certain "isms" have created and plagued the lives of people with. But I like the patronage of the Medici family who helped make Florence and Tuscany so extraordinarily beautiful, and positivism that in the mid-nineteenth century has been fundamental to science and hopes for a new world.
8. What was the most intelligent thing that someone said or wrote about your work?
Through the many initiatives promoted and organized by The Henraux Foundation, of which I am proud to be the President, I have encountered numerous people from the cultural industry. I received words of appreciation and encouragement for my work, positive feedback and valuable suggestions that I will always treasure. The most memorable of these? Those who, simply shook my hand and said just thank you.
9. What's next for you?
The Henraux Foundation has a number of activities planned around the Salone del Mobile, Milan design week, which I will save as surprises for another moment in the future to chat again with FAD.
Among the most significant projects that we will be working on this year will be the planning of the next "International Sculpture Prize" prize that will take place next in 2014, which we initially launched in 2012, as a part of the Henraux Foundation activities program.
Over 15 sculptors around the age of 40 years, key international and national artists and designers from the world of art and architecture, where selected by a prestigious jury to become the finalists from hundreds of entries for the first year's prize.
The three finalists (Fabio Viale, the winner, and Mattia Bosco and Alex Bombardieri second place ex-aequo) were selected to create their winning designs within the studios at the Foundation in collaboration with engineers and Henraux masons. The winner of the prize Turin based, Italian artist, Fabio Viale, has just opened his first solo show in New York that features his winning piece "Arrivederci e Grazie" at the Sperone Westwater Gallery in New York.
Fabio's piece successfully demonstrated that marble is an extremely versatile design material and the piece uses marble to mimic fabric sacks.
The next prize will be even more exciting than the first and out plans to announce the dates are underway.
Then in May the foundation will present an artist that will substitute the master Manganelli at Pisa Airport for the second edition of Volarearte.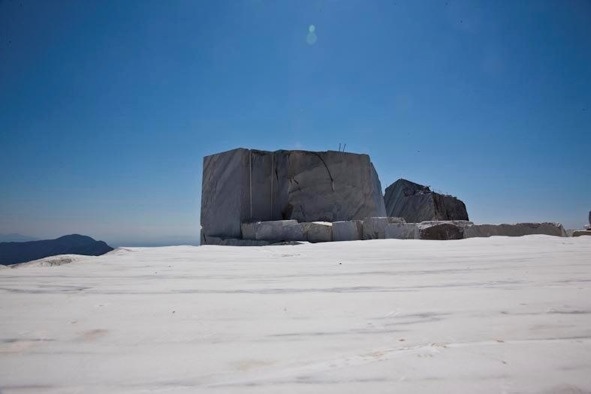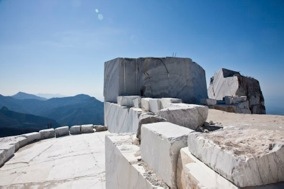 Categories
Tags