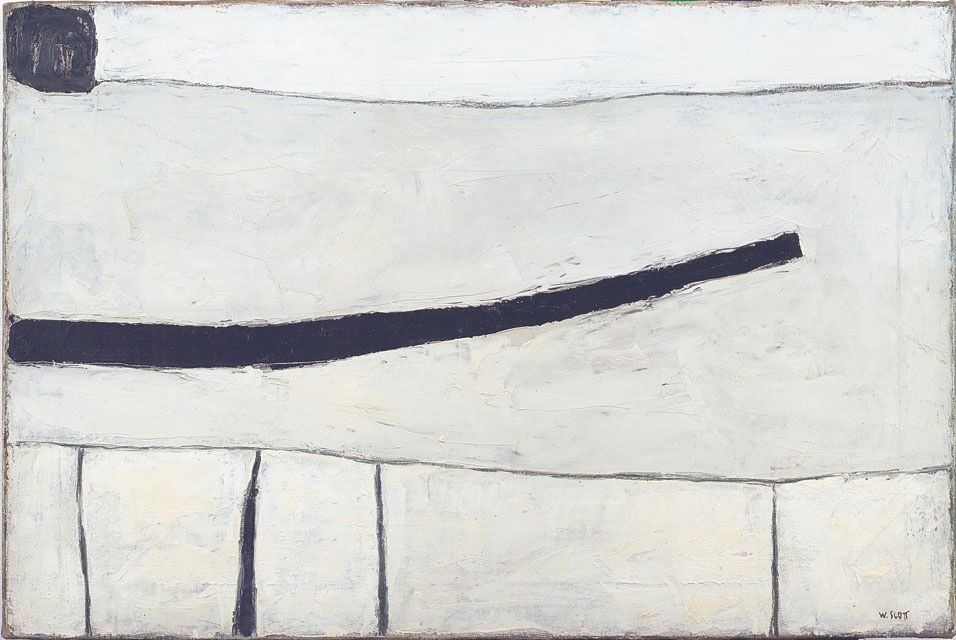 William Scott, The Harbour 1952 © The estate of William Scott, Photo: Colin Mills
www.williamscott.org
To mark the centenary of William Scotts birth, Tate St Ives, The Hepworth Wakefield and the Ulster Museum, Belfast, will hold a major touring exhibition in his honour. It opens at Tate St Ives tomorrow on 26th January 2013, developed with the support of the William Scott Foundation.
A further series of distinctive and complementary exhibitions will take place across the UK and the US throughout 2013, including at the Jerwood Gallery, Hastings; Enniskillen Castle Museums in Northern Ireland, where Scott grew up; and culminating in a show and events at the Victoria Art Gallery in Bath, Somerset, where Scott lived for most of his life.
In addition to this evolving, Centennial year of exhibitions, which will see the first major survey of the artist's work for over 20 years, an exclusive and much anticipated Catalogue Raisonné will be published in limited edition by the William Scott Foundation, in partnership with Thames & Hudson. The comprehensive four-volume edition, edited by Sarah Whitfield, will feature almost 1,000 of the artist's oil paintings, which he created prolifically between 1928 – 1986, as well as unpublished letters, lecture notes and detailed documentation. There will be a special launch event at the Royal Academy of Arts in London on 8 May 2013, as well as Catalogue Raisonné events at the partner museums.
With his first exhibition of two paintings at the Salon d'Automne at the Palais de Chaillot in Paris in 1938, William Scott is renowned for his powerful handling of paint in his exploration of still life, landscape and nude and of the unstable boundaries between them. Scott developed a unique language that pushed the connections of abstraction and figuration, leaving an influential legacy of work. The Centennial events will demonstrate the development of his art, and, through his relationships with artists, gallery owners and museums, how he pioneered the perception of modern art like no other figure in England and America.
Scott was an artist of both enormous productivity and exceptional artistic judgment. Combining paintings, sculptures, prints, photographs, the diverse exhibitions programme will offer varied explorations of his work, ranging from the nude to landscape, still life and the abstract. There will also be screenings of the film Every Picture Tells A Story, by his Oscar-winning son, James Scott.
Scott's The Harbour, 1952 – one of his most radical works and the first example of his seminal black and white works – was donated to the Tate Collection by James and Robert Scott in 2012. The touring exhibition will appropriately begin at Tate St Ives with a series of thematic rooms, focusing on Scott's morphological shifts between genres and his preoccupation with 'significant forms'.
The exhibition will evolve as it travels to The Hepworth Wakefield (25 May ? 29 September 2013), before expanding into a full survey exhibition at the Ulster Museum, Belfast (25 October 2013 – 2 February 2014).
The project is led by Sara Matson, Curator at Tate St Ives with Chris Stephens, Lead Curator of Modern British Art at Tate Britain, Frances Guy, Head of Collections and Exhibitions at The Hepworth Wakefield and Anne Stewart, Curator of Fine Art at National Museums Northern Ireland. In collaboration with the William Scott Foundation, the works will be drawn from major collections across the UK and Ireland, as well as important loans from public and private collections in Brazil, France, Italy and the USA.
Enniskillen Castle Museums (15 February ? 31 August), close to where Scott grew up and which holds one of the most significant public collections of Scott's work, will display its collection of paintings. These feature alongside creative responses by future budding artists from primary and secondary schools in Fermanagh. Inspired by Scott's life-long role as an art educator and teacher, this initiative emphasises his passion for connecting with a new generation of artists.
William Scott: Divided Figure takes place at the Jerwood Gallery in Hastings from 27 April ? 10 July and investigates Scott's works over two decades, from 1954-1973. The show has a particular focus on Scott's early figure works, rarely seen in the public domain. It has been created in close collaboration with the William Scott Foundation and archive.
Simplicity and Subject will open at the Victoria Art Gallery, Bath, from 7 September – 17 November 2013. Featuring 50 paintings and drawings; it will place emphasis on Scott's Somerset connections and highlight the unique exchange in his work between urban and rural life. Scott lived in Somerset for most of his adult life, including ten years as Senior Painting Master at Bath Academy of Art, Corsham Court.
William Scott: 1950s Nude Drawings, a presentation of Scott's iconic 1950's charcoal nudes, will take place at the Karsten Schubert Gallery from 11 April ? 17 May.
William Scott & Friends, featuring works from Scott's private collection, including paintings traded between the artist and his contemporaries (such as Antoni Tapies, Patrick Heron, Roger Hilton, Terry Frost) will be shown at the Osborne Samuel Gallery in London (11 June ? 13 July).
March 10 will see the opening of exhibition 'The Last Painting' at Denenberg Fine Arts, Los Angeles, in support of the Alzheimer's Association, California Southland Chapter. The opening will include a private fundraising dinner event hosted by Denenberg Fine Arts with Guest of Honour, Alfred Molina.
Across an international career spanning five decades, Scott produced an extraordinary body of work and is known as much for his close associations with St Ives artists Patrick Heron and Peter Lanyon, as well as being one of the most celebrated Irish painters together with Roderic O'Conor, Jack B. Yeats and Louis le Brocquy. Internationally exhibited alongside Mark Rothko, Alberto Burri and Antoni Tapies, this year long celebration secures William Scott's reputation as one of the leading British painters of the Twentieth century.
Categories
Tags