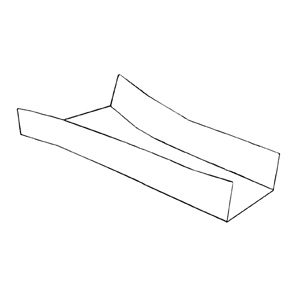 22nd -24th October 2012 : Private View Wednesday 24th October 6 -9PM
The 2012 edition of Sluice art fair will manifest itself as a publication and an exhibition in which all of the work will be auctioned. The whole event will function as a fundraiser for Sluice art fair 2013.
The Sluice publication will be launched on the evening the auction draws to a close on the 24th October at HANMI GALLERY in Fitzrovia, London.
Publication
Sluice is a project run by artist/curators for artist/curator-run, emerging & non-profit projects and as such the Sluice 2012 publication is intended to continue this profiling of artist/curator run galleries. The publication will consist of work submitted by the artists and curators that run the galleries and projects that Sluice exists to profile. The publication is a strictly limited edition of 100, which will feature limited edition works of art by significant and exciting artists from galleries and project spaces from across the UK and abroad. Galleries and projects participating in the Sluice2012 publication include:
Aid and Abet , Anarch , A Plan , Bloc Projects , Lubomirov -Easton , Filmarmalade , IMT Gallery , Marmite Prize , studio1.1 , Theodore:Art , The Modern Language Experiment , Transition
The Sluice2012 publication will be on sale at Hamni Gallery for the duration of the sluice exhibition/auction.
Auction + Exhibition
The exhibition will be comprised of work donated to sluice for the purposes of raising funds for Sluice art fair 2013. The auction will be both silent and blind. The auction will be open to the public to view and bid on from the 22nd to the 24th October and will reach its conclusion during the reception on the evening of the 24th. Artists donating work to the auction include:
Edwina Ashton , Kerim Aytac , Stuart Barnes , David Blandy , Matthew Burrows, Suzanne Bybee , Michael Callaghan , Cordelia Cembrowicz , Marco Chiandetti , Ami Clarke , Toby Clarkson ,Wayne Clough , Paul Cole ,Gemma Cossey , Emma Coyle , Rosalind Davis , David Diprè ,Annabel Dover , Alastair Duncan , Brian Dupont , Bella Easton , Karl England , Susan Francis , Alistair Gentry , Gabriel Hartley , Jeremy Hutchison , Phil Illingworth , Tom Juneau , Natasha Kahn , Rob Leech , Hayley Lock , Cathy Lomax , Iavor Lubomirov , Ian Maslen , James McMeakin , Whitney McVeigh ,Hugh Mendes , Phoebe Mitchell , Eleanor Morgan , Emma Molony , Steve Nelson , Michaela Nettell , Kim L Pace , Kate Keara Pelen , Ryan Riddington , Bobby Sayers , Brian Sayers , Mark Scott-Wood , Robin Seir , Andrew Seto , Alli Sharma , Corinna Spencer , Annabel Tilley , Kirsty Tinkler , Andy Wicks , Rachel Wilberforce.
www.hanmigallery.co.uk/
www.sluiceartfair.com/
Categories
Tags