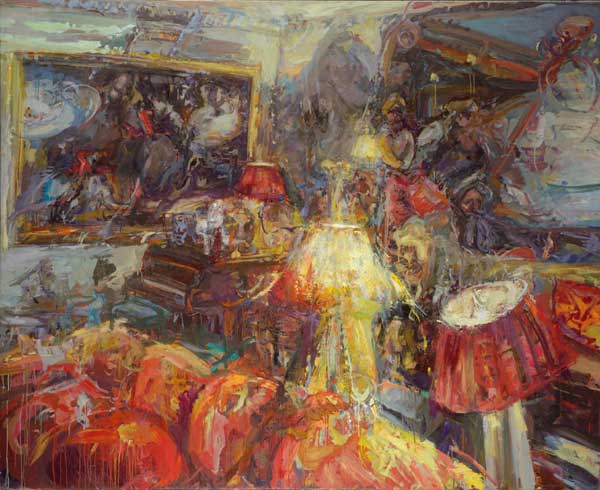 London Interior II , 2010-12 oil on canvas 165.1 x 203.2 cm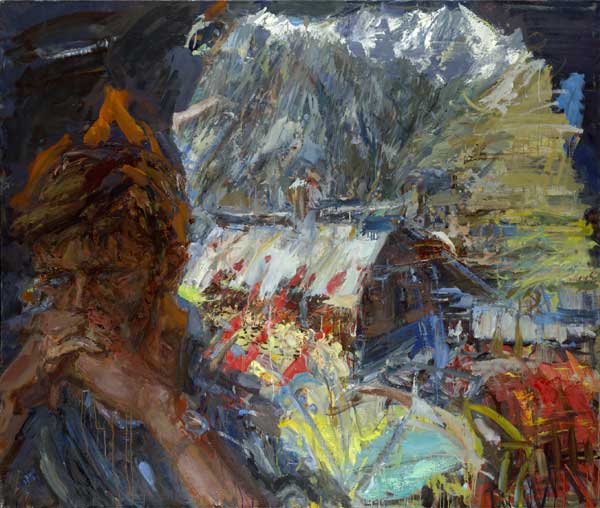 Where Have You Been.. , 2011-12 oil on canvas 168.9 x 199.4 cm
Exhibition 12th September – 6th October 2012
Marlborough is to present an exhibition of new work by Catherine Goodman.
Goodman is the co-founder and Artistic Director of The Prince's Drawing School and drawing is at the centre of this exhibition. The accompanying catalogue includes essays by critic Rachel Campbell Johnston and art historian Duncan Robinson.
Worlds Within are paintings of the inner landscape. They are the result of twenty-five years of working in the Indian Himalayas and are a dialogue between Indian and London, the artist's home. They combine paintings of mountains and huts with interiors of her family home and studio.
Also showing will be drawings made after paintings by Rembrandt and Veronese in the National Gallery which record her intimate familiarity with these artists.
The scale of the mountainous landscape with its massive peaks impacts on works which dwarf the artist and finds a counterpoint in the intimate drawings from the old masters. Goodman draws every day and this activity is at the centre of everything she does.
Neither subject is a simple rendition but permeated by her emotion, memories and feelings of the subject. Goodman says of her drawings "They hold smell, temperature, atmosphere' and have to be used 'while there's a freshness in them which after a time dies'. Bold strokes and colour convey the immediacy of her original encounter with the subject.
As Rachel Campbell Johnston writes
'From a distance you see a picture. But step closer and it disappears into a dense network of bush-strokes. The image melts into a forest of swipes and dribbles and splotches. Paint loops and spirals and eddies and sloshes. It is as if the world has dissolved back into that mysterious swell of feelings with which it was first sensed. Step back a few paces and it slowly resolves again – though perhaps not into quite the same picture that you saw the first time.'
To cite Duncan Robinson
'Whether she is drawing from life, drawing from the landscape or drawing from works of art, she does so with the same compulsion, to combine sight with insight, and to distil from what she sees an essence which is entirely her own'.
www.marlboroughfineart.com
Categories
Tags