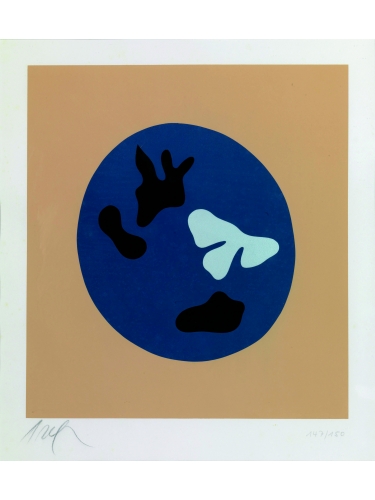 Untitled by Jean Arp Owner: Private collection Medium: Serigraph Edition size: 150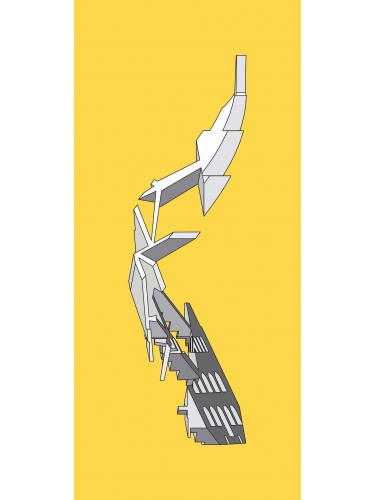 Notwithstanding#3 (Yellow) by Nick Hornby Size: 63 × 31cm Medium: Silk screen print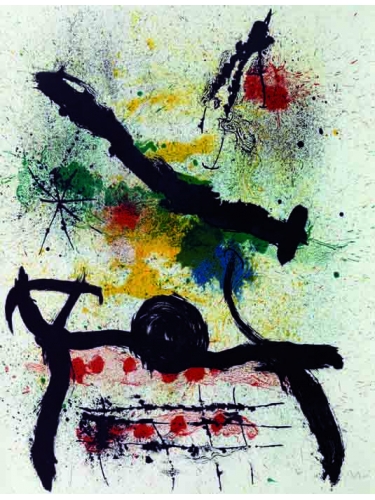 Untitled by Joan Miro Size: 65.2 × 50.3cm Medium: Lithograph
Private View: Thurs 30th August. 6-8pm
PANGOLIN LONDON Kings Place, 90 York Way, London, N1 9AG
31st August – 12th October 2012
The exhibition is a collaboration between the two galleries based at Kings Place, Pangolin London and Kings Place Gallery, and will span the entire public space at Kings Place over three levels.
It will include around 200 drawings dating from the beginning of the 20th century to the present day by both established and emerging sculptors. The exhibition will focus on the unique way sculptors approach drawing and will explore whether there is a difference between sculptors and other traditional disciplines in the treatment of two dimensional works on paper to communicate three dimensional objects and will challenge the notion that sculptors don't draw.
www.pangolinlondon.com
www.kingsplace.co.uk
ART TALK : Talking Art – 6.30pm, 1st October 2012
Tickets cost £6.50 and are limited so please book early to avoid
disappointment. To book go to: www.kingsplace.co.uk or Tel: 020 7520 1490
Artists include:
Robert Aberdein, Anthony Abrahams, Robert Adams, Harold Ambellan, Carl Andre, Kenneth Armitage, Jean Arp, Michael Ayrton, David Bailey, Cesar Baldaccini, Phyllida Barlow, Oliver Barratt, Glenys Barton, Bruce Beasley, Hans Belmer, Joseph Bernard, Petur Bjarnason, Hamish Black, Antoine Bourdelle, John Bridgeman, Christie Brown, Don Brown, Ralph Brown, Jon Buck, Rembrandt Bugatti, Reg Butler, Alexander Calder, Anthony Caro, Daniel Chadwick, Lynn Chadwick, Eduardo Chillida, Ann Christopher, Geoffrey Clarke, Richard Clegg, Doug Cocker, Terence Coventry, Stephen Cox, Niki de St. Phalle, Judith Dean, Charles Despiau, Sophie Dickens, Steve Dilworth, Frank Dobson, Sokari Douglas Camp, Kenneth Draper, Alan Dun, Stephen Duncan, Laurence Edwards, Jacob Epstein, Garth Evans, Angus Fairhurst, Abigail Fallis, Sue Freeborough, Elisabeth Frink, George Fullard, Hideo Futura, Naum Gabo, Henri Gaudier-Breska, Mike Ghaui, Alberto Giacometti, Eric Gill, Steven Gontarski, Mary Goody, Antony Gormley, Steven Gregory, Nigel Hall, Marcus Harvey, Johnny Hawkes, Damien Hirst, Nick Hornby, John Hoskin, John Humphreys, Steve Hurst, Jean Robert Ipousteguy, John Isaacs, Charles Jagger, Martin Jennings, Corin Johnson, Michael Joo, Michael Kenny, Jonathan Kenworthy, Jonathan Kingdon, Brian Kneale, Abigail Lane, Patricia Leighton, Kim Lim, Baltasar Lobo, Jeff Lowe, Sarah Lucas, Charles Lutyens, Michael Lyons, Ralph Macartney, Susie Macmurray, Aristide Maillol, John Maine, Marino Marini, Briony Marshall, Charlotte Mayer, Kate MccGwire, Gavin McClafferty, Leonard McComb, F.E. McWilliam, Bernard Meadows, Constantin Emile Meunier, John Mills, Joan Miro, Dhruva Mistry, Henry Moore, Polly Morgan, Paul Mount, David Nash, Paul Neagu, Oscar Nemon, Louise Nevelson, Ben Nicholson, Paul Noble, Tim Noble & Sue Webster, Isamu Noguchi, Breon O'Casey, Eilis O'Connell, Siguron Olafsson, Julian Opie, Mimmo Paladino, Albert Paley, Eduardo Paolozzi, Joseph Paxton, Pablo Picasso, Carl Plackman, William Pye, Keith Rand, Peter Randall-Page, Oliffe Richmond, George Rickey, Philip Rickey, Lorraine Robbins, Richard Rome, Ingo Ronkholz, Dawn Rowland, Michael Sandle, Inger Sannes, Richard Serra, Tim Shaw, Stella Shawzin, Ed Smith, Susan Smyly, Daniel Sparkes, Sarah Staton, Theophile Alexander Steinlen, Olivier Strebelle, Christy Symington, Wendy Taylor, Almuth Tebbenhoff, Johanna Thordadottir, Lee Tribe, Barbara Tribe, William Tucker, William Turnbull, Deborah van der Beek, Brian Wall, Jason Wason, Nico Widerberg, Alison Wilding, Glynn Williams and Ossip Zadkine.
Categories
Tags