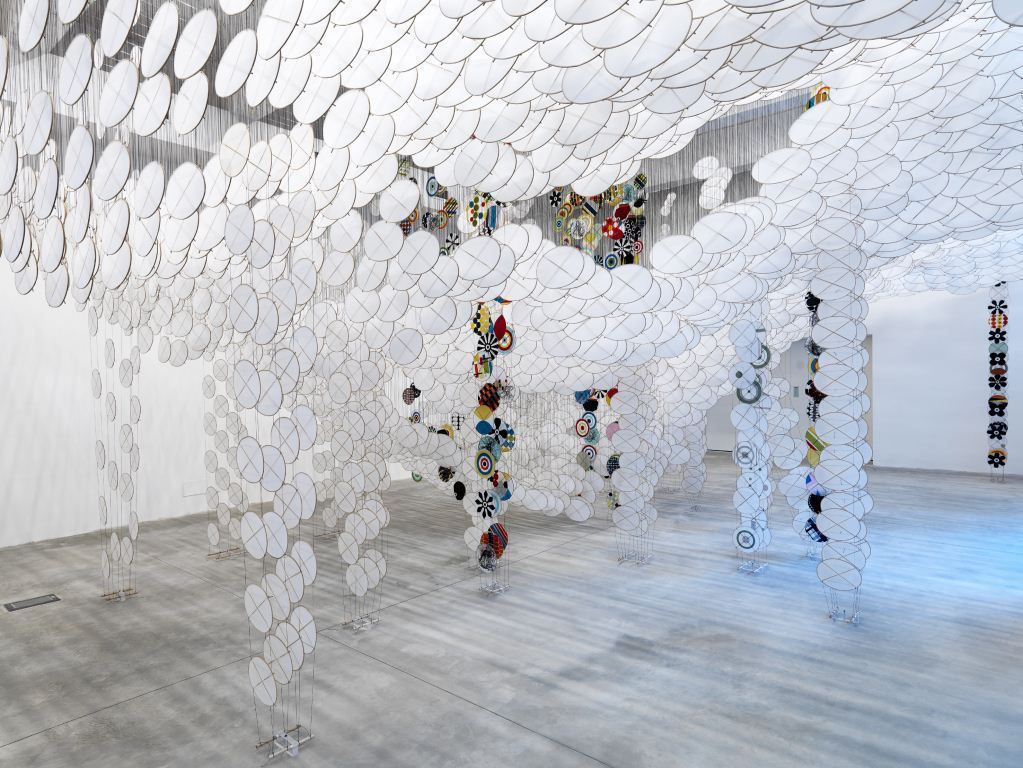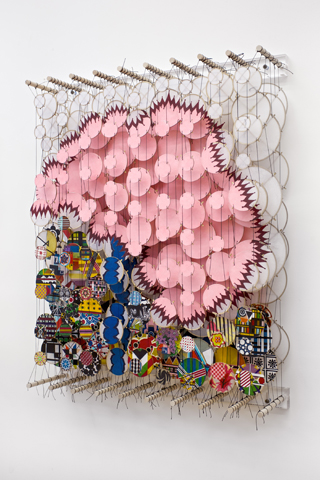 29th June – 28th August 2012.
This is the first UK solo exhibition of accomplished international artist, Jacob Hashimoto.
For this exhibition Hashimoto will build a new site-specific installation compromised of hundreds of small bamboo and paper kite elements. The installation will investigate themes evidenced in his previous work as he continues to explore his fascination with the intersections of painting and sculpture, abstraction and landscape.
Based in New York and of Japanese descent, Hashimoto has exhibited at numerous museums, public institutions and galleries in the USA and Europe. He is represented by: Mary Boone Gallery, Rhona Hoffman Gallery, Studio La Città and Galerie Forsblom. He has completed large scale public installations at The University of Houston; Andaz, West Hollywood; MACRO Contemporary Art Museum, Rome; and Palazzo Fortuny, Venice.
Hashimoto works using traditional kite-making techniques on a grand scale from his studio in Brooklyn. Small kite elements are handmade from paper and adhered onto a bamboo frame. During the installation process, Hashimoto strings these kites together suspending them between parallel dowels to form fragmented and layered fields, creating distinctive, interactive compositions. Kites cascade from brackets on ceilings, walls and floors to create enormous, undulating, sculptural clouds. Sculptures can be a solid colour on paper, or a complex, collaged pattern of multi-coloured cut paper. While the individual components remain more or less abstract, overall, clusters of pattern, stripes or waves of colour are formed, giving the considerations of sculpture and the pictorial devices of painting.
Hashimoto draws from a variety of art-historical influences, which explore the dialogue of Western painting. Each composition can be defined as a landscape abstraction referencing everything from American post-war abstraction, to 70's pattern design, hard-edged painting and postmodern 90's slacker painting.
As visitors walk around, under and through the sculpture they encounter the texture, lighting and angle of the work which shifts and changes to the individual as they explore its architecture from their own perspective, creating an intensely personal experience. Hashimoto's work creates a sculptural environment conveying a sense of wonder and playfulness.
www.ronchinigallery.com
22 Dering Street London W1S 1AN
About Mark Westall