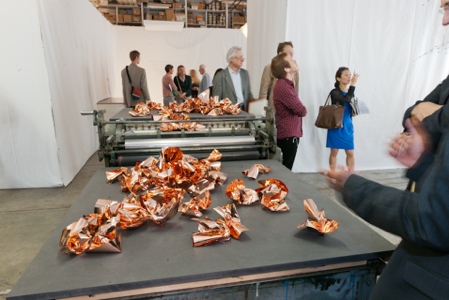 LISTE 16 special guest Haus Konstruktiv Zurich. Photograph: Daniel Spehr.
LISTE 17– The Young Art Fair in Basel will take place for the 17th time. LISTE will once again be the place to discover young, contemporary art. 64 galleries from 22 countries were selected by the jury – composed of curators – from 350 applications.
In keeping with its reputation as a discoverer fair, this year's LISTE will present 11 new galleries to an expert public. One of this year's highlights is the high number of 26 solo presentations. The Performance Program will be an vital part of the fair for the 8th time, and our special guest will be the collective Circuit – centre d'art contemporain of Lausanne. Other special guests include the House of Electronic Arts Basel and the exhibition space Kaskadenkondensator Basel. Nationale Suisse Insurance Company will present its art prize for the 9th time. Artist Jim Lambie of Glasgow – in collaboration with Mousse Publishing Milan – will create a magazine with material from the LISTE 17 artists.
Galleries of LISTE 17 Again this year, LISTE is hosting the world´s most important galleries of a new generation. From among those galleries, 11 are from Germany, 7 from the US, 7 from Great Britain, 4 each from France, Italy, Holland and Switzerland, 3 from Belgium, 2 from Austria, China, Mexico, Romania, Spain, Sweden, and 1 each from Denmark, Greece, Ireland, New Zealand, Poland, Turkey and the United Arab Emirates/Pakistan. Especially intriguing for our guests will be the 11 galleries selected from over 300 applicants who are participating for the first time in LISTE: 2P (Hong Kong), Christian Andersen (Copenhagen), Cinzia Friedlaender (Berlin), Gaga (Mexico City), Grey Noise (Dubai/Lahore), Jeanine Hofland (Amsterdam), Kendall Koppe (Glasgow), Maisterravalbuena (Madrid), Sabot (Cluj-Napoca), Gregor Staiger (Zurich) and Simone Subal (New York). 9 galleries are returning to LISTE after an appearance last year at Statement or Feature at Art Basel. In this way, these galleries with their important young positions will still be a presence during Basel's art week: Chert (Berlin), Ellen de Bruijne (Amsterdam), Elastic (Malmö), Freymond–Guth (Zurich), Hollybush Gardens (London), mother's tankstation (Dublin), Overduin and Kite (Los Angeles) and Jonathan Viner (London).
And other important young galleries who have over the last several years made a name for themselves on the international young art scene will also be showing their highly promising young artists at LISTE. A complete list of exhibiting galleries can be found at www.liste.ch/exhibitors.
Many of the young galleries selected will be presenting paintings: from classical oil paintings (TM Davy of Exile, Berlin), to figurative painting (Benjamin Senior, BolteLang and Mathew Cerletty, Office Baroque), to works seeking to expand the concept of painting itself (Jonathan Binet, Gaudel de Stampa). Photo- and material collages are a preferred medium of young artists – with a focus on digital collage (Daniel Gordon, Wallspace). Many of these works deal with socially and culturally motivated phenomena or interpretations of imagery and the status they take on within various forms of communication. Film- and video art (Rebecca Digne, Jeanine Hofland) as well as sculptural works (Marianne Vitale of IBID) will again take up their place at LISTE.
Especially striking this year is the number of solo presentations. One of the 26 to be presented at LISTE is from the gallery Labor, Mexico City: The Mexican artist Pedro Reyes (*1972), who is also taking part in documenta 13, will be presenting at LISTE. The young American artist Will Benedict (*1978) will be presented by Neue Alte Brücke of Frankfurt am Main. Michael E. Smith (*1977) of Detroit, a multimedia artist who presented at the Whitney Biennial 2012, will be presented by KOW Berlin, while the Canadian-Irish artist Ciara Philipps (*1976) will show her powerfully eloquent pictures at Kendall Koppe of Glasgow. LISTE Performance- Project "Gibst du mir Steine, geb ich dir Sand." ("If you give me stones, I'll give you sand.") Since 2005 the Performance Project has been an integral part of the art fair.
This year's program has been assembled by curator Burkhard Meltzer (*1979) of Zurich. Eight young international performers will deal with issues involving economic and symbolic exchange by negotiating the aesthetics of transfer. This year's program will open with a dance performance by Elena Bajo (*1976), followed by a musical performance by Quynh Dong (*1982). Other performance artists invited to LISTE 17 are Rebecca Stephany (*1980), Christian Ratti (*1974), Matteo Rubbi (*1980), Jasiek Mischke (*1983), Rubén Grilo (*1981) and Filip Gilissen (*1980). A detailed program is available at www.liste.ch/programme/performance-project.
LISTE Special Guests The special guest this year is the collective Circuit – centre d'art contemporain of Lausanne with editions, projections, performances and other actions. Young positions such as Emil Michael Klein, Jérémie Gindre, Kaspar Müller among others will be presented. The exhibition space Kaskadenkondensator will present a garden installation and has also invited project space PrintRoom of Rotterdam. At this year's LISTE, the House of Electronic Arts, with new director Sabine Himmelsbach, will present an interactive installation by Tim Toos (*1982) and the collective You Must Relax. Art Prize For the 9th time, Nationale Suisse Insurance Company will present its much coveted art prize. This award is intended for a graduate of a Swiss art college majoring in "visual art and media art". The prize, which includes a monetary award of CHF 15,000 and a solo appearance at LISTE, will be awarded this year to Kathrin Affentranger (*1978), a graduate of the Bern University of the Arts.
LISTE Since its inception in 1996, LISTE has focused exclusively on new galleries that discover and represent important young artists. Over the past 17 years, LISTE has made a consistent and significant contribution to the promotion of young artists and galleries. The intentionally low number of 64 galleries allows the art fair to accept only the world's best young galleries. That is one of the key factors for LISTE's great success and its ability to attract such a high level of artistic quality. Another key to its success is that the fair presents only artists under 40.
Categories
Tags