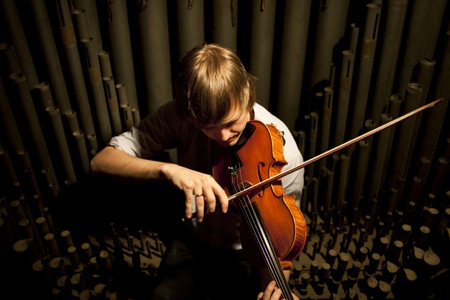 Sarah Strang, Dixon Clark Court Symphony, 2012, Performance at Union Chapel, London, Photo Credit Daniela Sbrisny
Union Chapel is delighted to announce the premiere of the Dixon Clark Court Symphony, a sound installation created by Artist in Residence, Sarah Strang, in collaboration with over fifty local residents at Dixon Clark Court (DCC) in Islington. The symphony questions connections between belonging and loneliness within communities in acoustic form.
The DCC Symphony comprises over 165 sounds identified, collected and curated from the neighbouring Islington towers of DCC, a mixed use tower block, and Union Chapel, a working Congregational church, in response to the following questions raised by the artist:
What sounds make you feel like you belong?
What sounds make you feel lonely?
What sounds do you want to hear?
Over 150 responses were collected from residents at DCC and church members, staff and visitors of Union Chapel. The DCC Symphony presents a live and recorded soundscape conceived and arranged by Sarah Strang, composed by Nathaniel Robin Mann and Daniel Merrill, performed by the London Contemporary Orchestra. Hidden within the organ pipes and the octagonal roof of Union Chapel, percussion elements include traditional instruments and also found objects, including a steel door and a broken wooden cot. Violins and flutes create both gentle and discordant moments, inviting the viewer to listen and wander between the sounds of life, memory and imagination.
For the live performance, the audience will be seated centrally in the auditorium of Union Chapel, to listen to the montage of a recorded soundscape and live orchestral score. The symphony's narrative is undulating, diffused and constantly shifting in states of time and being, where the notion of community, mercurial yet utopian, is questioned. Everyday life is invested with mystery and meaning.
As Union Chapel's inaugural Artist in Residence Sarah Strang is spending a year engaging with a range of issues presented to her by the local community; examining the interface between the community, Union Chapel and the values inherent within it. The first exhibition, Movement in Sleep, ran from November 2011 until February 2012, and featured a site-specific installation within the tower of Union Chapel, created in collaboration with Margins, a homeless outreach centre situated in the chapel. The second work Dixon Clark Court Symphony is a unique site-specific performance on Thursday 21st June 2012 at Union Chapel. Created by composer Nathaniel Robin Mann and Daniel Merrill with the London Contemporary Orchestra, it features acoustic sounds identified and arranged in collaboration with Dixon Clark Court, a local mixed-use tower block. Canonbury Grey, in November 2012 explores Victorian notions of status and philanthropy within the form of painting, using a colour scheme created using the shades of the paint work of front doors within the Canonbury conservation area in conjunction with the colours of the Booth map of London poverty from the same area (1889- 1990.)
Sarah Strang
Sarah Strang is an artist whose practice has consistently blended the personal and the political seeking to look beyond the polemic to find the poetic. She lives and works in London, graduating from Central St Martin's College of Art and Design in 2005 and continuing her practice at the Florence Trust until 2006. Contexts investigated during her diverse and critically engaging practice, extend to an Anglican Church in Central London in 2006, the DIFC Gulf Art Fair Dubai 2007 and Tooks Chambers in 2007, a set of legal chambers. During 2009 and 2010, Strang developed a body of work investigating themes relating to the banking crisis, taking Deutsche Bank as a case study. Group shows include York City Art Gallery in 2008, John Jones project space in 2009, the London Art Fair in 2010 and Simmons and Simmons law firm in 2012. Sarah Strang is currently Artist in Residence at Union Chapel in London for one year until December 2012, independently curating a series of three collaborative art projects engaging with Margins, a homelessness outreach shelter, Dixon Clark Court, a local mixed use tower block and the Canonbury conservation society.
Union Chapel
Union Chapel is a working church, an award winning venue and a centre for the homeless and those in crisis in London. A magnificent example of Victorian gothic architecture the Grade II* listed building was designed by James Cubitt and completed in 1877 with the 170 foot tower being completed in 1889.
Dixon Clark Court, built in 1967 is a mixed-use tower block with sixty dwellings.
London Contemporary Orchestra – promote new music to an increasingly wide audience; www.lcorchestra.co.uk
Key Information
Sarah Strang | Dixon Clark Court Symphony
Performance date: Thursday 21st June 2012
Ticket price: £9, (£7 Union Chapel members)
Box office telephone: 020 7226 1686 (Mon-Fri, 9.30am-5.30pm)
Website: www.unionchapel.org.uk
Address: Union Chapel Tower, Compton Terrace, London N1 2XD
Door open: 7pm
Nearest tube: Highbury and Islington
About Mark Westall