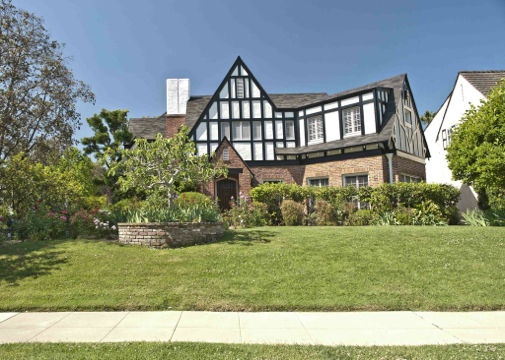 Tudor (from the series North Beverly Drive) C Type print Sophie Percival 2011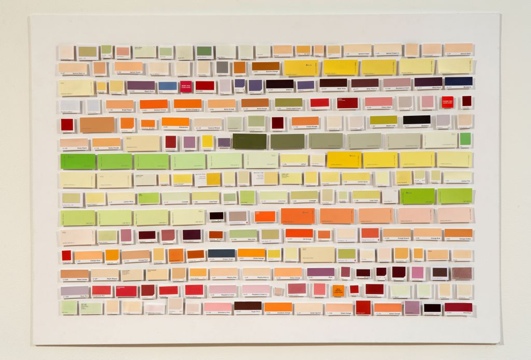 Fruit Bowl Appropriated paint colour samples Theresa Bruno 2010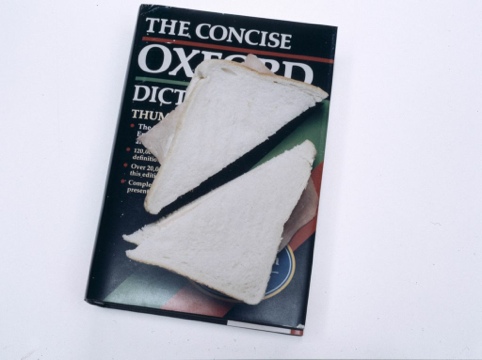 Oxford Dictonary And Ham Sandwich Printed Oxford English Dictonary Elizabeth Wright
2000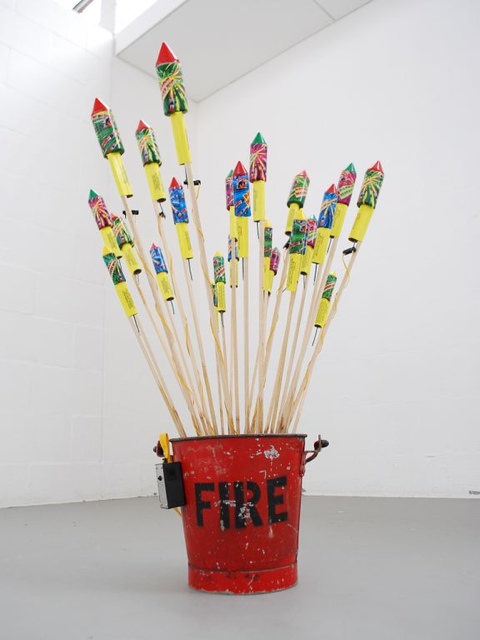 Magic Missile Rockets, fire bucket, concrete, remote firework launcher Nick Bailey 2010

National Geographic National Geographic magazines, National Geographic Telescope Russell Hill
2011
May 31st – July 15th 2012 Opening Reception Saturday 2nd June. Down Stairs, Great Brampton House, Madley, Herefordshire, HR2 9NA Friday-Sunday 10-5pm or by appointment
"…an artificial world: abstracted and decontextualised, full of gadgets, and refined objects, custom-built and chemical"
McGuiness in Huysmans, 2003
Down Stairs is to present Tryouts, an exhibition that explores ideas around collecting, experimentation and our relationship with the objects that we surround ourselves with in everyday life.
We furnish the spaces we inhabit with collections of objects acquired from past adventures as well as new products that allude to fictional journeys and distant places. These habitats become fragmented, artificial worlds, regulated and manipulated by their owners. Personal and social space is challenged by the appropriation and placement of these collected objects.
Tryouts is curated by Russell Hill and Murray O'Grady,who bring together a variety of work by several emerging and established artists.
From Sarah Woodfine's Crypt and Elizabeth Wright's Ham Sandwich and Oxford Dictionary, to Nick Bailey's Magic Missile and Dmitri Galitzine's I'd Rather Be In Bude, the artworks included in the exhibition all have in common their involvement with artifice, experimentation and intimacy of scale.
Sophie Percival's photographic series North Beverly Drive pictures mock English mansions in Beverly Hills.
These pictures have particular ironic resonance, with the exhibition taking place at Down Stairs – located at Great Brampton House, the home of antiques impresario Martin Miller – Murray O'Grady comments: "I liked the idea of a simulated English sanctuary from Beverly Hills promoting a show in a genuine English sanctuary in Herefordshire, it says something about dwelling as a means of travel".
The exhibition will consist of predominantly sculptural works, sited in four of Down Stairs' more intimate galleries. Casually yet sparingly arranged, works oscillate between what initially appear to be a mix of objet trouvé and readymades, yet upon closer inspection show themselves to be considered and crafted embodiments of a magical and banal Grand Tour of this age. Taking, borrowing, stealing; appropriation runs through the exhibition but in vastly varying ways, ranging from Matilda Moors' assemblage of novelty objects Tryouts for the Human Race (from which the exhibition partly borrows its name) to meticulously crafted objects like Sam Plagerson's Natural Beauty – a section of sublime landscape lifted from a magazine advertisement rendered in ceramic.
Hill and O'Grady avoid formal methods of gallery display and each work is deployed through different means. Recognising that the spaces we inhabit, not only our homes but anywhere we house our possessions, are sites of both sanctuary and experiment, Tryouts looks at the potential in restriction and confinement to promote experimentation and inspire imagination whilst facilitating modest fantasies, making the everyday a little more absurd. Hill states: "Through the curation of this exhibition, we ourselves have become selectors, hoarders, and spectators on the process of building a habitat".
www.downstairsgallery.co.uk
The Curators
Russell Hill graduated from Wimbledon College of Art in 2010. Recent exhibitions include, Likeable, Supercollider Contemporary Art Projects, Blackpool 2012; Expansive Mood, Mansion House, London 2011; Anticipation, Selfridges, London 2010. Hill won the Catlin Art Prize in 2011.
Murray O'Grady is studying at The Royal Academy Schools. Recent exhibitions include, Likeable, Supercollider Contemporary Art Projects, Blackpool, 2012; Young British Art I, Limoncello Gallery, London, 2011; New Contemporaries 2010.
The Artists
Nick Bailey is a London-based artist. He has shown his work in New Contemporaries 2010; FutureMap 2009; and was featured in The Catlin Art Guide 2010.
Theresa Bruno studied at Wimbledon College of Art and is a contributing art critic for JOTTA, London and the founder of Wallet Gallery. Recent exhibitions include Debut Contemporary, London.
Blue Curry studied at Goldsmiths College, London. Recent solo shows include, Blue Curry, Toomer Labzda, New York; Trove, Deptford X, Londo. Recent group exhibitions include Into The Mix, Kentucky Museum of Art and Craft, Kentucky, USA and Powerless Structures, Swartz Gallery, London.
Dmitri Galtzine is a Herefordshire-based artist. He graduated from Central Saint Martins College of Art and Design in 2009. Recent exhibitions include Prune, Fold Gallery, London; Hotel Palenque, Outpost, Norwich; and Given The Standards Of The Day, Formula Gallery, St Petersburg.
Guy Haywood graduated from Wimbledon College of Art in 2010. Recent exhibitions include The Sky's The Limit, with Changing Spaces, Cambridge, 2011; We've Got Everything, The Pantiles, Kent and Park '09, Cannizaro Park, London.
Matilda Moors graduated from Camberwell College of Arts in 2010. Recent exhibitions include Flatpack, Sauna, London 2011; Versailles, The Gallery in Redchurch Street, London 2011; Virtually Worthless Decorative Objects, Project Space 11, Plymouth 2010-2011; Rhizomatic, Departure Gallery, London 2010.
Sophie Percival graduated from Chelsea College of Art and Design in 2011. Recent exhibitions include Personal Ritual and Tradition, The Althorp Coaching Inn, Northamptonshire. Sophie Percival won the Transition Gallery Award in 2011.
Sam Plagerson studied at The Royal College of Art. He was selected for New Contemporaries in 2009, and recent exhibitions include New Symphony, Simon Oldfield Gallery, 2010.
Sarah Woodfine graduated from The Royal Academy Schools in 1995. Recent exhibitions include House and Home, Harewood House; Only Make-Believe, Compton Verney; The Real Ideal, Sheffield Millennium Gallery; Drawing Inspiration, Abbot Hall Gallery. She is currently working on a new commission for the Graves Gallery, Sheffield. In 2004 she won the Jerwood Drawing Prize.
Elizabeth Wright is a London-based artist. Recent solo exhibitions include E0S 100, Atelier Amden, Switzerland, and Norwich Lido, Wysing Arts, Cambridgeshire. Public projects include Wick Land and Fish Island, permanent commission, London Thames Gateway Development Corporation.
Down Stairs
Opened in June 2011, Down Stairs is a new 6,000 square foot artist-run gallery space located at Great Brampton House in Madley, Herefordshire.
The gallery shows contemporary artists from a variety of backgrounds and across all media. It seeks to nurture young artists and support local artists, and is committed to showing emerging artists alongside established names in group and solo exhibitions.
Down Stairs offers a diverse visual arts experience to the local community and visitors from further afield through an ambitious programme of exhibitions and events, inside the ten rooms of the gallery as well as the extensive grounds and outbuildings of Great Brampton House.
Exhibitions to date include Change The World Or Go Home, which questioned the role of the artist within contemporary culture; and Heartlands, which united artists interested in the countryside and its relationship with British national identity. The exhibitions included new work by Jeremy Deller, Mark Titchner, Gavin Turk, Simon Roberts, Sean Dower, John Goto, Mark McGowan and Susan Stockwell.
Down Stairs also offers an Artist Residency programme as part of its commitment to supporting artists. Residents in 2011 included the Bigtoe Group, who made work for the exhibition Change The World Or Go Home; Mark Houghton, for his exhibition Upstare that took place on the roof of Great Brampton House.
The most recent resident artist is the Catlin Prize shortlisted Tom Howse, whose residency led to his solo exhibition Fantastic Salad. Forthcoming residents include Adeline de Monseignat, Pil and Galia Kollectiv, Joey Ryken, and Zoe Mendleson.
Down Stairs is programmed and run by artists Craig Barnes and Dmitri Galitzine, alongside artist, entrepreneur and gallery proprietor Martin Miller.
Categories
Tags