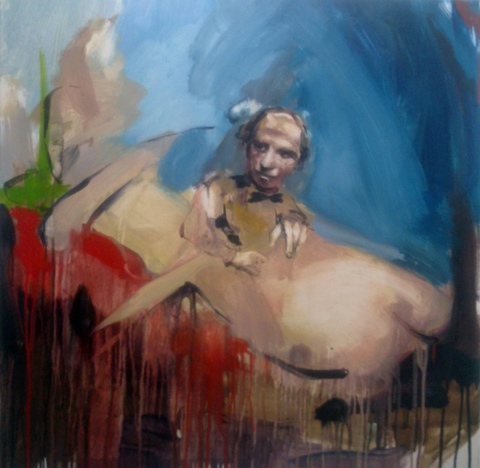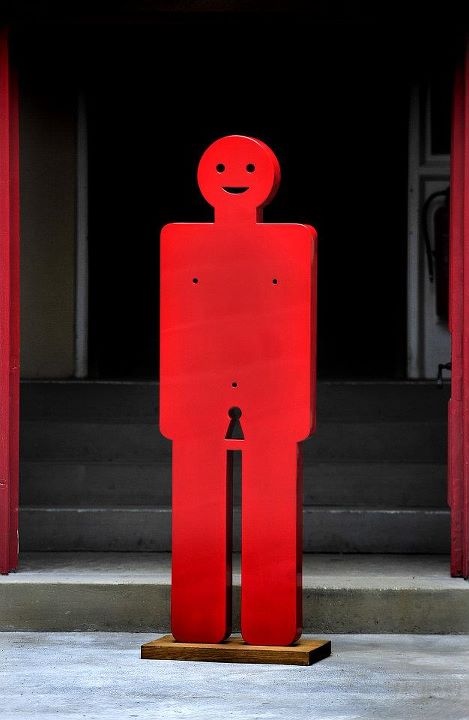 Key Hole ( Stainless Steel 190x65x30cm)
As part of FADs support for emerging artists we have teamed up with The Other Art Fair to showcase 14 of the exhibiting artists at Boxpark.
The Artists were chosen by Ryan Stanier (Fair Director TOAF) and Mark Westall ( Creative Director FAD) and they will have a piece of their work exhibited by poster In an exhibition at The Boxpark Gallery.
There will also be an art opening on Thursday May 3rd which will have live + performance art, Music + free drink + much more.
In the lead up to this event FAD will be showcasing each of the 14 Artists who were chosen
#SIX: Sam Shendi
1.If you weren't an artist, what else would you be?
If I wasn't born an artist then I would like to be an architect.
2. Can you tell us more about your work and what are the main ideas you would like to express? As a sculptor my work has taken on a journey from realism to abstraction.
Being Egyptian, I can never quite shake the legacy of my country's history. Durability and beauty are very important to me. Simple geometric shapes and complex construction echo from ancient Egyptian design in my practice today.
I strip the human nature down to its essence, then expresses it in a sculptural language with architectural qualities. The finished works are uniquely bold and playful. My belief is that society doesn't need a complex idea or thought. A simple shape that allows comfortable viewing without weighing on the eye or soul can captivate the viewer and provoke reactions
Inspired predominately by the obelisk shape from architecture of ancient Egypt, I started to use this to represent the most simplistic way of depicting the human figure. Affecting the height, outline, colour, adding in more detail, using different materials gives endless ways to manipulate this shape, I can create limitless bold human figures.
3. How do you start the process of making work?
I am old school. I like to sketch; I am constantly sketching my ideas. They always flow, as around me is a lot of inspiration. After a prolific period I stop and then when I have gathered my thoughts I go back through and look at them and the right sketch speaks to me. Then I start the progress of planning measurements, sizes, and choosing material.
4. Do you consider the viewer, when making your work?
I consider my work, like a writer writes his book. The sculptures speak about my own experiences and they reflect my own emotion or response to something in society. My imagination has to flow without having boundaries. It is my language to communicate with the viewer.
5. Name 3 artists that have inspired your work?,
I believe the artist has to represent the time that the artist is in, and we cannot deny the fact that art draws inspiration from the past. I have not enough space to write all the artists over the generations who have inspired me but if I narrow this to three then; Alexander Calder, David Smith, Richard Serra
6. Name 3 of your least favourite artists.
I have no least favourite artist, as I believe every artist out there who has managed to carve his or her name in history. Then whatever their work is I respect that.
7. What defines something as a work of art?
In the past it was always an intelligent form of expression. In the society now, everything is art. Now I feel that some of the art out there has become insulting to fine art. At the end of the day, I guess it is how the individual opinion interprets it. I define it as a quality of idea, workmanship, depth of thought and individual skill.
8. In times of austerity, do you think art has a moral obligation to respond topically?Art has to represent contemporary society as I said before. I am not sure that it needs to be a moral obligation but it is a tool for artists to responds towards issues existing within and around the society that they are in. Art doesn't just need to be beautiful but that which is portraying issues, political, natural, economic etc. It is important that the viewer understands the artist's point of view by his artwork.
I have created a few pieces for a political reason but it's not going to change the world. At best the viewer may learn or consider a different point of view from it.
9. Anytime, any place – which artist's body would you most like to inhabit?
Pablo Picasso.
10. What is your favourite 'ism'?
Realism, Dadaism, Modernism, Cubism, Expressionism mix all of these together and you find my Shendism
11. What was the most intelligent thing that someone said or wrote about your work?'Your work brings back traditional values of art in a time when this has started to disappear'.
12. And the dumbest?
Really I haven't had any silly comments as my work attracts all kinds of people no matter age or education.
13. Which artists would you most like to rip off, sorry, I mean appropriate as a critique of originality and authorship?
If I had an opportunity I would be honored to take on Alexander Calder's work.
14. Do you care what your art costs? State your reasons!
I wish! As I insist on using high quality material to give the sculptures identity and durability for generations then it has taken me a few years to build a body of work to present me in public. I think if I had thought about cost, I would have created from anything just to be recognised in public. It has taken me 12 years to achieve a limited body of work that I am proud of putting my name to.
15. If Moma and the Tate and the Pompidou wanted to acquire one of your works each, which would you want them to have?
For the Tate I would like to give 'Urgency' and for Moma I would like to give 'The Diner' and for the Pompidou I would give 'The Keyhole'. The three of which I would produce in a larger scale.
16. What's next for you?
To tell you the truth, I have no idea; all I know is my work is showing at the moment in a few places in London. As I am in the earlier stages of establishing myself then I cannot predict how the general public will take me. I am sure we will soon find out….
The Other Art Fair + FAD pre fair party Thursday May 3rd 2012 from 6pm at Boxpark
Join The Facebook Event for more info and a free drink: www.facebook.com/
About Mark Westall