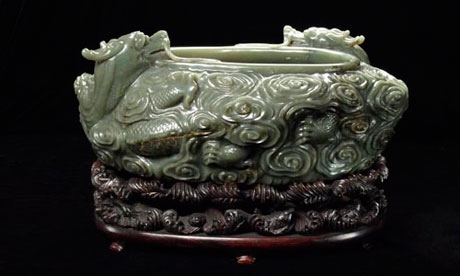 The 18th-century jade bowl stolen from the Oriental Museum at Durham University. Photograph: The Oriental Museum at Durham University
This article titled "Specialist criminals stole £2m Chinese artefacts from university, say police" was written by Martin Wainwright, for theguardian.com on Wednesday 11th April 2012 10.37 UTC
Police have revealed more details of a highly targeted theft of Chinese antiquities worth £2m from Durham University's Oriental Museum.
Specialist criminals who knew exactly what they were after were probably in and out of the well-secured building in less than two minutes, said the detective leading the inquiry.
They are thought to have spent 40 minutes beforehand surreptitiously making a hole in an outside wall of the museum. The gang used specialist tools to lever out bricks and make a 3ft by 2ft hole to squeeze through, before seizing an 18th-century jade bowl and a Dehua porcelain sculpture, almost certainly to order. Overseas buyers with very deep pockets, including some in China where the artworks were originally created, have created a thriving market for such items.
The pieces were taken from the ground-floor Malcolm MacDonald gallery at 10.40pm last Thursday.
The university has been the victim of high-profile theft before, when its Shakespeare first folio was stolen in 1998 and later criminally obtained by local antiques dealer and eccentric Raymond Scott.
The book was recovered, slightly damaged, and Scott was jailed. He was found dead in prison earlier this year.
Police have arrested five people from the West Midlands for questioning about the theft of the Chinese pieces but have not yet recovered either of the stolen artefacts. Both date from the 18th-century period of the Qing dynasty, China's last ruling family.
The large green bowl carved with writhing dragons dates from 1769 and has a Chinese poem written inside, while the sculpture is of seven fairies in a boat, beautifully crafted in translucent porcelain with a creamy glaze and standing about 30cm (12in) high. The bowl was obtained in China by Sir Charles Hardinge, a diplomat in the early 20th century who was noted for his early admiration for Gandhi. Hardinge also collected pottery and precious stones.
Detective Superintendent Adrian Green of Durham police said: "It seems very clear that this was a well planned, highly organised break-in. They have spent around 40 minutes creating a hole in an outside wall and, when it has been big enough, they have entered the gallery and made straight for these two items.
"I am sure this job has been planned for quite some time and I would think the artefacts have been stolen to order, for someone who has already identified a potential market."
One of the people arrested, a 27-year-old man from Walsall, was questioned at a police station in County Durham on suspicion of assisting an offender, and has been released on police bail until June. The other four, a 34-year-old woman and three men aged 56, 41 and 36, were released on bail until June after being questioned in Durham on suspicion of conspiracy to commit burglary.
The museum's curator, Dr Craig Barclay, said after the theft: "We are extremely upset to have fallen victim to such a serious crime. The two pieces are highly significant in that they are fine examples of artefacts from the Qing dynasty in the mediums of porcelain and hard stone.
"We very much hope that police will be able to recover them and we urge anybody who may have any information about their whereabouts to contact the police immediately."
The museum was closed over Easter, usually a busy period, because of the theft.
guardian.co.uk © Guardian News & Media Limited 2010
Published via the Guardian News Feed plugin for WordPress.
Categories
Tags