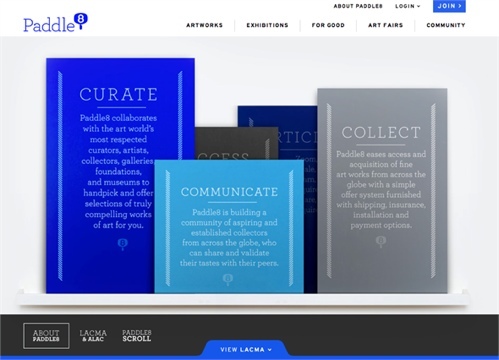 Second in our series of interviews with the people reshaping the art world ( Rob Norton CEO of [S]edition art being number 1) We caught up with Alex Gilkes Co-Founder of Paddle8 in New York after their amazingly successfully partnership with The Armory Art Fair 2012.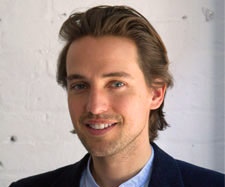 1 Alex who are you ? What have you done in the past ?
I've been a gypsy for the last 9 years, leaving the home island (Great Britain) to join the management team of Krug Champagne (LVMH) in Paris and Reims, then moving to New York at the invitation of Simon de Pury to become marketing director and auctioneer at Phillips de Pury in New York, and then co-founding Paddle8.com with Aditya Julka last year.
2 Who else is there at Paddle8 and what do they do?
The co-pilots are Aditya Julka, my co-founder, who has a strong entrepreneurial track record, his section mate from Harvard Business School, Osman Khan, who is our Managing Director and hails from a stellar career in financial services and our Managing Editor, Andrea Hill, who is a formidable Yale-educated art advisor and curator. In our team we have two wonderful ladies: Betina Bethlem and Glenda Cortez oversee all gallery/art fair relations, while our resident tech guru is Feliks Gurevich, joined by Tim Thorpe and steering the great "For Good" ship is Holly Greenfield. Andrea works with the talented duo of Alex Adler, a Princeton arts graduate and Serena Qiu, a Duke-educated art specialist.
3 Who came up with the name Paddle8 and what does it mean ?
Aditya and I wanted to avoid the generic use of art in the title and find a catchy name that assembled a recognized symbol for acquiring art and the lucky number for China.
4 Is 8 Lucky for you ? Or are you just getting ready for your Chinese expansion ?
More the latter than the former
5 What is Paddle8?
Paddle8 (Paddle8.com) is the online art marketplace, working with a curated selection of the world's most respected galleries, art fairs, foundations and museums to expand their global reach and to provide its substantial collector community with a new point of access to fine works of art. On the front end, Paddle8 seeks to provide its members with the most sophisticated portal for viewing, learning about and acquiring works online. On the back end, Paddle8 aims to provide galleries, foundations and fairs with an innovative and transformative suite of tools and services via Paddle8's "virtual registrar," a fully integrated and proprietary technological platform aimed at enhancing the efficiency of traditional back-office processes. The site's original content seeks to provide context and curation to the works available on the site, including web-only exhibitions and projects curated by notable cultural figures, such as Marina Abramovic, "dossier" video and text including interviews with artists, archival materials, a blog covering cultural happenings, and more.
6 At FAD we feel the bridge between 'real world' events/exhibitions and online will be a great bridge to be on in the future do you agree and why ?
Entirely so. Given the dispersion of the collector base and art work supply and our generation's time depravation, the online space is a great compliment to the real art world, in its ability to enhance access via education, transparency and services.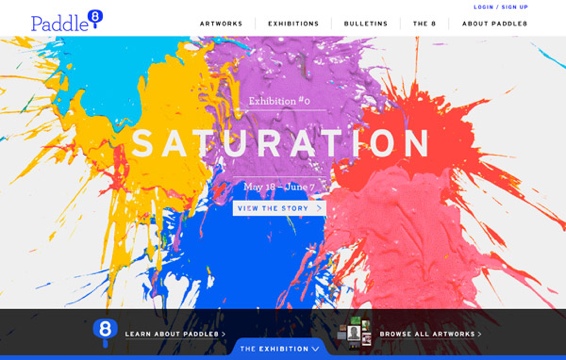 7 What revenue streams do you have now? and do you envisage new ones to come ?
Paddle8 is currently placed at the key nodes of art acquisition via gallery or foundation to collector. Paddle8 takes a processing fee on all sales made via the platform. We are currently enhancing our platform and may consider new revenue streams.
8 What are your favourite kinds of art and do you have a favourite artist?
I have a very open mind about art and continue to find new loves. My most recent acquisition was a work by David Benjamin Sherry, a promising New York artist who was prominently featured at MOMA PS1.
9 You just recently secured some funding what has this been earmarked for ?
We recently raised a Series A round from some prominent luxury and technology investors and will be investing heavily in our tech resources.
10 From whom did you recieve the funding from ? And what experience do they bring to your company?
We received the funds from Founder Collective, a prominent early stage venture fund who have made successful investments in Uber, Flickr and Vimeo, and from Mousse Partners, which is affiliated with one of the world's most respected luxury brands. They will be instrumental in guiding Paddle8 through this important next chapter of growth.
11 Do you have plans to move into different kinds of cultural exhibitions such as; design interior design, auctions etc?
For now our focus is art and the primary art market. We may consider other complimentary verticals with time, but not secondary market auctions.
12 You work with museums, galleries, art fairs in America do you plan to move into Europe , Middle East, Asia ?
Yes, we currently have galleries from over 30 different countries and will be working with fairs in Europe and South America in 2012.
13 What can people experience now with Paddle8 and The Armory fair ?
The fair closed on Sunday, but until May 18th, members of the Paddle8 community can access all participating galleries, and acquire works seamlessly through our platform.
14 How does someone become a member at Paddle8? And if they can get in what will they get ?
Anyone can apply to join Paddle8 or be invited by our galleries or partners.
15 Finally if you had a spare $250,000 what artists would you buy into?
I should be Swiss and neutral here, but perhaps a small Tom Sachs cabinet, a Paula Hayes aquarium and/or a small sound sculpture by Haroon Mirza.
As well as still being able to see The Armory Art Fair 2012 on Paddle8 you can also see MOCA Fresh a silent auction featuring over 200 artworks by both emerging and established artists.
Join: Paddle8.Com
Categories
Tags