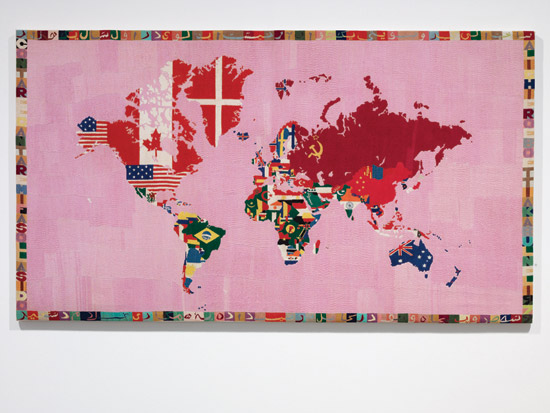 Alighiero Boetti Game Plan28th February–27th May 2012
Open every day from 10–18 and until 22 on Friday and Saturday
This will be the first solo show by an Arte Povera artist at Tate Modern.  Alighiero Boetti: Game Plan is curated at Tate Modern by Mark Godfrey, Curator, Tate Modern with Kasia Redzisz, Assistant Curator, Tate Modern.
Alighiero E Boetti (1940–1994) was one of the most important and influential Italian artists of the twentieth century. He was a key member of the Arte Povera group of young Italian artists in the late 1960s which was working in radically new ways using simple materials.
Boetti used industrial materials associated with Turin's booming economy and later made works using postage stamps, biro pens, and magazine covers. His work engaged with the changing geopolitical situation of his time, much of it made on his travels to places such as Ethiopia and Guatemala and Afghanistan. Between 1971 and 1979 he set up a hotel in Kabul as an art project and created large colourful embroideries, the most famous of these were the Mappa, world maps in which each country features the design of its national flag. Highlights include works never seen in the UK such as the iconic Self-Portrait (1993), a life-size bronze cast of the artist hosing his head with a jet of water.
Alighiero Boetti was born in Turin in 1940 and moved in the early 1970s to Rome. He has been the subject of solo exhibitions including at the Kunsthalle Basel (1978), Galleria CIvica d'Arte Moderna e Contemporanea, Turin (1996), and the Whitechapel Gallery, London (1999).
More Info visit: www.tate.org.uk/modern/exhibitions/alighieroboetti/tickets
About Chantelle