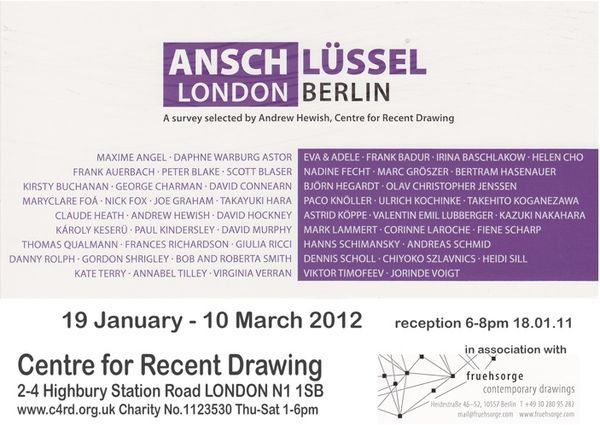 from Fruehsorge Contemporary Drawings, Berlin
19th January – 10th March 2012
Centre for Recent Drawing (C4RD) presents a survey by Andrew Hewish, seeks to present the vibrancy and depth of drawing production in London and Berlin. From recent graduates to established artists, they operate within an understanding of the complexities of drawing values, of Anschlüssel: speculative, connective, playful – unlocking links wherever a line might lead. In bridging the space between these two metropolises, similar polyglot populations, artists from all over the world working in these cities, and with a similar breadth of expressive possibilities that reflect the exchange of ideas and forms in a globalised field.
Certain resonances occur within the exhibition, some localised but most shared between cities: the pop aesthetic in Blake, Rolph, Angel, Tilley and other's work from London, but also in EVA + ADELE's; the private, emblematic work of Nakahara, Hasenauer, Cho, Köppe, and Fecht, from Berlin, yet also found in Hara's. Other resonances are shared more broadly – the formal investigations of Badur, Ricci, Schmid, Shrigley, Szlavnics, Terry, Connearn, Qualmann, Keserü and Scharp; the vitality of text in Smith, Lammert, Kochinke and Kindersley; the free and exploratory play of Schimannsky, Foá, Knöller, Murphy, Lubberger and Astor; the hermetic worlds and signs of Gröszer, Baschlalow, Hegardt, Timofeev and Verran; the problematics of gesture in Richardson, Laroche, Buchanan, Auerbach, Hewish, Jenssen, Fox, Blaser, Scharp, Sill and Charman; the technological experimentation of Hockney, Koganezawa + Oya and Heath.
Drawing has associations with being fragile, or temporary, containing gestures that are as much fleeting ideas as they might be marks on the page. It recalls time. It can rely on networks, of points in space or page, that are necessarily connected in the completion of the work; points that make stories, pathways, or forms. It can be closely associated with the interior life of the artist, their passions and intentions, that can be subsumed by systems or processes, or engage a subtle negotiation between consciousness, technic and ground.
From Berlin
EVA & ADELE, Frank Badur, Irina Baschlakow, Helen Cho, Nadine Fecht, Marc Gröszer, Bertram Hasenauer, Björn Hegardt, Olav Christopher Jenssen, Paco Knöller, Ulrich Kochinke, Takehito Koganezawa + Yusuke Oya, Astrid Köppe, Valentin Emil Lubberger, Kazuki Nakahara, Mark Lammert, Corinne Laroche, Fiene Scharp, Hanns Schimansky, Andreas Schmid, Dennis Scholl, Chiyoko Szlavnics, Heidi Sill, Viktor Timofeev, Jorinde Voigt.
From London
Maxime Angel, Daphne Warburg Astor, Frank Auerbach, Peter Blake, Scott Blaser, Kirsty Buchanan, George Charman, David Connearn, Maryclare Foa, Nick Fox, Joe Graham, Takayuki Hara, Claude Heath, Andrew Hewish, David Hockney, Károly Keserü, Paul Kindersley, David Murphy, Thomas Qualmann, Frances Richardson, Giulia Ricci, Danny Rolph, Gordon Shrigley, Bob and Roberta Smith, Kate Terry, Annabel Tilley, Virginia Verran.
For more visit: C4RD
About Chantelle