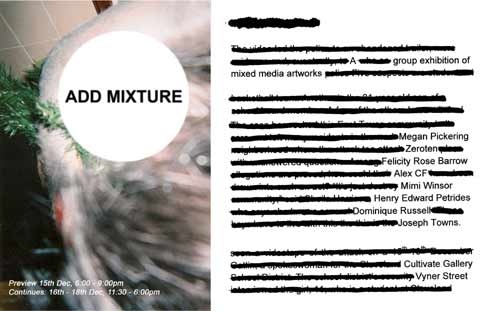 ADD MIXTURE @ Cultivate Vyner Street
Add Mixture' brings together the work of eight diverse artists, working in mediums ranging from sculpture, illustration, and ceramics, to collage, performance, film and photography. Add Mixture is comprised of works looking at both comfort and unease; themes exploring myths, rituals and history; looking at excessive external bodies, internal orifices; macabre scientific collections of curiosities from ages past; and questioning the preconceived notions of constructed gender.
Participating artists: Megan Pickering, Zeroten, Felicity Rose Barrow, Alex CF, Mimi Winsor, Henry Edward Petrides, Dominique Russell, Joseph Towns.
Private view 15th Dec, 6:00 – 9:00pm
Continues 16th – 18th Dec, 11:30 – 6:00pm
Categories
Tags