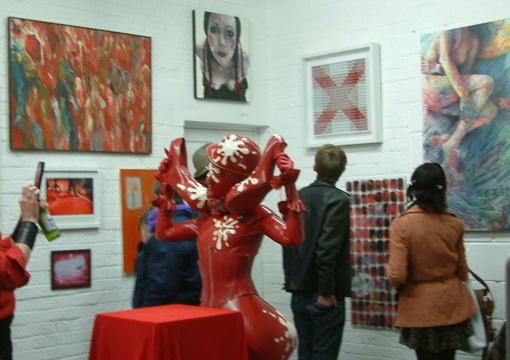 What is Cultivate and how did it come about?
Cultivate is essentially just another London gallery space, the full name is Cultivate Vyner Street. I'd like to think we're doing things slightly differently to most galleries, for a start we are essentially a (very) small group of artists doing it ourselves rather than gallery people trying to make money out of artists. Part of the motivation was the frustration with the way artists are currently treated by far too many gallery owners in London, the almost cynical gallery hire prices in any significant area, the commissions, the restrictions, the way gallery people try and control everything for their own ends. We found it a better option financially to rent the space and try and run a gallery for ourselves and our fellow artists than pay the outrageous hire prices others are asking in order for us to put on a even week long show in other spaces in the street (or in Redchurch Street or Brick Lane or any other significant East London art street…)
We also felt that most galleries were rather conservative in terms of the number of shows they did put on, that we weren't being excited by what they were doing, they way they hide behind closed doors and don't seem to welcome people in any friendly kind of way, the way the same shows hang around for ages, we just wanted things to happen a little more on our terms rather than theirs. It isn't by accident that we've chosen to land ourselves right smack bang in the middle of Vyner street and everything that Vyner street stands for in terms of the East London art scene. At the moment we have the space for six months, we may carry on, we may stop, we may take the Cultivate name and ideal somewhere else, it may take another form. Part of this is about understanding the process from the gallery point of view, rather than just moaning about it we thought we'd take in on and see… What is Cultivate? For now Cultivate is a small artist-run gallery space in Vyner Street, East London.
What is the cultivate space working on next?
Well we currently have a two week group show called Something Blue in the gallery, twenty two artists and their rather diverse blue creativity, this is a follow up to the rather well received Red group show we put on a couple of months ago, as well as the Something Borrowed show curated rather beautifully by Twinkle Troughton and Tinsel Edwards last month. Alongside the Something Blue show, we have the first showing of a film called Immersed In My Dream by Mia Pfeifer this coming First Thursday December 1st. The film will be projected, on a loop, on our outside wall for the whole of the evening. We then have an installation work from an artist called Jaye Kim opening on on December 9th, and that is followed by a two day group show from a group of artists called the Meenan Sisters opening on December 12th.
The Meenan Sisters are followed by another group show put together by another group of interesting artists, this one is called Add Mixture and opens on December 15th for four days. No intention of slowing down for the holidays, keep watching for details of Christmas and New Year events, we want to fit in a painted vinyl records show at some point, we plan an art show fund raiser called This Is How He Draws A Dog for the start of the year then we kick in with the 3×3 shows in January. The 3×3 shows are three week long shows that will take place in the first three weeks of January, starting on January 6th, we plan three week-long shows where we showcase three artists each week, each artist taking a wall each, three artists each week for three weeks. Then the VV collective take over the space for a week long group show of portraits that opens on Last Thursday… then on to February First Thursday and through to the first week of March and what will possibly be our last week in the space… unless we carry on…
What would you advise someone hoping to catch a glimpse of the art world in East London?
Well I guess First Thursday is the evening when pretty much every space is open, that is a decent starting point, an exciting vibrant night but it does get awfully crowded. First Thursday is as much a social event and a chance to network (and drink the free wine and beer) as much as it is a chance to really explore the art. First Thursday is a good way of seeing what is about and then picking out what you want to go back to have a proper peaceful relaxed look at. Vyner Street is good on the weekends when there's usually about a dozen of the many galleries open, there's galleries and art spaces everywhere in East London (as well as the walls and the streets themselves), there's always something new to find – just went out for a pint of milk and found a one day show going on at Ground Floor Left, hard to avoid art over on this side of town, these are exciting time.
Things are always going on, art is everywhere in East London, just keep your eyes peeled. In some ways I think First Thursday is the worst night to go exploring, I much prefer the other Thursdays when there aren't so many crowds and there's still lots to discover and pretty much always a dozen or so galleries having opening late nights. We had a great opening last Thursday at Cultivate, meanwhile Wayward opened a show next door and the Mowlem Street gallery just down the road had an opening (as did Fred, but they do tend to keep themselves at arms length and not want to advertise or have much to do with the likes of us). We do like to publish details of other Vyner Street (and surrounding area) openings, events and such on our Cultivate Facebook page (unlike some galleries, we don't see other events as competition, the more happening the better is the way we see it). Facebook pages are great sources of information as far as art is concerned, vital for art actually, especially when it seems so difficult to get a listing in places like Time Out (we can't get them or the Whitechapel gallery people to list anything of ours on the official First Thursday website but we do note that this month they're using a photo of the crowds outside Cultivate to illustrate how busy First Thursday is).
Best way to glimpse East London art? Take a weekend walk along the canal and see what's gone up on the walls this week, then take a turn by the bridge at the top of Vyner street and come see what we all have to offer in the galleries (big and small, that big black door on the Wilkinson gallery may look unwelcoming and they may look like they don't actually want the public in their space but the art is always good…)
What's happening the first , first Thursday of 2012 ?
January First Thursday (I know there isn't an official First Thursday in January, but we're still there and everyone is welcome) we have the first of the 3×3 shows, but like I just said, it really isn't all about First Thursday, we like to think we have something to offer on every Thursday and not just once a month. Every Thursday, or every weekend or every Friday afternoon or… For instance, two Thursdays ago we had a great event called Free Art Thursday, we had about 30 artists leave about 100 pieces of art on the street outside the gallery, or on the outside walls outside, lots of people came along, the only rule was that they could only take one piece, we staggered the putting out of the art so there was a healthy flow of work all night, we had street artists, yarn bombers, we had amazingly big pieces of complex canvas work… First Thursday, second Thursday, last Thursday, every Thursday.
What price art was one of your first shows and it caused a stir by being a very different way of exhibiting and selling art whilst engaging the viewer. What was the idea?
Yes, What Price Art was one of our early shows, another Thursday night opening and a weekend event. The idea was, in some ways, an attempt to explore the vulnerability of the artist in terms of gallery prices, survival and the harsh reality of money, the simple complicated act of putting a physical price on your creativity. For one weekend we handed over all control to the viewers, the rule was that we could not price, suggest, argue, negotiate oursleves, the viewer (or potential buyer) named the price and that was it. We asked people to respect the idea but yes, someone could have cleared out the gallery straight away for a couple of pounds if they had decided to pay 1p a piece and do just that…
Artists were just invited to come and join in, word was spread and the event was open to everyone, even though it was a bit of a last minute thing, we had lots of people taking part both in terms of the artists and the people coming to the gallery. The pricing of art and the selling environment is something that interests me anyway, questioning the price of art is something I've been addressing for the last couple of years with art left on the street, art left in other galleries, sold on market stalls alongside fruit and veg, sold via ebay to the highest with opening prices of 1p and such, I've organised reasonable priced art fairs in galleries, we did the Stinging Netil earlier this year – an event where we hired a whole East London market for a day, all the stalls and the infrastructure, we had about 40 stalls and about 60 artists selling art – I could go on about these ideas and the notions of a piece of art being of no more or less worth that say a CD or…
So yes, the What Price Art show at Cultivate was met with all kinds of reactions, emotions and responses. Some artists bough serious pieces that they clearly valued lots, others brought what you might consider throwaway pieces, others reacted directly with hand painted dollar bills and such. We had a couple of artists back out when it came to actually putting their work on the walls, they just couldn't do it, which I think was fair enough, no one was forced to put their art on the walls. Some people wanted to put suggested prices on their art but that really wasn't the idea, indeed we got asked so many times by people who wanted pieces, to suggest a price or at least hint at something, people coming in to the gallery found it really difficult and some said they found is all rather intimidating to name a price.
Quite often people just couldn't do it, when they did they were very defensive and almost apologising as they named a price . Most pieces did sell for reasonable fair prices, a couple of pieces went for more than expected, one piece sold for 1p, I think that person just wanted to see if I would really let him buy it for 1p, I did. We had people coming in saying they had £20 in their pocket and had come down with the intention of buying one piece. By the end of the weekend we'd sold around thirty pieces and we ended it with maybe too many of my own pieces on the wall to fill in the spaces left by sold art.
I was happy to sell my work at whatever price people wanted to pay, if that's what they thought it was worth then so be it, I sold one big canvas for £5, the canvas itself probably cost me more than that to buy, but fine, the person seemed to really want it and said she honest could only afford five pound, and yes, I am up to my eyes in debt and everyday is about survival both for me as an artist and Cultivate as an art space, but that was fine, she was happy, I was happy. I did find myself getting very angry inside as I sold a big Maria Slovakova piece for £7.50, I was rather shocked to find I wanted to yell at the person buying it, had to walk away and calm down, how could the person stand there and pay so little for beautifully crafted piece of art, it wasn't a small piece of work, it was a big canvas with hours of work put in to it (I ended up giving Maria one of my pieces I knew she really liked by way of apology even though she was really fine about it and fully understood what we were doing). We had one woman almost in tears as she nervously worked up to paying £20 for a Joanna Rose Tidey print, she said she loved it but that's all she could afford, she came in again a few weeks later saying she felt guilty and wanted to pay more, I wouldn't take any more money but we did share an excellent hour talking about art and how intimidating galleries can be and how she liked the relaxed feel of Cultivate, she's been in several times since on her way home from work or brought in co-workers during her lunch hour, brought me some food in the other day… We're rather enjoying the adventure so far, What Price Art was one of several highlights, had so many long chats and debates with people over those four days.
And did any reactions surprise you?
My own very angry reaction mostly, an almost violent angry reaction to someone buying the big Maria Slovakova piece that I only just managed to keep to myself. I was surprised by the number of people who couldn't deal with naming their own price, by how emotional they got, how intimidated some people seemed to be, or confused, one or two got rather angry when I would not name a price. I wasn't surprised by a couple of the more corporate galleries in the street who thought we were "devaluing art" and "messing with the rules a little too much" and that "artists should stick to making the art and galleries should stick to business of selling that art for them". There were some surprising reactions to What Price Art, indeed we've had some very interesting reactions and conversation all the way through this Cultivate experience. Vyner Street is an interesting place, all you working artists should come experience the ups and downs, the highs and lows…
What in your opinion are the challenges facing artists and galleries today?
Well there are so many challenges, galleries need to respect artists a little more, artists need to understand what goes in to running a gallery (we've certainly learnt a lot), galleries need to think about a bit more unity, a healthy art scene and vibrant clusters of galleries are a good thing, it isn't about competition, there should be room for everyone. I have to say I'm a little disappointed with the attitudes of some of the other galleries in Vyner Street, a bit more unity would be a good thing (although things are nowhere near as bad here in East London as they were in West London where the attempt to replicate First Thursday with a West London First Wednesday seem to completely fail. We found ourselves virtually pushed out of West London by the small group of galleries who seemed to want to control everything in a very negative way, I found being based in West London and trying to get things going a rather depressing fight, my year in East London has been rather positive in as many ways and West London was negative.
I'd say the main challenge is for everyone to pull together and keep things evolving, keep it fresh, vibrant and exciting and not to take any of what we already have here in the East for granted, so easy for people to be cynical about East London and the art scene but I find it positive and exciting. I do fear that good things we do have going on here in East London won't last though, the creeping signs of gentrification along with rent price hikes and business rate increases forcing people out of their studios and galleries "because of the Olympics that will benefit us all". Had a very disappointing chat with the owner of the building where Cultivate gallery is housed about how the rent will have to go up "significantly" if we want to carry on, "well you are getting lots of people in, you must be doing well and the Olympics are coming and blah blah…" enjoy these times while you can, we might just be about to become victims of our perceived success. Gentrification is closing down art spaces, we're all going to be priced out of London soon. In the meantime everyone needs to pull together and keep it all evolving. We're finding running a gallery to be an exciting thing, we're really enjoying discovering artists and showing their work, 90% of the experience had been very rewarding so far, but it will be a challenge for us to keep it all going…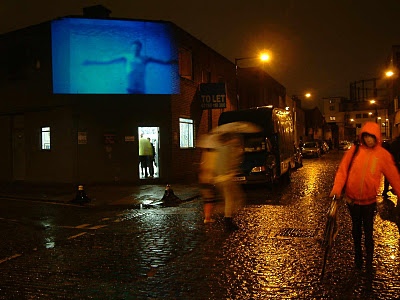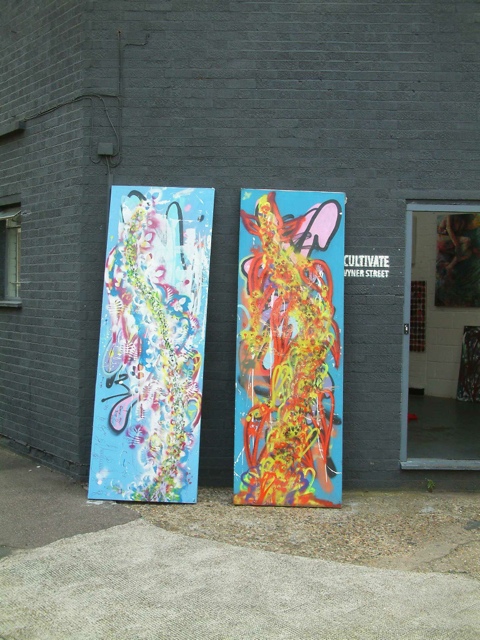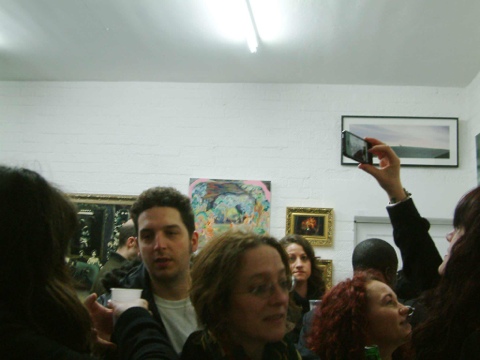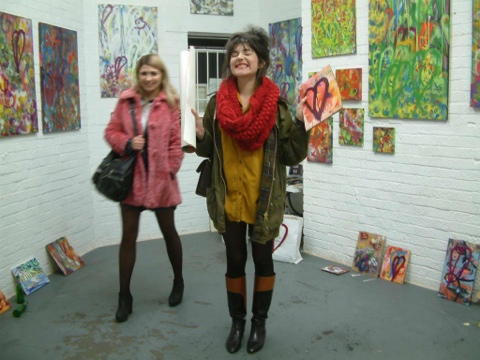 Categories
Tags