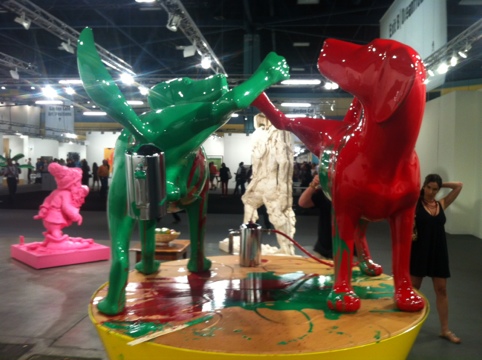 Richard Jackson complementary colors face to face (red/green) Hauser&Wirth Photo: Robert Newton
The 10th edition of Art Basel Miami Beach closed on Sunday, December 4th 2011, with many galleries reporting strong sales. More than 260 leading galleries from 30 countries across North America, Europe, Latin America, Asia and Africa exhibited works by over 2,000 artists of the 20th and 21st centuries. The show attracted a record of 50,000 visitors, which included 150 museum and institution groups from across the world. Renowned collectors from the Americas, Europe and emerging markets returned, and were joined by a new generation of collectors from around the globe.
Art Basel Miami Beach confirmed that high-quality work remains in strong demand, with steady sales throughout the week. In many cases, these works were commissioned especially for the show or held back to be presented at Art Basel Miami Beach. In addition, presentations at Art Nova, Art Positions, Art Kabinett, Art Public and Art Video made the 10th edition a truly extraordinary experience.
The positive response from galleries include:
Iwan Wirth, President, Hauser & Wirth, Zurich, London, New York – 'We are thrilled with the response and the continued confidence in investing at a museum-quality level and moreover sculpture at a large scale. With strong sales to international collections from China, Europe, Mexico, Canada and the US, we further learned the global impact of our artists. We were impressed by a new seriousness in Miami, as collectors were committed and focused on acquiring major challenging works by artists in depth.'
This year's Art Kabinett was well-received by the show's visitors. The 30 separately delineated spaces within the booths presented art-historical showcases and solo shows for rising stars. Work by artists such as Ai Weiwei (Galerie Urs Meile), Francis Alÿs (Galerie Peter Kilchmann), Tiago Carbeiro da Cunha (Galeria Fortes Vilaça), Angela de la Cruz (Galerie Krinzinger), Elmgreen & Dragset (Galería Helga de Alvear) and Nancy Spero (Galerie Lelong) were on display while curated shows titled 'The Two of Us' (Adler & Conkright) and 'Repetitions – Art Works in Plural' (Kicken Berlin) became talking points of the show.
With 42 emerging and established galleries from 17 countries presenting new works by either two or three artists, this year's edition of Art Nova proved to be more concise than in the years past, which further heightened the quality of works on display. Artists featured included Yael Bartana, Marc Camille Chaimowicz, Philippe Decrauzat, Ida Ekblad, Omer Fast, Claire Fontaine, Ryan Gander, Ragnar Kjartansson, Wilfredo Prieto, Kate?ina Sedá, Edwin Sánchez Santiago Sierra and Zhou Tao. Again, the sector provided an ideal opportunity to discover the newest artistic tendencies.
For many art lovers Art Positions proved a highlight. Showing one project from an emerging artist, the sector included diverse work from installations to video, sculpture and painting. The sector presented a record number of Latin American galleries, whose influence was felt on the show floor. 16 young galleries from nine different countries showcased cutting-edge projects by the artists Emily Sundblad (Algus Greenspon, New York), Rosana Ricalde (Baró Galeria, São Paulo), Icaro Zorbar (Casas Riegner, Bogotá), Cinthia Marcelle (Silvia Cintra + Box 4, Rio de Janeiro), Jessica Warboys (Gaudel de Stampa, Paris), Theaster Gates (Kavi Gupta, Chicago/Berlin), Carissa Rodriguez (Karma International, Zurich), Alexandra Bircken (Kimmerich Gallery, New York), Sven Johne (Klemm's, Berlin), Jorge Satorre (LABOR, Mexico City), Paulo Nazareth (Mendes Wood, São Paulo), Mandla Reuter (Francesca Minini, Milan), Cesar Cornejo (Galeria Lucia de la Puente, Lima), Otavio Schipper (Anita Schwartz Galeria de Arte, Rio de Janeiro), Analia Saban (Thomas Solomon Gallery, Los Angeles) and Marco Rountree (Travesía Cuatro, Madrid).
In collaboration with the Bass Museum of Art, Art Public for the first time transformed Collins Park with 24 unique artworks and performances. Curated by Christine Y. Kim, Associate Curator of Contemporary Art at the Los Angeles County Museum of Art (LACMA) and co-founder of the Los Angeles Nomadic Division (LAND), the sector expanded with more artworks than ever before, while at the same time being focused within a strongly defined exhibition area. Art Public Opening Night featured special performances by Theaster Gates and the Black Monks of Mississippi, Sanford Biggers and Moon Medicine, and the Alalaô collective presenting Ronald Duarte. The performances as part of Art Public – 'Transformer Display of Community Information and Activation' by Andrea Bowers and Olga Koumoundouros (Susanne Vielmetter Los Angeles), 'Iemanjá' by Jen DeNike (Mendes Wood), and 'Levitating the Fair (The Flying Merchant Ship)' by Glenn Kaino (Marlborough Gallery) – continued after the Art Pulic Opening Night. They were complimented by works in a variety of media, ranging in date from Bruce Conner's 'LOOKING FOR MUSHROOMS' from 1959-1965 (Michael Kohn Gallery) to the present. For more information visit artbasel.com/public.
The Art Video program was presented for the first time in SoundScape Park on the 7,000-square-foot outdoor projection wall of the New World Center, as well as within five viewing pods inside the Miami Beach Convention Center. Selected by David Gryn, Director of London's Artprojx, Art Video featured film and video works by many of today's most exciting international artists, presented by the galleries of Art Basel Miami Beach.
Art Film was again selected by Zurich film connoisseur This Brunner and featured the United States Premiere of 'Gerhard Richter Painting' by Corinna Belz.
Many leading artworld figures took part in the morning Art Basel Conversations, which were very well attended by the artworld and the broader public. The premiere presented an artist talk featuring legendary artist Gabriel Orozco. Topics for the following panel discussions included 'Art Basel Miami Beach and South Florida: A Decade of Transformation', 'The Evolution of Museum Missions' and 'The Future of Artistic Practice: The Artist as Poet'.
Speakers at Art Salon this year included Josh Baer, Carlos Cruz-Diez, Tracey Emin, Theaster Gaters, Liam Gillick, Haegue Yang, Mark Handforth, Jens Hoffman, Emilia and Ilya Kabakov, Ernesto Neto, Hans Ulrich Obrist, Adriano Pedrosa, Sir Norman Rosenthal, Tomás Saraceno, and Nancy Spector.
About Mark Westall