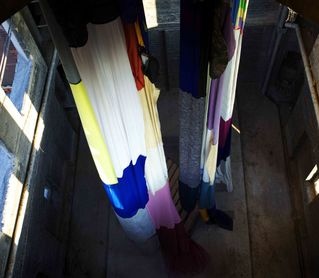 Sarah Strang, Movement in Sleep, 2011, Installation at Union Chapel, London, Photo Credit Daniela Sbrisny
27th Nov 2011 – 18th Feb 2012
Union Chapel Tower, Compton Terrace, London N1 2XD
Union Chapel announces inaugural Artist in Residence program with a new body of work by British artist Sarah Strang.
Movement in Sleep is the first in a series of three site-specific exhibitions by installation artist, Sarah Strang, Union Chapel's inaugural artist in residence. The normally inaccessible and unused space of the tower becomes a strange imagining of a bedchamber, festooned with a multitude of blankets gathered from lives just beyond its walls.
A wrought iron bed is centred beneath four vast quilts draped over a cross-shaped section of wooden rafters above. Bedding col- lected from rough sleepers in exchange for new blankets has been sewn to create swaying walls of fabric that descend in place of church bells, dwarfing the bed. Visitors to Union Chapel will be able view this hidden interior via video screen below and once a month those who choose to can climb the tower to enter this extraordinary other-world of sleep.
A response to Union Chapel's work with London's homeless, the installation is intentionally voyeuristic, yet the curtains of fabric both keep in and keep out unwanted worlds – much as we both see and don't see London's homeless. Open to multiple responses, Movement in Sleep questions notions of intimacy and belonging, private and public and the disconnections that lie between. Eve- ryday materials used in the installation echo women's craft within Victorian era and the visual language of Arte Povera, questioning notions of progress in society.
Often incorporating the idea of the outsider into her practice, this new installation builds on themes of social exclusion and social justice that have been prevalent in Strang's previous work. As Union Chapel's artist in residence she will spend a year engaging with a range of issues presented to her by the local community, examining the interface between the community, Union Chapel and the values inherent within it.
Supported by Union Chapel, Patrons of Union Chapel, Artist in Residence Charitable Partners, Islington Giving, Pilion Trust
27th November 2011 – 18th February 2012 Preview Saturday 26 November, 10am – 1pm
Union Chapel, Compton Terrace, London N1 2XD www.unionchapel.org.uk
About Mark Westall