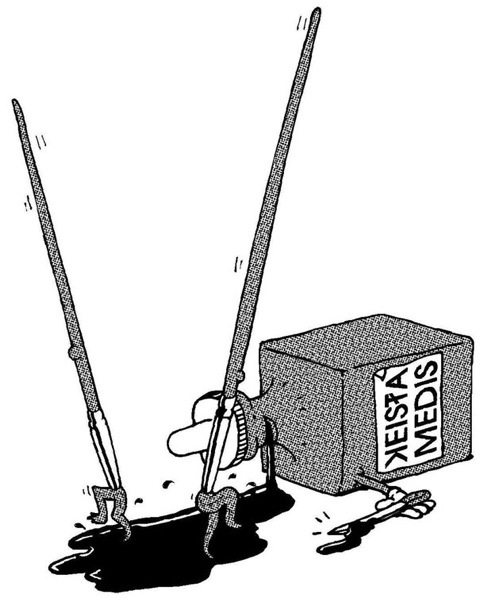 Keista Medis Animacijos Imons (Strange Tree Animation Company) An exhibition of artworks from a little known Lithuanian cartoon company 1978 – 1981
Art Opening Nov 17th on till Dec 3rd 2011
Following its success in Copenhagen last summer, the Keista Medis show comes to London.
Formed in Perloja, Lithuania in 1978 and disbanded in 1981, the Strange Tree Animation Company existed in a theoretical period of cultural shift which was defined as the 'Tilt Era' by Nathan Daniel. During this turbulent but fruitful four years, Keista Medis managed to produce only one finished cartoon. This exhibition features previously unseen animation cels, stills and press work which were feared lost until their recent discovery in a stately home in the former Soviet state. These loose and often quite random images are believed to be from a number of uncompleted animations that were being worked on at the time of the studio's prompt closure. The cartoons were written and directed by Steponas Uemov and Juozapas Skupas and the works featured in this show are presumed to be by Ramunas Goldstein and Luidvikas Stogis, the chief animators who were responsible for visual creation, character design, backgrounds and colour testing.
The remnants that survive of the Strange Tree Animation Company provide an insight into the creative aims of the company's artists. †Fragments of stories allude to lost narratives but little remains to provide direction on the intended ordering of these fragments. Consequently, the viewer of this collection is left to construct their own storyline. A small amount of information has survived in the form of an incomplete collection of private correspondence between Skupas and his secret German lover. In these letters Skupas clearly states that the cartoons were aimed at children and that they attempt to offer alternate views to the theological and political ideals that their creators were raised on. It appears that the cartoons were an attempt to subliminally broaden the mind of the next generation. Keista Medis' patron was Prince Otto Wilhelm who, according to rumour, was insane. His penchant for castle building and an insistence on traveling only in solid gold carriages put an extraordinary strain on the Prince's finances which eventually led to financial ruin and the death of the Strange Tree Cartoon Company. The only completed work was a 30 second trailer which was shown, for the first and only time, to the Prince and a party of young revellers at Geierstein Castle, Perloja in 1981. The works in this show have been kindly loaned by the Estate of Prince Otto Wilhelm and have been carefully compiled by Russell Maurice and Daniel Sparkes, enthusiasts and collectors of obscure animation art. This show approaches the cartoon with a modern eye and questions if it is time to review attitudes towards the art form. In the words of Augustus Parker: "Discussing the cartoon as lowbrow is no longer relevant. Now it is used as a simplification, a short hand description, a language that society needs now".
This time the exhibition is shown in a larger space which allows for more (and previously unseen) pieces from the collection to be exhibited.
GaG Galleries Goldstein at Goodhood is an exciting new artist run space dedicated to showing new and different work from an array of international artists. GaG is situated opposite the leading fashion store Goodhood, on the ground floor of their newly developed Workshop Building, in the heart of the east end.
Open 12 –6.30pm, Thu –Sat 20 Coronet Street, London, N1 6HD,
Categories
Tags