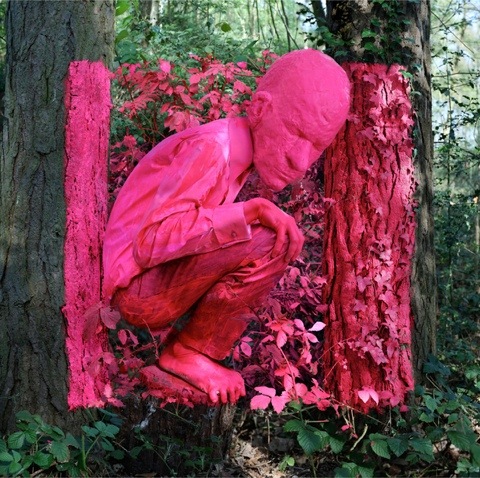 Image: 2011,31 x 31 inches C-type lambda print, mounted & framed. Here I painted myself and a square of woodland fluorescent pink, wearing a latex mask of my Father's head Jonny Briggs
The Saatchi Gallery and Channel 4 are delighted to announce the winner of the 2011 New Sensations Prize, Jonny Briggs. The judges have also decided to award a Special Commendation to Gabriella Boyd.
Jonny graduated from the Royal College of Art, London this year with an MA, and Gabriella completed her BA this year at the Glasgow School of Art. Their works can be seen at the New Sensations exhibition which is on until 18 October 2011.
The judges were artists Hew Locke and Chantal Joffe; Kate Bush, Head of Barbican Art Galleries; Tabitha Jackson, Commissioning Editor, Arts, Channel 4; Tony Chambers, editor-in-chief, Wallpaper magazine; and Rebecca Wilson, director of the Saatchi Gallery.
New Sensations, sponsored this year by specialist insurer Hiscox, was launched five years ago
by the Saatchi Gallery and Channel 4 to support the most imaginative and talented young
artists in the UK and to present their work to an international audience during Frieze Week.
Four finalists were given a bursary to make new work to present at the exhibition, and four short films made about them have been made by Channel 4 for transmission in October.
The four finalists were: Jonny Briggs Royal College of Art, London; Gabriella Boyd Glasgow School of Art; Ronin Cho Goldsmiths, University of London; and Krystina Naylor Nottingham Trent University.
New Sensations www.saatchigallery.com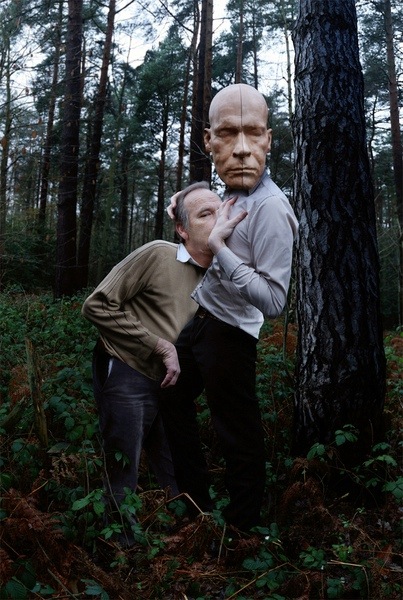 Image:2011,60 x 40 inches C-type lambda print, mounted & framed. Father and self wearing wooden mask of Father's head Jonny Briggs
About Mark Westall