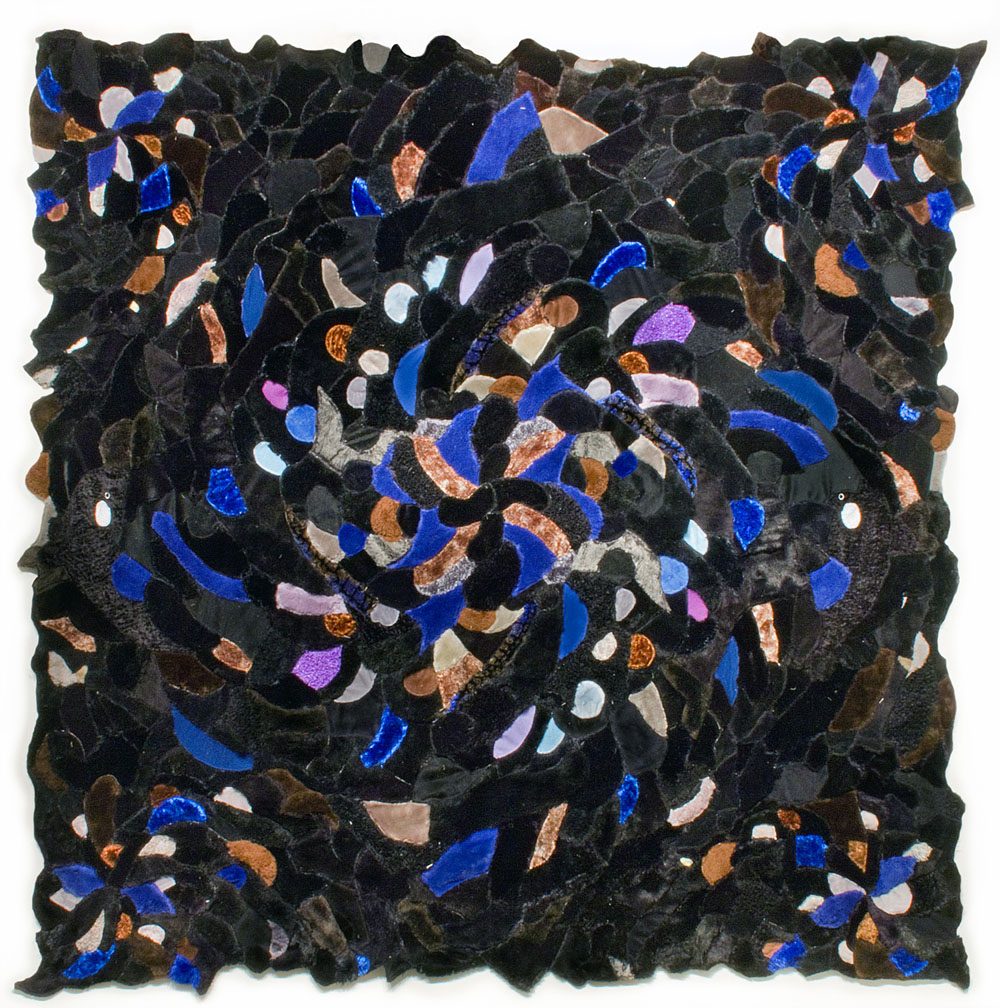 Image:Agustina Woodgate Galaxy Teddie Bears' Skins 195 x 195 cm
1 If you weren't an artist, what else would you be?
An inventor and a pilot

2. Anytime, any place which artist's body would you most like to inhabit?
Leonardo Da vinci
3 What is your favourite ism ?
anthropomorphism, holism and romanticism
4 What was the most intelligent thing that someone said or wrote about your work?
Almost everything that has been written about my work I really enjoy, however my favorites usually come from Stephanie Sheman.
5.And the dumbest?
That I might have plenty of free time
6 Do you care what your art costs? State your reasons!
Costs are not driving my production
I care about having global reasons for producing it. I care about responsibility and awareness. Art is my livelihood.
7 What are the three big ideas that you would like your work to express?
awareness
future & fantasy
hope & joy
8 How do you start the process of making work?
Often I find myself organizing, categorizing, storing, and building new shelves for all my belongings. I collect things, things that draw my attention because of their story, shape or function or because they are available. Waste. "One mans trash is another mans treasures" someone told me once.
I organize my collections constantly. When I was very young I used to move all my bedroom furniture around almost every month. Now I shift my studio. This is usually the first stage of my creative process. Then it's just a matter of puzzling things together: concept, material, context and technique functioning collectively.
I create systems and production lines. I work in stages creating departments mostly as a result of the vast amounts being used. The meticulous process of creation is as significant as the final result. Through creation I often arrive at a paradoxical relationship with the materials being used, and in many cases discovers that the act of collecting material was the first step toward discovering the ambiguous poetic narrative behind the piece. My intention is to unfold a narrative process that also tells the larger story of my own and everyones oeuvre.
9. What's next for you?
I will be installing new work in Highway Billboards, bus stops and buses during Art Basel with Locust Projects.
I am will be giving a TED talk during The Chicago Ideas Week
and I am working on a very big project in an abandon amusement park in East Berlin.
Musement Berlin is a group of five artitst-curators composed of Elsewhere directors George Scheer and Stephanie Sherman, Argentinean artist Agustina Woodgate, curator Anthony Spinello of
Spinello Projects, and Assistant to Research and Development, Christopher Lineberry.
Folow the Track >> Kulturbahn.org
10. If you could ask yourself one question what would it be ? and what would be the answer ?
All I do in my life is ask questions and maybe the reason why I became an artist. Looking for answers is my drive.
You can see Augistina Woodgate at 'Menange a trois ' a group show at Gallery Nosco
Private View: Tuesday 11th October 2011
Events and artists talks: 10th – 16th October 2011 – Check website for details
Exhibition open: 10th -16th October 2011 (11am – 6pm)
www.gallerynosco.com
About Mark Westall