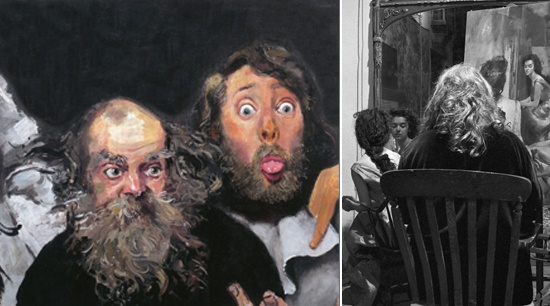 To rarified Clarendon Fine Art to view the DEEPLY UNFASHIONABLE ART OF ROBERT LENKIEWICZ;I'm not an arts grad',but a gobby-gadgey with OPINIONS,and am sufficiently gauche not to mind expressing them loudly,usually amidst the informed whispering of the demimonde of Vyner st. and our other eastern arts satelites. Nevermind the apparatus of taxidermy-pace' Polly Morgan,(so cuttin'edge donchaknow)-or Hirst's formaldahyde sharks of the blue-chip art market- Lenkiewicz (who died in 2002)was the Plymouth artist whose most notorious exhibit was the cadaver of the vagrant Edwin Mackenzie,whom Lenkiewicz discovered living in a barrel in the town dump. Dubbed Diogines(the original inhabitee of barrels) Mackenzie became sitter & accolite, bequeathing the artist his remains in 1984.
Here in Dover street ,at Clarendons well curated,albeit fleeting show (on till Aug8th)some of the choicest of Lenkiewicz' legasy is available on the commercial market,in the oil and chiaroscuro style favoured by the artist,of his many muses. In Lenkiewicz' Plymouth-(& pallet)of wine,women& song- there is,something of Titians secular,volupturary, Venice ;he paints himself as St.Anthony-tempted-but appears closer in nature to the Satyrs,or Bacchus incarnate. There are also darker Rembrandt and Goya moments,especially so in the eyes(again recalling the terror of Pan).
However,among the multiple portraits of 'Karen'& 'Anna'(ravishing) I urge you seek out the prostrate vagrant across a bare mattress-which brings to the fore Lenkiewicz' abiding social concerns over & above those of his more epicurean appetites revealed in so much of the work on display here.In this piece of social realism there are too nods to Stanley Spencer or Reginald Brill; these(with Lowie) once considered so very unfashionable are now enjoying fresh reappraisal,not to mention increasing the value of collectors portfolio's. I predict a similar trajectory for Lenkiewicz;buy now! for Lenkiewicz is not some ersatz Venturano or dilettante Marquis of Bath-but a link with an altogether more legitimate aesthetic.
Robert Lenkiewicz Selected Works 21st July-6th August 2011
www.clarendonfineart.com
Michael Knight
Categories
Tags