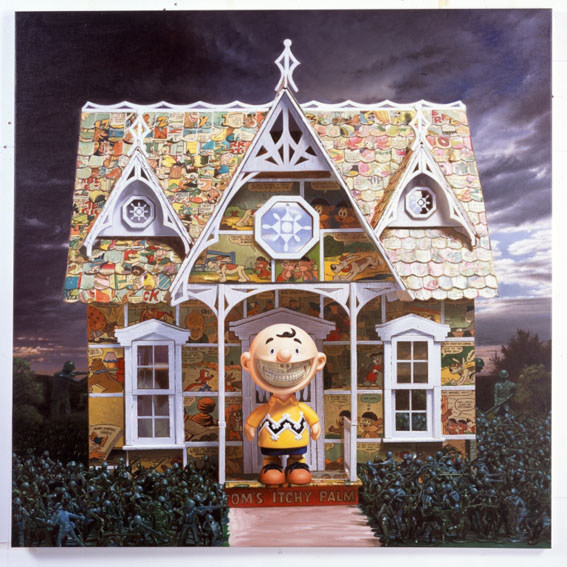 1 If you weren't an artist, what else would you be?
Bank robber, not that it's such a good job but it would allow me to be a great art collector.
2 Name 3 of yourt favourite artists.
Mark Ryden, Travis Louie, Bansky.
3. Anytime, any place – which artist's body would you most like to inhabit?
Who's the youngest and best looking? Maybe Jackson Pollack. His art looks like it was a lot of fun to create. He often worked drunk. I think it would be great to have a job you could show up drunk to.
4 What is your favourite 'ism'?
Vandalism

5 What was the most intelligent thing that someone said or wrote about your work?
Ron English is a genius.

6. And the dumbest?
Ron English is a genius.
7 What does the title of your show mean ?
The show is about all the stuff beneath the surface. Did you know Jackson Pollack did photo realistic under paintings for his drip masterpieces?
8 Does the term 'Street Art' have any meaning anymore ?
Did it ever?
9 Do you care what your art costs? State your reasons!
It's pretty reasonable for the amount of work I put into it. I would like it to be a little less reasonable.
10 What are the three big ideas that you would like your work to express?
Freedom, fun and intelligence.
11 How do you start the process of making work?
I have an idea.

12 Do you ever get bored of the LA sun ?
No, probably because I live in New York.

13. What's next for you?
I'm working on a new coffee table book, a sticker book and a comic book. I am also working on a doc about why American's hate art.
Ron English: Skin Deep: Post-Instinctual Afterthoughts on Psychological Portraiture
at Lazarides Gallery 24th June – 23rd July 2011
Categories
Tags