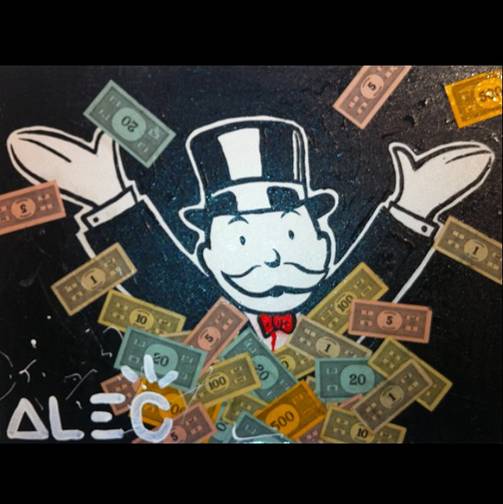 June 9th – June 23rd 2011
"L.E.G.E.N.D." will feature brand new works by US hotshot Alec, including pieces of beloved Monopoly board game mascot Rich Uncle Penny Bags and a multi-faceted array of Pop culture icons interspersed with financially-apocalyptic newspaper clippings. What separates his efforts from other high-profile graffiti artists who have effectively transitioned into the commercial art sphere (a.k.a. Banksy and Mr. Brainwash) is a deeper attraction to the 'anti-hero' personas of Jack Nicholson and Robert De Niro.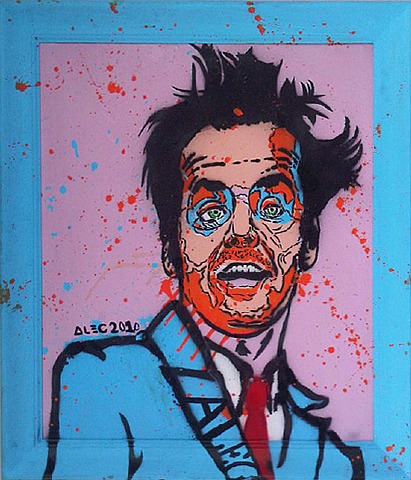 Large celebrity portraits will be unveiled in this show, such as Robert De Niro as Travis Bickle in Taxi Driver,. Other paintings will reveal a broader sense of style, as some canvases touch on impressionism; others evoke a feminine sensibility through color, subject, and minimal line art. Alec's show will display the colourful styles of pop art which he has implemented in his pieces adorning neighbourhoods in Los Angeles and New York — iconic portraiture of Jack Nicholson, Bob Dylan, and Twiggy, interspersed with a large-scale series depicting the Monopoly man on canvases coated in archived copies of the Wall Street Journal, sealed with resin.
Adding to the profile of such an impressive young artist is the mere fact that he is wanted by the NYPD for utilising the urban landscape in the Big Apple & Cali as his canvas. This international debut will in fact be the very first time that his show will warrant an appearance by the legend himself as in the last few weeks leading up to this latest New York exhibition, uniformed and plain-clothed police officers made enquiries at the studio and gallery with intent to discover his whereabouts. That he is under surveillance may be a surprise to those unfamiliar with how the NYPD has treated artists since Giuliani introduced a "quality of life" clean streets approach in the '90s, largely kept in place by Mayor Bloomberg. Painters selling their work on the street as well as graffiti artists have been locked up, with their artwork confiscated and destroyed.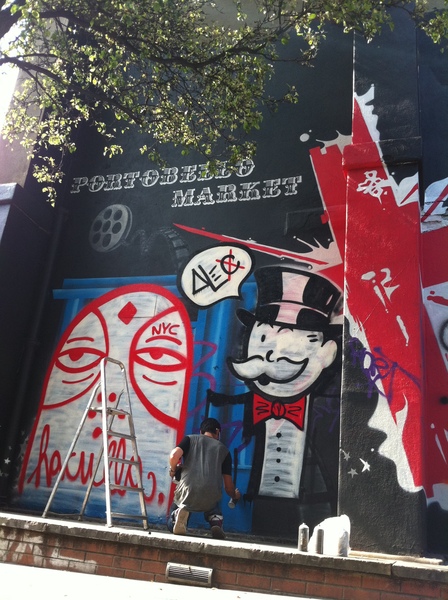 He has recently been hanging out with the A-list in Cannes and the actor Jack Nicholson has personally commended him on his work!
The exhibition will open with an exclusive party on 9th June at Graffik Gallery located at 284 Portobello Rd, Notting Hill.
About Mark Westall