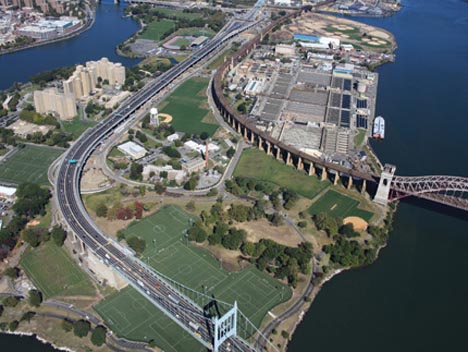 Amanda Sharp and Matthew Slotover, the co-founders of Frieze, announced today the launch of two new art fairs; Frieze New York, a contemporary art fair in New York City and Frieze Masters, a fair in London that will give a contemporary perspective on historical art. Both fairs will be launched in 2012 and will complement the existing October fair.
Sharp and Slotover said, 'At Frieze Art Fair, our aim has been to create a unique destination with an atmosphere that is of cultural as well as commercial value. In the tenth year of the fair, we are delighted to take this vision to New York.

Frieze Art Fair Randall's Island Park, New York 3–6 May 2012
The New York fair will take a similar approach to that which has made Frieze Art Fair one of the world's most influential contemporary art fairs, housed in a bespoke structure and located in a unique setting. Frieze New York will be held in Randall's Island Park, Manhattan, overlooking the East River.
'New York City has long been a global center for arts and culture, and in recent years, the number and size of local art fairs that attract New Yorkers and visitors from around the world has grown dramatically,' said New York City Mayor Michael R. Bloomberg. 'Frieze has a reputation for hosting worldclass arts shows, and with Randall's Island Park as the location and New York City's waterfront as the backdrop, this new event should be extraordinary.'
The fair will house approximately 170 galleries and will be designed by New York-based SO-IL architects. The exhibitors will comprise some of the most forward-thinking galleries from around the globe, bringing an international focus to the dynamic contemporary art scene in New York.
Amanda Sharp, who is based in New York, added: 'With its extraordinary range of museums, galleries, collectors and artists, New York is an exceptional city for contemporary art, and one of the most desirable cities in the world for an international art fair to be located.'
AO Breaking News: London's Frieze Art Fair coming to Randall Island in 2012
About Mark Westall