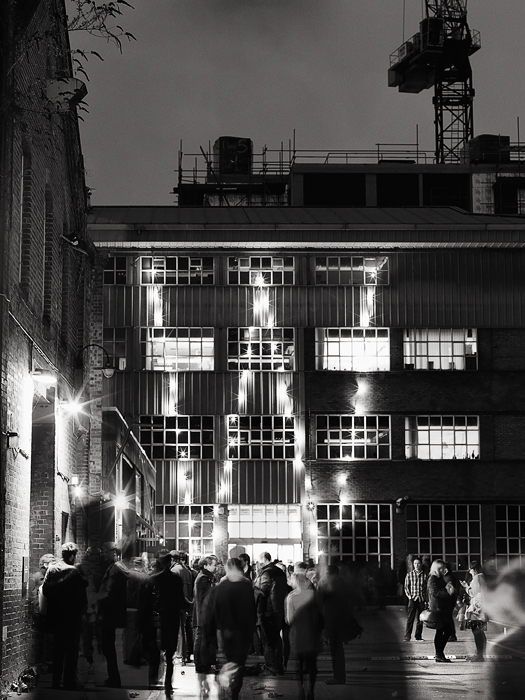 A big thanks to Jotta for the following article you can read more thoughts on art and stuff over at their critical dialogue area.
Writer and curator George Vasey discusses the threshold between the semi-privacy of the institution and the wider pressures of the economy outside it, in light of the recent ideological cuts to arts and humanities by the coalition, and the subsequent occupations and protests.
"Anything that you wanna do, any place that you wanna go?Don't need permission for everything that you want"
Paul Weller.
Most days walking down Charing Cross Road you can see a group of art and fashion students congregated outside the foyer of Central Saint Martins.
The studied stances acting in static contrast to the efficient stream of harassed Londoners walking to work and shopping. The small group of students hanging around after lectures are performing. The content of their performance is surplus time, a moment of inefficiency amidst the human traffic. Surplus time often seems in short supply in London; whilst the exhausted Londoner has internalised the rhythm of the office within the wider mechanisms of the market, the art students contest their eventual engagement with that same market.
The students occupy a threshold between the semi-privacy of the institution and the wider pressures of the economy outside it. This semi-privacy gives the group a certain autonomy and space to make mistakes and to say silly things, rehearsing modes of address that contribute to creating a fertile environment for innovation. I remember specifically a tutor at Newcastle University mischievously telling me that I could 'drink a pint of beer and call it performance art,' and that it was his job to quantify it as such. This institutional permissiveness breeds a particular strain of self-determinism. It is freedom played out for its own sake, a wide open space for the student to stake out their own territory and preparation for the post institutional practice, that is defined internally rather than shaped externally by the market.
Art colleges are as, Nicholas Serota, recently put, 'laboratories of creativity', but rather than testing forms of bacteria, students test forms of expression.
Of course their is no empirical way of measuring expressive and aesthetic content and as such it serves no immediate function within society. Rather, art colleges generate ideas with possibility and forms of potential that the art students have to protect in their emergent practices. What makes the right conditions for this 'formal bacteria' to breed is difficult to predict as it relies on a set of circumstances aligning, whether it is Black Mountain College, Goldsmiths or the Dusseldorf academy, art schools isolate discussion within a discursive framework to promote criticality and engender an ability to make yourself visible. It is a curious situation that is on one side inward facing and hermetic and on the other side a preparation for public discourse within a highly individualistic economy.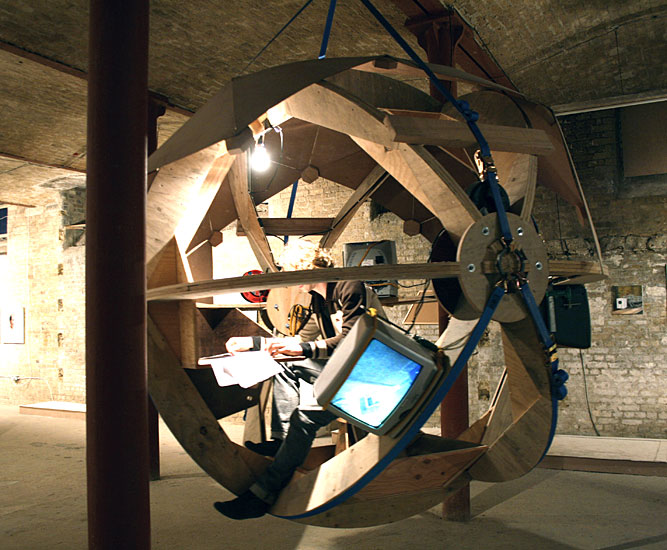 Image: The Orb project by Melis Van Den Berg
'The Orb project', by the recent Slade School of Art graduate Melis Van Den Berg offers a sly comment on this apprehension. 'The Orb' operates as a site of production and display, the Orb is at once a framing device for the 'paraphernalia of the studio', and a mode of transport to validate this studio process within the wider public arena of the gallery system.
Historically there are two types of art school, the Bauhaus (an investment in creativity and imagination) and the academic model (a belief in talent and development of skill), Thierry De Duve in 'When Form has Become Attitude -And Beyond', suggests that both models are obsolete. The binary of educational systems built on industrial notions of labour, and ghettoised notions of creativity are giving way to convergent and independent models that explore the relationships between departments and across disciplines.
The practice of Anton Vidokle, can be seen as particularly influential in this respect, as the instigator of E-flux (online journal), United Nations Plaza (pop-up independent art school) and Time/Bank (time as capital), Vidokle's career has manoeuvred around strategies of independent and alternative forms of generating and disseminating discourse. Artschool/UK, a conference/exhibition platform for discussion and workshops was shown last year at Cell Project Space and Whitechapel Gallery picks up similar themes.
These discussions are framed by the recent ideological cuts to arts and humanities by the coalition, and the subsequent occupations and protests. It is no coincidence that art students formed the first collective response to the cuts. The recent student occupations and protests illustrated the conditions that are so threatened by the cuts, a highly convergent and enterprising student body that in response to the cuts, parasite the institutions and generate content. It is this energy and community that has been fostered at art school and given us so much innovation of the last forty years or so. The emergent art world has always run on a basic dichotomy of individualism and the support structures of collaboration. Artists have often understood that to incubate forms of potential away from the volatile market you have to develop support systems; a capital based on renewable and de-centralised sources such as knowledge and skills sharing.
The artist run space is the historical model of such activity, and The Woodmill, the soon to be vacated rabbit warren of studios, galleries, projects spaces and educational projects in Bermondsey offers a prime example of a network of graduate artists working as a single agency to maintain and support divergent practices. When I graduated in Fine Art from Newcastle University, I remember thinking that you needed three things as an artist; time, money and space. You can can subtract one or two conditions from the three but not all of them, and the various modes of collaboration and enterprise culture illustrated by successive generations of artists are an attempt to create and maintain these vital conditions beyond the semi-privacy of the educational institution and into a public arena.
Raqs Media put it best, "Perhaps a school or the idea of a school as a condition of learning, of being open to discourse and discovery, can also be seen as something we might carry with us wherever we go, whatever we do."
About Mark Westall