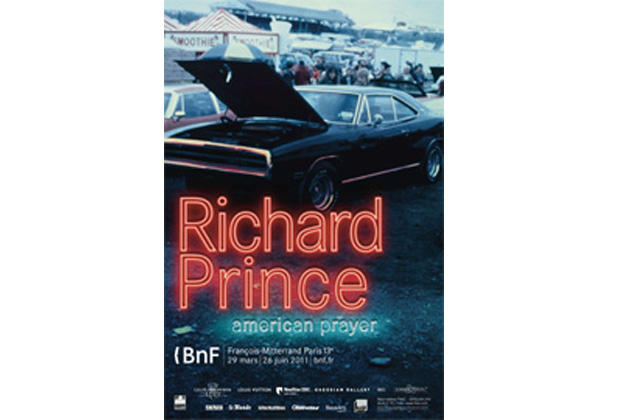 March 29, 2011 to June 26, 2011
Especially well-known for his cow boy photographs illustrating Marlboro advertising campaigns and for his series of « nurse » paintings, the artist is best at depicting the American fin de siècle.
This is the first monographic exhibition on Richard Prince organised in Paris. The title « Richard Prince – American prayer » refers to a Jim Morrison's poem.
The exhibition focuses on a feature of personality never presented before.
Richard Prince is a passionate booklover and a collector of American pop culture and countercultures from the 50s' to the 80s'. This artistic movement has inspired his work as photographer and painter.
Thanks to a musical background – including works by Jimi Hendrix, Jim Morrison, Bob Dylan and the Velvet Underground – and to his collaboration with the designer David Adjaye, Richard Prince portrays an American continent scoffing at its myths, introduced in a beat, hippie or punk context.
Rare books and manuscripts by Rimbaud, Céline, Cocteau and Genet, European underground magazines and popular books, were selected among BnF's collections. Richard Prince has planned to re-appropriate some of them, building bridges with several treasures from his private collection of books that were never previously put on display. Documents connected to the key beat generation figures are presented such as an annotated copy of William Burroughs' « Naked lunch » or the handwritten scroll of Jack Kerouac's « Big sur », Prince's collection of « pulp fiction » focusing on the erotic and disturbing nurse character or his collection of editions of Nabokov's « Lolita » in about twenty languages.
Paintings, drawings, photographs, artists' books, manuscripts and objects illustrate the artist's personal universe between high and low culture, between America and Europe. The exhibition ends with a reading room which walls have been covered with fake books conceived by Richard Prince and treasures rarely presented before.
Watch a Video: Richard Prince Par Peter Sutherland
About Mark Westall