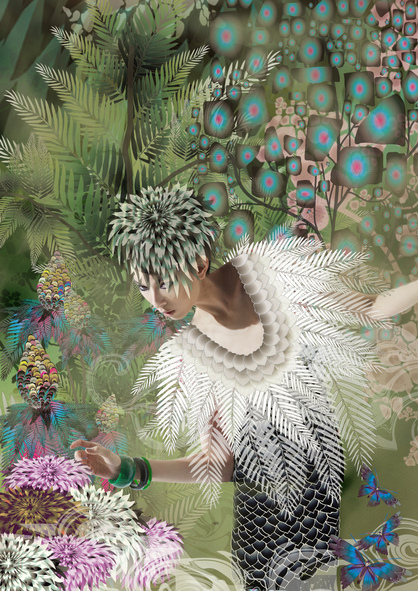 Image:Sarah Arnett The Girl in the Garden 2010 Inspired by Dahlia for Dior, Personal series © The artist
Sarah Arnett FAD/ Pick Me Up 2011 Q&A
Do you consider yourself as an artist or graphic designer?
I try not to consider myself as one or another.
How important is the distinction between the two?
Not very
Name 3 of your favorite graphic artists.
I try not consider others in a category either…these are some of my favorites; Picasso, Nadav Kander, Hokusai, Barbara Hepworth, Joseph Frank, Sonia Delaunay.
Do you like working in Advertising?

Haven't really worked in advertising, my background is in textiles fashion and illustration. If you mean working to a brief and being given a subject matter to interpret in a visual way then I find this is as enjoyable as self-initiate works. They are both as challenging, and push you to expand you technique and ideas.

What is your favorite 'ism'?
Surrealism…. must be as I seem to mention it all the time.
What was the most intelligent and unintelligent thing that someone said or wrote about your work?
Haven't decided yet.
Do you worry about being copied?
If someone could see what I plan to do in the future, see my ideas and then copy them then I would be worried. I would hope that my work could influence someone to create something original of his or her own. My precious things are the ideas and the experience of doing it, rather than the end product.
Do you care what your art costs? Please state your reasons.
Yes I do care; I have to make a living.
What are the three big ideas that you would like your work to express?
I don't think I have worked that out yet, they are just small at the moment.
How do you start the process of making work?
I take photographs and sketch. Research can include films exhibitions, and favorite places like The Royal Pavilion or the Booth Museum. I sketch ideas out then make mock-ups in my sketch book; sometimes I make miniature paper maquettes to check proportion and bring the
idea to life. I Keep sketch books going all the time and review them at the beginning of each project to spark ideas.
Why do you think Pick Me Up has been so popular?
It's a bold statement about graphics and illustration. Sometimes it's difficult to know where you fit in, in the art and design world and I think Pick Me Up has created a platform for the designer/illustrator/graphic artist. I should imagine as a visitor it could open a whole new
understanding about this area of art and design.
If you could design a FAD product what would it be?
A beautiful silk scarf or some wallpaper.
What's next for you?
More of the same but different!
www.saraharnett.co.uk/
Sarah Arnett is represented by Agency Rush for illustration commission
You can win tickets for PICKMEUP 2011 HERE
Categories
Tags